Towards the end of October, chestnuts finally make their irresistible appearance on our markets in Umbria.
This humble fruit has been a staple of the Mediterranean diet for millennia. Near Mount Etna in Sicily, there is a chestnut tree which is believed to be between 2000 and 4000 years old. Chestnut trees are magnificent creatures. The Sicilian one is said to have sheltered a medieval Queen and her one hundred knights during a storm.
Every year, when we see the first chestnuts, we buy, roast and devour them in the evening, accompanied by a glass of red wine. It's a most convivial way to end a day and to celebrate the beginning of fall.
If you can not buy them fresh, you can get your chestnut fix with this easy but sophisticated dessert.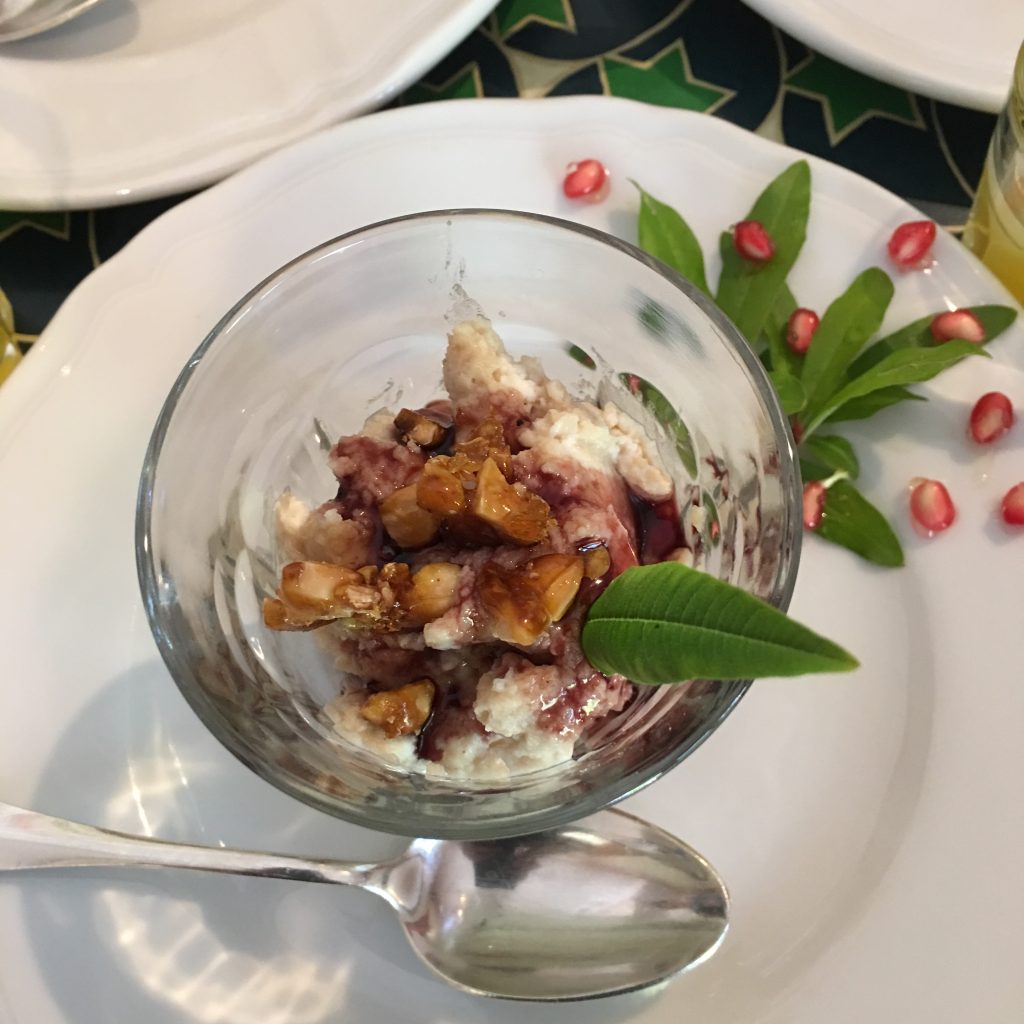 Ingredients (Serves 8)
For the chestnut cream:
250 g (8 oz) chestnut jam
250 g (8 oz) mascarpone
125 g (4 oz) fresh ricotta
To finish:
3 tablespoon toasted chopped almonds or pine nuts
3 tablespoon Cointreau or other orange liqueur
If you plan to use chestnut preserves, look for chestnut spread, purée, paste, or jam which is available from well-known brands e.g. Bonne Maman, Merchant Gourmet, or Faugier.
The chestnut spread I use is quite sweet, but you might need to adjust the sugar. You could also make your own chestnut jam with steamed vacuum-packed chestnuts:
Simmer a 180 g (6.5 oz) packet of chestnuts with 6 tablespoons of sugar and 3 tablespoons of water until tender, about 15 minutes depending on the size of the fruits. Add one teaspoon of vanilla extract and blend to a creamy purée. Use as follows:
To make the chestnut cream, stir the mascarpone into the ricotta and whisk until smooth. Swirl in the chestnut jam and distribute into 8 dessert cups or ramekins.
Make sure to make small portions as the dessert is decadently rich. For us, 1 to 1 and 1/2 tablespoons per person is more than sufficient.
If preparing in advance, cover the cream with cling film and refrigerate. Just before serving, toast the nuts and sprinkle them while still warm over the cold cream. If you feel the portion is too little, you can serve with additional decorations like ice cream wafers or other light biscuits.
Drizzle each portion with a teaspoon of orange liqueur and serve.
Letizia Mattiacci is a cookbook author and owner of Alla Madonna del Piatto Cooking School and Agriturismo in Assisi, Umbria, https://incampagna.com. This recipe has been previously published in Mrs. Mattiacci cookbook entitled "A Kitchen with a View."