Before the phrase "pop star" was even coined, Enrico Caruso was already the epitome of the American Dream—yet profoundly Italian, forever tethered to his beloved Naples. Today, he stands as one of the greatest tenors of all time, a living emblem of Italy's deeply rooted bel canto tradition.
Unparalleled and irreplaceable, Caruso became an icon and left us at the young age of 48, after an extraordinary 25-year career that spanned both sides of the Atlantic. A true hero of two worlds, Caruso's impact on global music goes far beyond the charismatic intonations captured on his 78 rpm records.
His final bow at the Metropolitan Opera came on Christmas Eve of 1920, after more than 860 triumphant performances. Even as he grappled with a grim diagnosis of pleuritis and endured treatments that proved futile, Caruso remained undeterred. He lent his iconic voice to the character of Eléazar in Halévy's opera La Juive before taking his leave. As he bid farewell to America—a country he had utterly captivated—he harbored hopes of returning to Italy for the healing that would allow him to pick up the threads of a remarkable career. A career that had its humble beginnings on March 15, 1895, at Naples' Teatro Nuovo with the performance of Domenico Morelli's comic opera L'amico Francesco. His talent had already opened the doors of Milan's La Scala and other major theaters of that era for him.
Born on February 25, 1873, in the bustling San Carlo all'Arena district of Naples, Caruso was the son of a metalworker and a cleaning woman. At the age of ten, he joined his father in the foundry. However, his mother managed to enroll him in night school, where his aptitude for drawing emerged. Yet, it was his self-taught voice, honed in the church, that was his true gift. Baritone Eduardo Missiano discovered him singing at a funeral. Although his debut wasn't a triumph, it was enough to get the press talking about him for the first time.
Caruso began his journey on the stages of Caserta, Naples, and Salerno. His first international performance took him to Cairo. In Livorno, he began to refine his craft under the guidance of maestro and orchestra conductor Vincenzo Lombardi. What followed was a meteoric rise: in 1897, he made his debut at Milan's Teatro Lirico with Federico's Lament in Francesco Cilea's L'Arlesiana, earning widespread acclaim. He then portrayed Loris in Umberto Giordano's Fedora, followed by tours in Russia, Lisbon, Rome, and Monte Carlo. At London's Covent Garden, he took on the role of Rigoletto in Giuseppe Verdi's opera. The following year saw him performing in Buenos Aires. In 1897, he inaugurated Palermo's Teatro Massimo with Verdi's Falstaff. Then, in July 1899, he played Rodolfo in the premiere of Giacomo Puccini's La Bohème, at the Royal Opera House Covent Garden in London. In November 1899, he returned to Rome. In December 1900, Caruso sang in La Bohème, conducted by Arturo Toscanini, during the opening night of La Scala's prestigious opera season. He was at the zenith of national fame.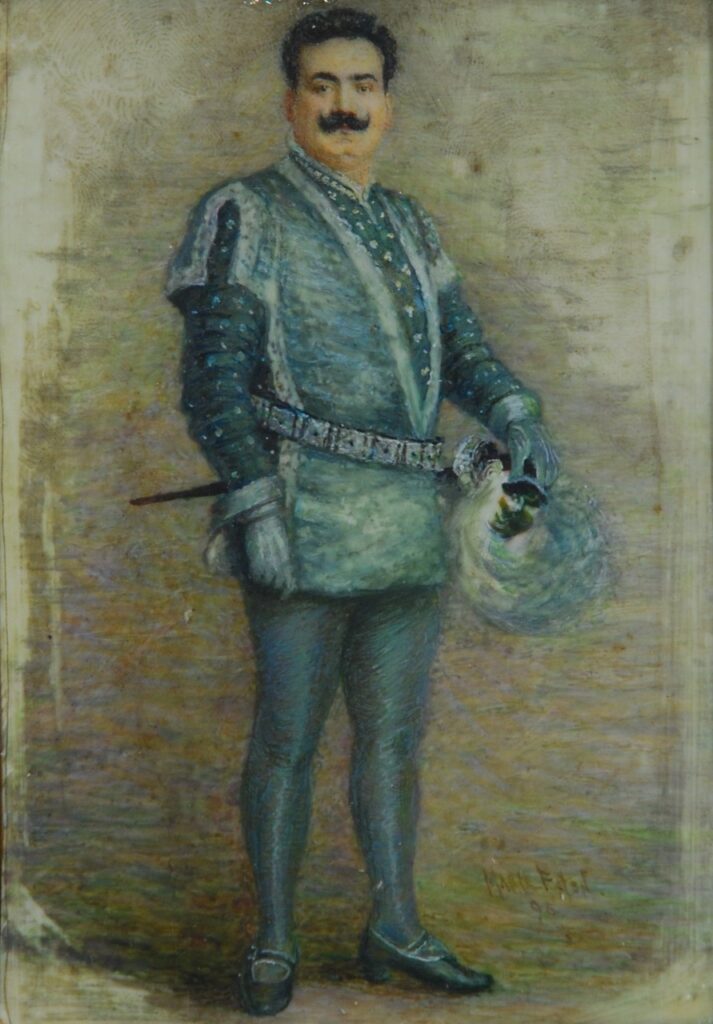 In 1901, Caruso staged Gaetano Donizetti's L'Elisir d'Amore at the Teatro di San Carlo in Naples. However, something went awry: even today, it remains unclear whether there were jeers from the audience or unfavorable reviews, but the tenor vowed never to sing in his hometown again. He kept this promise even in San Francisco, following the terrifying earthquake of 1906. He was on tour and had just performed in Carmen at the Mission Opera House when the devastating quake rocked the Bay Area, catching him in the dead of night.
Caruso had already sensed the artistic and economic possibilities of the nascent recording industry before setting foot in America in 1902. He recorded ten opera arias for the British Gramophone & Typewriter Company, becoming the first to successfully venture into this new technology. His fame spread worldwide, exponentially increasing both his engagements and earnings. He would also make history as the first artist to sell more than a million records with the aria Vesti la Giubba from the opera Pagliacci, which he recorded in the United States in 1904, under the Victor label.
In New York, his success was so overwhelming that he commissioned Tiffany & Co. a 24-carat gold medal featuring his profile: this keepsake was intended to commemorate his performances at the Metropolitan Opera and to be distributed to his closest friends and admirers. For the 1907/08 season alone, he was paid $140,000 for a series of 70 performances. By this point, he had become a wealthy and universally acclaimed international star. He was in demand everywhere, from Buenos Aires to the Royal Opera House in London, from the Opéra in Paris to New Orleans. However, it was exactly after an extensive North American tour in 1920 that his health began to deteriorate.
When he passed away on August 2, 1921, in a hotel overlooking the Gulf of Naples — a place he had chosen as his Neapolitan home — he was deeply loved. His melodious voice and the intensity of his singing would be part of Italy and America's collective memory for years to come, even without the gloss of magazine covers or today's social media. He belonged to everyone, even if he himself was unaware of it.
His funeral was yet another testament to this: "his" Metropolitan Opera closed for three days in mourning. At his Naples funeral, "the whole world was present." Rare images show a hearse pulled by three pairs of horses in Piazza del Plebiscito, escorted by an endless line of wreaths, leading to the Cimitero del Pianto. Moreover, his embalmed body remained on display until 1927 — a form of secular veneration.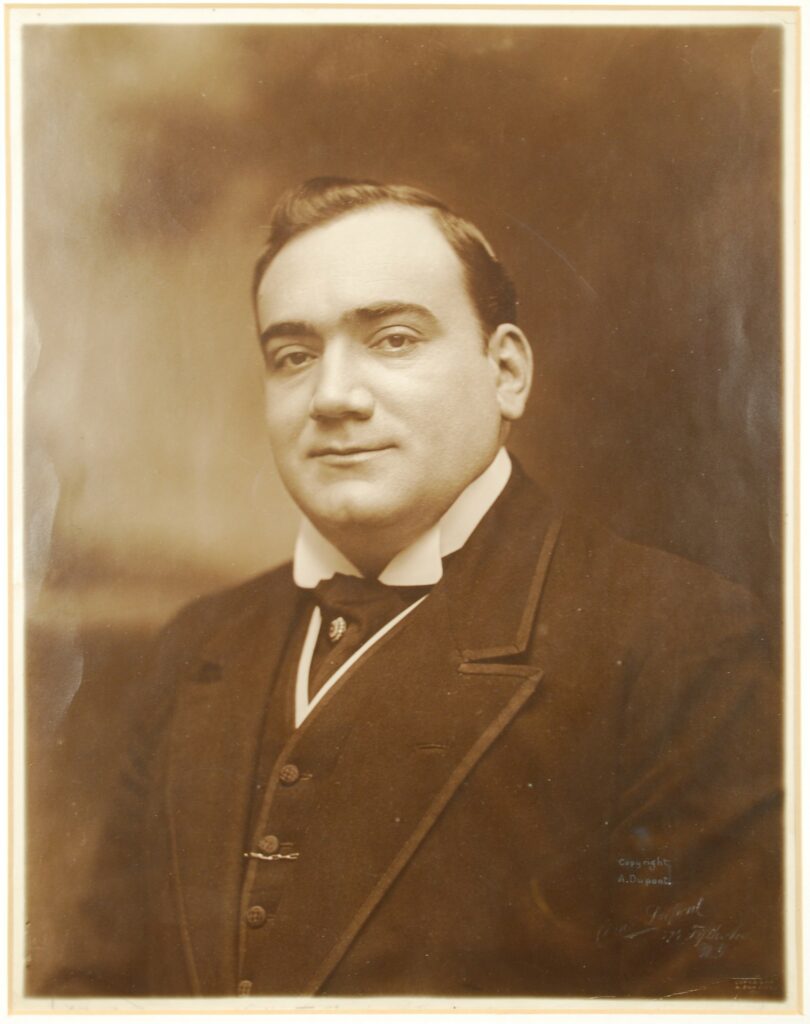 On the 150th anniversary of his birth, Italy celebrated Caruso's myth by opening the Caruso Museum in Naples, a permanent exhibit at Palazzo Reale. It's not a traditional display of memorabilia but a "chamber of wonders," as it has been described, featuring 3D animations, multimedia platforms, and musical and cinematic installations offering an immersive auditory and visual experience.
Spanning 500 square meters, the museum houses 3,500 digitized documents and 110 rare original exhibits, including costumes, posters, banners, photographs, gramophones, reels, and original furnishings. These serve as a tribute to "the immense artistic legacy of the Neapolitan tenor. His life story, from the San Carlo all'Arena neighborhood to international spotlight is a vivid example of an extraordinary life. Naples, his birthplace and the setting for his early artistic endeavors, offers one of its most illustrious sons the recognition he rightly deserves. The best way to honor him — as the mayor of Naples, Gaetano Manfredi said — is to immortalize his incredible talent."
His voice, particularly abroad, was and still is synonymous with arias, operas, melodies, and national classics. "The global popularity of Neapolitan songs is intimately tied to his name, his personal experiences and connection with Naples informed his entire creative output. Yet, Caruso had a complicated relationship with the city. He took Naples to the world, and now, on the 150th anniversary of his birth, Naples heals this wound by honoring him with a museum located in the same complex as his beloved Teatro di San Carlo," Minister of Culture Gennaro Sangiuliano said, during the ribbon-cutting ceremony of an exhibition space that "mends the relationship between the singer and his city."
General Director of Museums Massimo Osanna, added that the exhibit not only gives "due prominence to a figure representative of contemporary artistic culture, who was recognized globally, returning to Naples after taking his art around the world," but also represents "a significant milestone for the national museum system, which aims to enhance public knowledge and enjoyment of museums and cultural sites, making them accessible to a wide audience."
Take, for instance, the 43 audio stations where visitors can listen to Enrico Caruso's voice, the six interactive deep-dive stations, the eight "phigital" stations where physical objects interact with digital storytelling, the three ultra-panoramic tables, the five narrative discs, and a multimedia platform that connects the museum to opera houses around the world. This is the result of 23 international collaborations and a team of 115 people who contributed to the creation of the Caruso Museum.
Even the choice of Palazzo Reale as a location was not arbitrary, either. Mario Epifani, the Palazzo Reale di Napoli director said: "It's not just a monumental building, a series of lavishly decorated and furnished halls. Due to its size, location, and history, it represents a symbol of Naples and the history of Italy and Europe, as well as an identity landmark for the city. For this reason, the ministry felt that Palazzo Relale was the most fitting venue to celebrate a distinguished Italian like Enrico Caruso. Palazzo Reale also serves as a true gateway to the sea — the very sea Caruso crossed to find his ultimate success overseas."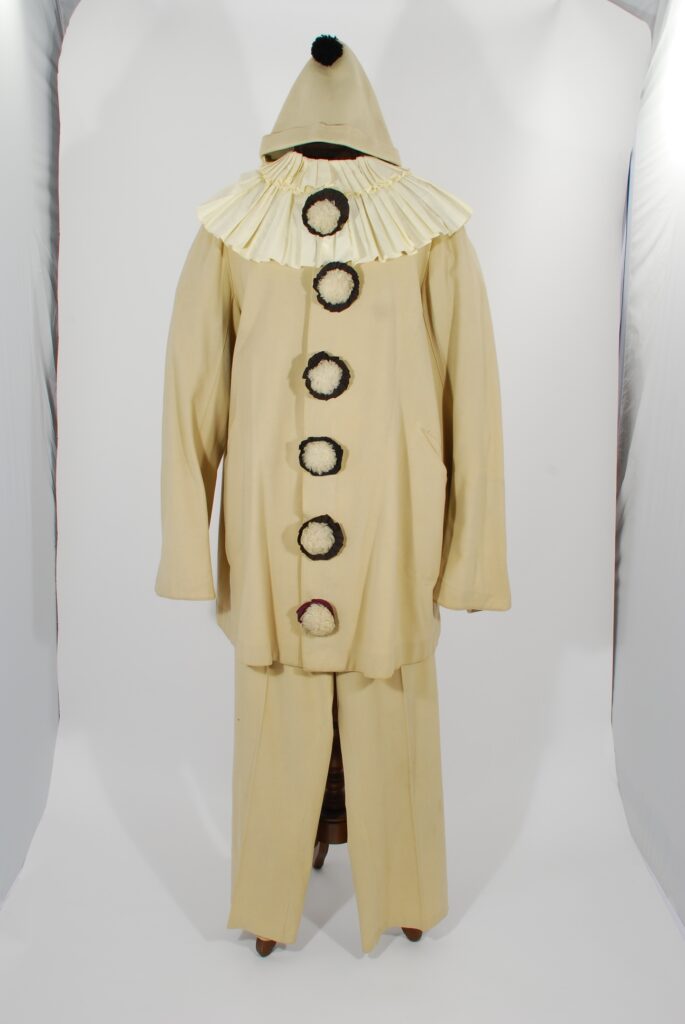 Laura Valente, the museum's curator, observed: "Caruso is an emblematic figure of the noble and legendary Italian identity, with a dual soul as both a renowned lyric tenor who achieved great success in major theaters around the world (including La Scala in Milan and the Metropolitan Opera in New York from 1903 to 1920), and an unmatched interpreter of the timeless melodies of Neapolitan songs. He was also the first recording artist to sell a million records, earning him a place among the most beloved voices in music history."
Palazzo Reale gathers this vast and diverse legacy: "Cuban cigars and Wisconsin jams, Alaskan anchovies and Italian olive oil, stamps featuring his portrait printed worldwide, and even asteroids, Tuxedos Tobacco, coffee, and American corn—there's no product on the market that hasn't been named in honor of this illustrious Neapolitan. He won the unconditional admiration of kings and queens, without ever forgetting the least fortunate, the migrants for whom he sang in places where they gathered to breathe in the nostalgia of home through his songs. His revolution lies in having passionately embodied rural Italy's sentiment while singing with the formal and substantive nobility of the old school," Valente further stated.
The initiative benefits from collaborations with partners from around the world, starting from the Ricordi and Puccini Archives to major opera houses with their valuable archives, such as San Carlo, La Scala, and the Metropolitan. It also includes the Cineteca di Bologna, MoMA – The Museum of Modern Art, BFI National Archive, and Gosfil'mofond, with their extraordinary work of restoration and vocal synchronization on Edward José's 1918 film, My Cousin. This 49-minute black-and-white film features the real voice of the tenor synced with the silent film images, allowing audiences to hear the sequence where he sings the famous aria Vesti la Giubba from Pagliacci. Here is Caruso's voice. Here is Caruso, the actor: one gem after another, a true surprise for those who will visit la sua Napoli.