As showtime approaches, long lines of auto and pedestrian traffic converge on Madison Square Garden in New York for a concert starring one of the world's premier opera singers. Fans are arriving from near and far to see and hear Andrea Bocelli, who is making his final appearance in a US tour of sold-out performances.
Backstage, Bocelli studies his song sequence while waiting patiently for all 19,000 seats to become occupied. Aside from that evening's event, he's looking forward to the end of a weeks-long dry spell. He strictly abstains from alcoholic beverages during a tour.
He's also anxious to return home after a series of appearances, to his estate and winery in Lajatico, an iconic town about 30 miles southwest of Florence in Tuscany. In addition to his musical career, he and his brother Alberto manage a business named Bocelli Family Wines that was founded by their family in 1831. When Andrea and Alberto took over the company in 2000, they initiated plans to introduce new practices and products designed to assure long-term success.
In the past, the family wasn't not only dedicated to wine but was also active in growing wheat and raising cattle. Today, while Andrea performs on international stages, Alberto oversees the management of the winery with assistance from his son Alessio. They offer nine wines, including best-sellers like Sangiovese, Cabernet Sauvignon, and Pinot Grigio. In 2015, their Sangiovese scored an impressive 90 points in industry ratings.
While the family estate buzzes, Andrea, with his golden voice and distinguished stage presence, is established as one of the most admired Italian opera stars in modern history. Primarily a solo performer, he has also thrilled audiences by teaming up with renowned vocal artists such as Sting and Celine Dion.
Born in 1958, the talented tenor came into this world visually impaired, then became completely blind at age 12 when he was struck in the eye while playing in a soccer game. His blindness, however, doesn't interfere with his passion for music. Along with his vocals, he has learned to play the flute, saxophone, trumpet, trombone, guitar, and drums. He has recorded 15 solo albums in pop and classical music, and in 2000 he sang for Pope John Paul II in Rome.
Dual careers in music and wine have paid off handsomely for Andrea, whose net worth is estimated at $100 million. When he's not singing or involved with the vineyards, he relishes time spent with his wife Veronica, their children Amos, Matteo and Virginia, and their pet dog Katarina.
Bocelli decided to get committed to business when he began traveling and performing around the world. At some locations, he had the pleasure of tasting great wine. That's when he decided to make a serious effort to produce quality wine with his own winery. Brother Alberto, on the other hand, was employed in architecture but also saw an opportunity to make fine wine without shutting down his primary career. So they brought in consultants and industry experts to help guide them to improve their product and sales.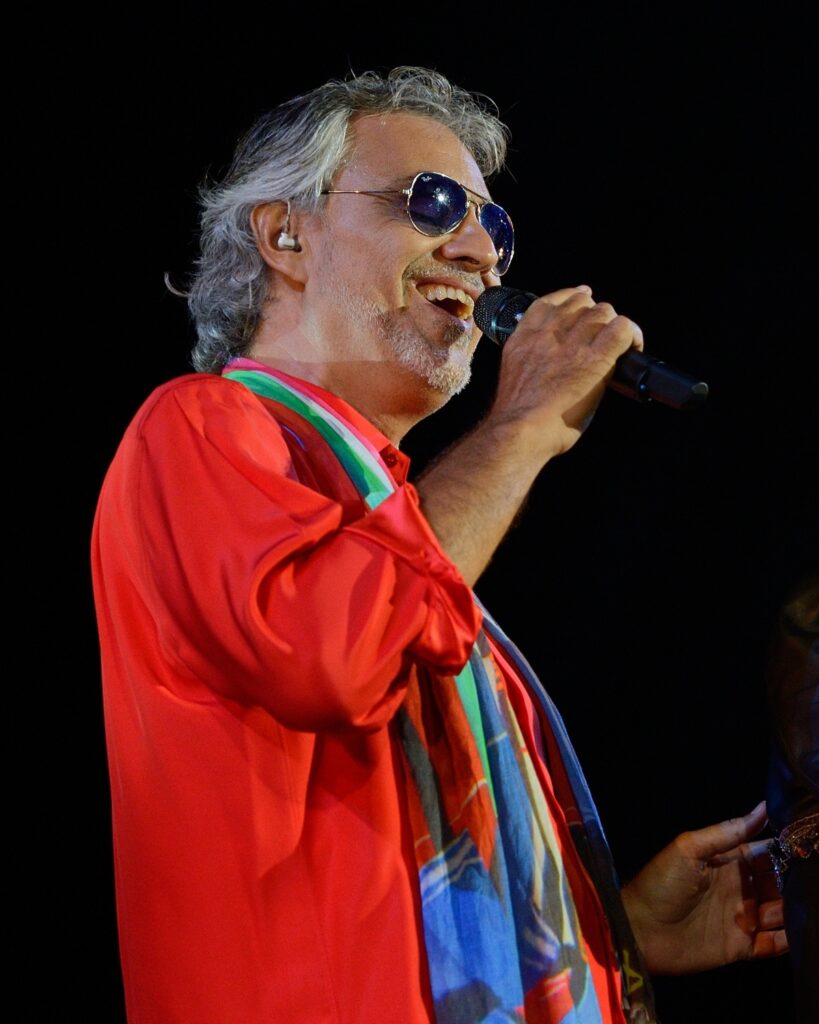 They started slowly to expose their wine and promote sales by putting on such events as wine tastings at Andrea's concerts. The combination of music and wine thus proved beneficial to their brand awareness and sales.
When Andrea was asked what type of wine he personally prefers, he replied: "Though I like all good wine, the one that stands out for me is Sangiovese, so my favorite is Terre di Sandro. It's the most typical grape with which we make a good deal of our wine. But I also want to mention Alcide wine. That's my grandfather's name, so we put it on the label. It's a blend of Cabernet Sauvignon and Sangiovese that started out as an experiment, but has since turned successful."
Adds Alberto: "Since I was young, I always imagined that my work would follow my passion for architecture, as my brother did with his music. Our farm has always been a source of pride, and we surely intend to keep it that way. Despite our other activities, we always find time for the farm. When papà passed away in 2000, we decided it was time for favorable changes, so we became devoted to them. Our goal is to distribute our wine all over the world."
Andrea's reputation preceded him. Years ago, at the end of a performance in a Chicago suburb, he and his entourage decided to go out for a late dinner. They wound up at Pescatore Palace, an Italian seafood eatery in the suburb of Franklin Park. Andrea had a taste for pasta, but couldn't find what he wanted on the menu. So he and owner-chef Vito Barbanente retreated to the kitchen and assembled a signature dish according to the singer's instructions. The owner not only kept the pasta on his menu but named one of the restaurant's dining rooms in honor of Bocelli.
Among Bocelli's favorite pasta dishes is Luciano's Midnight Pasta, which gets some sass from garlic and chilis. Here's the recipe:
16 oz. of spaghetti
1 tbsp of salt
6 fluid ounces of olive oil
3 small chili peppers
4 cloves of garlic
5 tbsp of chopped parsley
5 tbsp of freshly-grated parmesan.
Directions
Heat water to boiling point, then add the salt and the spaghetti. Cook them according to packet instructions.
In a large pan, add the oil, and sauté the garlic and chilis in it.
Once cooked, drain the pasta, then put one-third of it in a large bowl and add one-third of the chili and garlic oil, along with add one-third of the parsley and one-third of the cheese. Then, toss everything.
Reheat the pasta for 2 minutes, and add the remaining pasta, oil, parsley, and cheese.
When all is mixed, reheat for an extra minute in the microwave.
Add extra cheese and serve hot.