I only ever cook sweet peppers in the summer when they are in season. They are thick fleshed, sweet, and flavorful, in contrast to their sad winter counterparts. In Italy, as the weather turns cold in the fall, they become watery and tasteless, I forget about them until next May or June.
It's almost October, but it's still bright and warm in Umbria so we can take advantage of summer vegetables for a little longer.
I lost count of the number of times I have cooked peppers in this aromatic stir fry, so rich in umami due to the classic Mediterranean combination of anchovy, capers and garlic.
My mother made this dish with white vinegar and sugar, which is the traditional way to make sweet and sour vegetable dishes in Southern Italy. However, I find that balsamic vinegar and sweet peppers is a marriage made in heaven.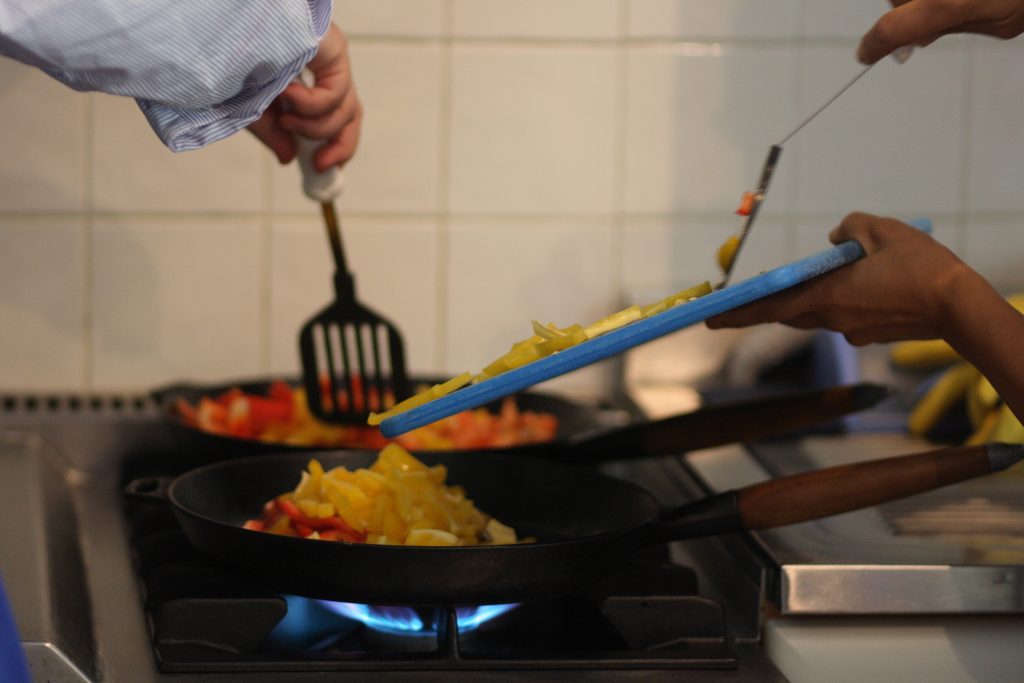 Please try and let me know if you agree.
Ingredients (Serve 4)
2 large red or yellow peppers
3 tablespoon extra-virgin olive oil
1 garlic clove, finely minced
1 tablespoon salted capers, rinsed
2 anchovy fillets
2 tablespoon balsamic vinegar
1 tablespoon basil or mint leaves, torn into small pieces
Deseed the peppers and cut them in 1/2-inch wide strips. Preheat a heavy cast iron pan. When hot, add the olive oil and pepper strips and cook over a fairly high heat for 10 min, stirring often to prevent burning.
When the peppers are lightly charred and soft (this will take 6 to 8 minutes) add the minced garlic and anchovies, stirring quickly to avoid burning. Add the balsamic vinegar, stir for a further minute, sprinkle with chopped basil and/or mint, and remove from the heat.
Allow the peppers to rest for at least one hour and – even better – for up to two days before serving. It is actually preferable to prepare the peppers one day ahead and store them in the refrigerator, as their flavor improves with time.
Serve cold or at room temperature.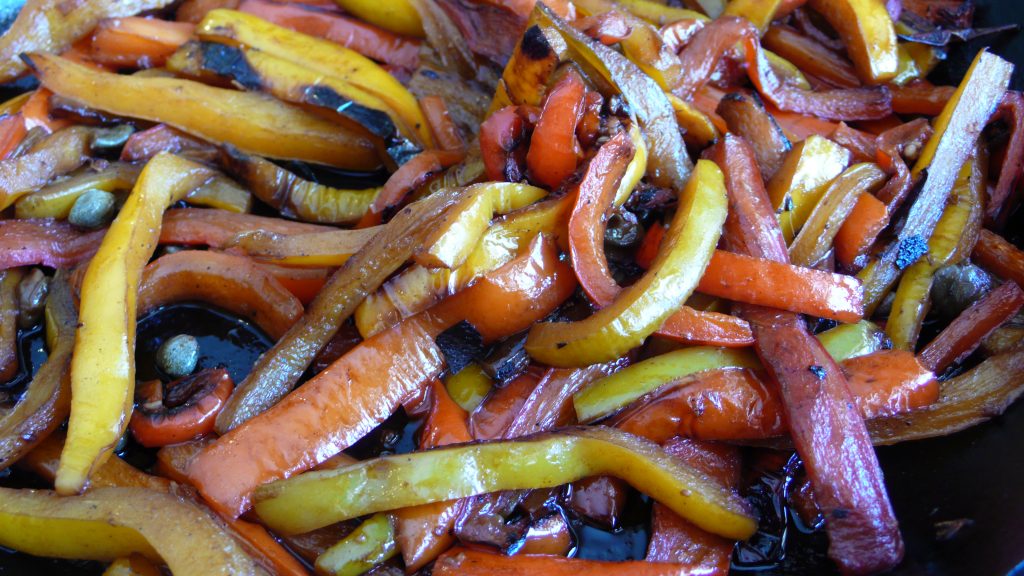 Letizia Mattiacci is a cookbook author and owner of Alla Madonna del Piatto Cooking School and Agriturismo in Assisi, Umbria, https://incampagna.com. This recipe has been previously published in Mrs. Mattiacci's cookbook, entitled "A Kitchen with a view."