There's a breeze rising up from the sea, fluttering through the Piazza della Repubblica in Pizzo on a Saturday night.
Surrounded by couples, families, and groups of friends laughing over late-night drinks, you wait, then watch as the waiter places a small, slightly misshapen cocoa-dusted globe in front of you. This is your authentic encounter with the tartufo di Pizzo, the gelato confection for which the town is widely known. Pick up the spoon and gently slice through the soft hazelnut and chocolate gelati that encircle a warm, molten chocolate center. You'll only have a few minutes to eat it until the gelato melts into liquid, but thankfully it tastes good either way.
Sicily has granita and Florence is arguably where gelato was first invented. However, Calabria—famed for foods like the spicy pepper, sweet Tropea onion, and the citrus bergamot that's used in producing Earl Gray tea—is also famous for its ice cream confection aptly named for the forest fungus it resembles—the tartufo.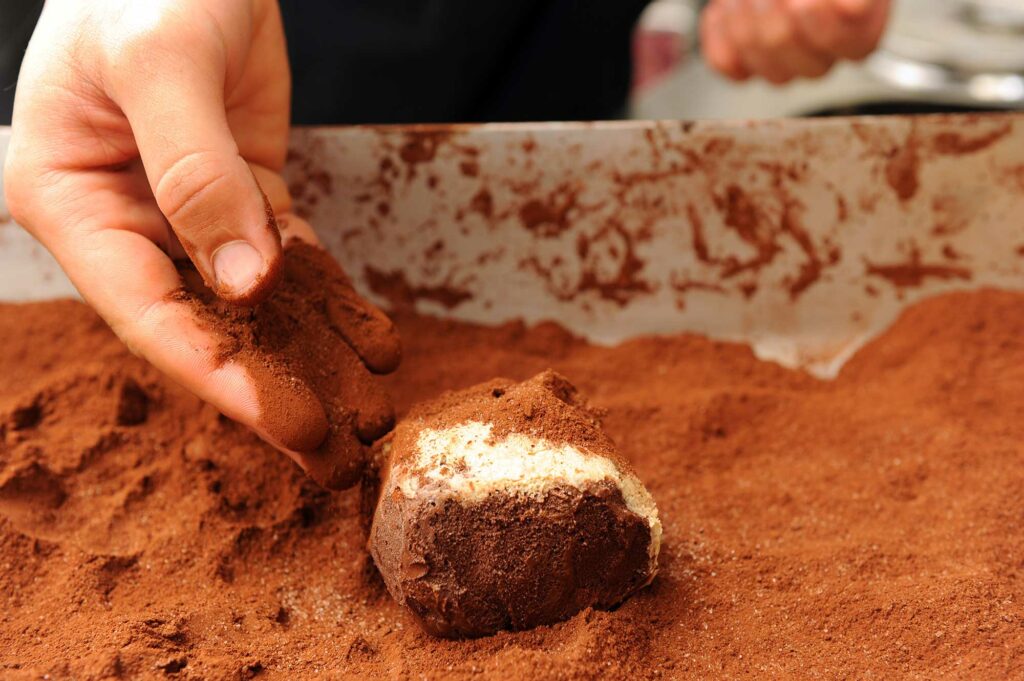 With a population of around 9,000, Pizzo-Calabro sits 30 miles north of its decidedly more glamorous (and with it, more touristy) sister city Tropea. Both are situated in the Vibo Valentia province, but the latter receives most of the attention for its dramatic cliffside views, earning Italy's 2021 title of the most beautiful village. But one would be remiss to skip a visit to down-to-earth Pizzo, whose small town center sits high above the water, allowing for easy views of a peaceful seascape. On a balmy weekend night, the piazza is happily animated with locals and the occasional pocketful of tourists wandering about, taking pictures from the vista point, or enjoying the town's signature ice cream indulgence.
Pizzo became known as a town in the 14th century when a sect of Basilian monks settled there. Fishing also took hold, and it subsequently became the site of the annual tuna mattanza. While the practice is no longer allowed there today, Pizzo remains home to the popular Callipo tuna processing plant, and the town is known for its tasty tuna steaks. Later, in 1815, the town saw Napoleon's brother-in-law and former ruler of the Kingdom of Naples, Gioacchino Murat, both jailed and executed. Hence the castle took on the name Murat. But by the mid-20th century, Pizzo and the Castello Murat would be known for something much sweeter.
Necessity is the mother of invention, as they say, and this holds true for the tartufo. In the early 1950s, a Messina-born baker Giuseppe de Maria, known locally as don Pippo, was charged with dessert preparations for a wedding to take place inside the Castello. He ran out of the molds needed to make the dessert, and as such was forced to improvise, using his hands to pack hazelnut and chocolate gelati together in a ball shape around a core of dark chocolate. To preserve it, he wrapped the ball in food-grade paper and later dusted it with cocoa. A sweet invention was born.
Today, Pizzo's main piazza boasts a half dozen bars and gelaterie that compete for attention with their personalized creations—unique takes on the tartufo flavors as well as other icy treats, including the nocciola imbottita (literally translating to stuffed hazelnut). The local master gelato makers—i gelatai—insist that the imbottita is not unique to Pizzo in the way that tartufo is, but nonetheless it is on nearly every menu here and unlikely to be found outside Calabria. The imbottita is a type of spumone or zuccotto, a layered semifreddo and gelato dessert with Florentine origins. (Unlike gelato, a semifreddo is made up of a meringue and whipped cream that is then molded into a metal pan). The popular version features an outer shell made of hazelnut gelato with a hazelnut semifreddo interior. One imbottita mold is usually sliced into 4 portions, each showing off the attractive layering of the dessert. While hazelnut is one of the most popular flavors, the dessert can be found in others like chocolate, strawberry, or pistachio as well. The best way to determine which is right for you is to bring a friend and order both—compare the tartufo and nocciola imbottita side by side as they gently melt into each other.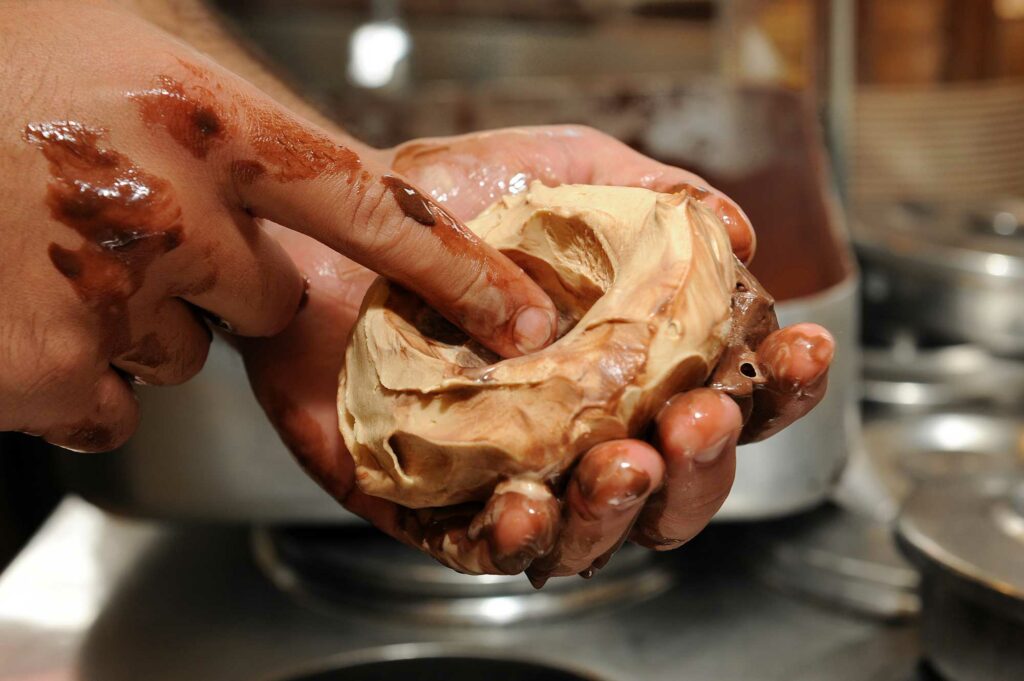 Local gelatai formed a consortium (Consorzio Gelatieri Artigiani di Pizzo) to preserve the tartufo recipe and commitment to high-quality ingredients, demanding only whole milk, sugar, egg yolks, hazelnut paste and cocoa be used in order to bear the name. Although they originally sought IGP status for the tartufo, and the label is sometimes erroneously applied, it hasn't actually received official recognition from the European Union.
Labels aside, the fun is in trying the confection from one of the competing gelaterie, which are all rightfully proud of their craft. There's Bar Dante, which is under a different name and ownership today, but is home to where the tartufo was initially created by Don Pippo, with a plaque posted outside to honor the local history. Further up in the piazza is Gelateria Belvedere, known by locals as Il Gatto, whose tartufo now comes in a variety of flavors—alongside the traditional, there is pistachio, strawberry, coffee/almond, chocolate, and lemon. And across the piazza sits the ever-popular Bar Ercole, where owner Franco Di Iorgi carries on his father Gaetano's tradition of making handcrafted and personalized tartufo recipes since the 1960s, after the elder Di Iorgi learned from Don Pippo himself how to make the treat.
It's easy to see most of Pizzo in less than a day. Arguably a couple hours are enough. But you haven't really visited Pizzo unless you've taken a seat in the Piazza della Repubblica for a tartufo, or a slice of nocciola imbottita. Chat up the waiters at Bar Ercole, pair the tartufo with an Amaro del Capo and watch local Calabrian life pass by. That's la dolce vita, Pizzo-style. Just don't bother asking how the tartufo's chocolate center oozes out so perfectly through the frozen ice cream. "That's the 100,000 dollar question," laughs Di Iorgi.