As many of you probably know, after more than 70 years of service, Alitalia is no more. Its last flight landed in Rome at 23,23 on the 15th of October, and it did feel like the end of an era. Around the world, Alitalia was known as one of the last "old-school" airlines, where cabin crew had to know at least two languages besides Italian and uniforms were as sharp and elegant as something you'd see on the catwalk. Pity that the company itself hadn't been doing too well for years.
While a new – we all hope successful – adventure has started already in our skies with ITA Airways, some interesting questions were risen about Alitalia's ultimate demise and the reasons behind it. The company didn't make enough money to sustain itself anymore: as simple as that, but why?
Recently, CNN Travel's Julia Buckley offered a very interesting analysis of Alitalia's collapse, one that involves also the introduction and rise in popularity of high-speed trains on routes that used to be Alitalia's prerogative.
Let us take the Milan-Rome route, for instance, which is traveled daily by thousands of people, especially for work: 2019 data collected and analyzed by Ferrovie dello Stato, Italy's national railway company, highlighted how the number of passengers choosing the train instead of the plane has quadrupled in 10 years, going from 1 million in 2008 (the year high-speed trains debuted on national routes in Italy) to 3.6 million in 2018: this translates in over ⅔ of the people traveling between the capital and Milan preferring high-speed trains to flights. Italians, it seems, truly enjoy their Frecciaroossa. And don't be fooled, because tourists do, too, if it's true that the number of visitors taking the train went from 1.8 million in 2008 to 7.3 million in 2018. The most popular journeys? Rome to Florence and Rome to Venice, of course, with the latter once being one of the country's main flight routes.
Back to the Milan-Rome connection, people have good reasons to prefer the train, Buckley continues: to begin with, the trip takes a mere 2 hours and 59 minutes, which may seem a lot when compared to the 1 hour and 10 minutes of your average flight, but when you look at it closely, it really isn't. First of all, train stations are always in the city center, which means you arrive just where you need; if you flew, it'd take you at least 30 minutes by car from Fiumicino to Rome city center and Linate, Milan's closest airport to town, is at least a 20 minutes drive. Plus, when you take the train, you can show up just 10 minutes before departure, no need to get there 1 hour and ½ in advance, as at the airport. If we do the maths, we end up saving time and stress if we take the train.
Some may argue our trains aren't known for being especially clean, nor new. And that's without mentioning the fact they are always late. Look, that's true, but not for high-speed trains: Ferrovie dello Stato's Frecce are new, clean, and comfortable, just like a plane and – incredibly for an Italian train – they run on time.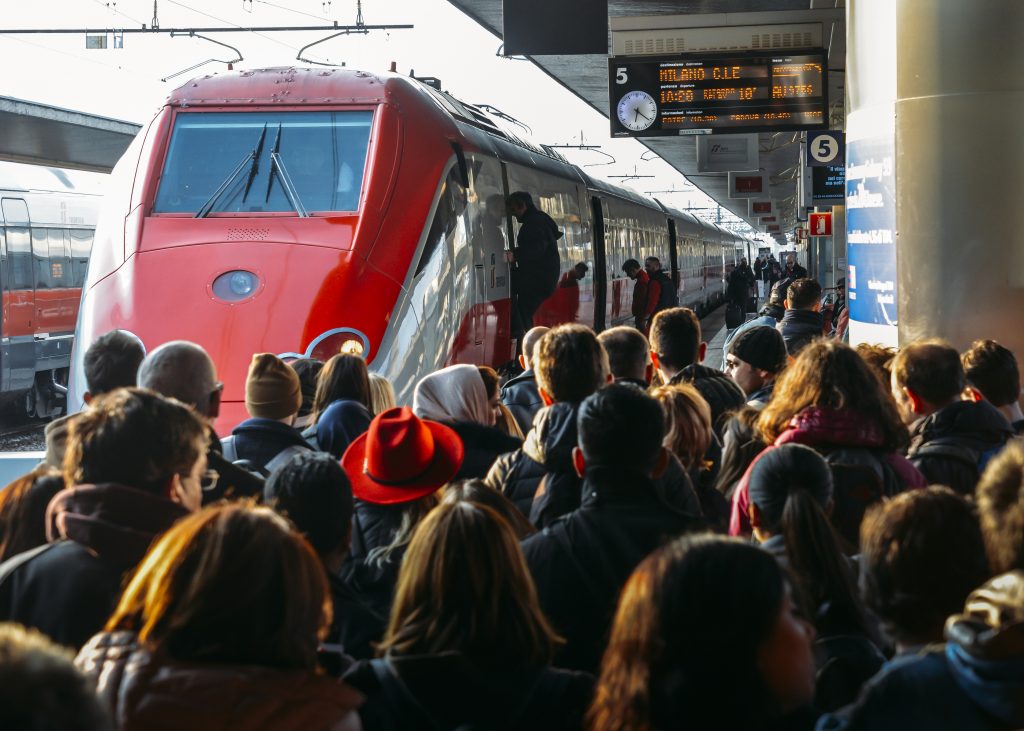 Did high-speed trains truly quicken the end of Alitalia? According to Francesco Galletti, CEO of political risk consultancy firm Policy Sonar, and frequent Rome-Milan train traveler, the answer is yes, but with extra detrimental ingredients in the mix. Galletti explains that, while being an international carrier, Alitalia was very much focused on internal routes. This is simply explained in one word: tourism. Italians mostly vacation in Italy and foreign visitors tend to opt for internal flights when visiting so that they can see as much of the Belpaese as they can. But while this worked fine for a while, the breaking point was reached when competition from low-cost airlines (both nationally and internationally) and high-speed trains came into the equation.
Speed, quality of service, convenience, and a plethora of routes: between the Ferrovie dello Stato's Frecce and the private Nuovo Trasporto Viaggiatori's Italo, most of Italy is today connected by high-speed trains, whose onboard experience is very similar to that you'd enjoy on a plane: you reserve your place when buying your ticket, there are special lounges in our main train stations for high-speed, top-tier travelers and you can even collect fidelity points and get free trips, just like with any airline.
When talking to Buckley, Carlo Barbante, director of the Institute of Polar Science at Ca'Foscari University in Venice, explained why he prefers traveling to Rome by Frecciarossa: "I like the carbon footprint first and foremost, but I like that I can check in a few minutes before departure, can walk around easily, and feel very safe and comfortable." Comfort, but also an eye to the environment, as "the train is one of the most reliable ways to reduce your carbon footprint."
Last but not least, there is the ageless charm of traveling by train: the country passing by your eyes fast through the window, the rhythmic lull of the moving carriage cuddling you into a soft slumber, the old-fashioned bar car. It may not be the same as flying above clouds, but it's a very good alternative, indeed.