Naming her brings to mind a time of conspiracies, cloak-and-dagger events, and lascivious, decadent orgies of sex and wealth. But was Lucrezia Borgia, daughter of Pope Alexander VI and his favorite, Vannozza Cattanei, truly such a dissolute being?
According to historians and researchers, including Anita Sanseverino, a photographer with a focus on the Belpaese who developed an interest in Lucrezia and her role in the Borgias' empire, it isn't really the case. Sanseverino, who will lead a conference on the subject at Casa Belvedere, The Italian Cultural Foundation, Staten Island, on the 29th of this month, strongly supports a view that sees Lucrezia more of a pawn used ad hoc to increase her famous family's power, rather than a soulless temptress without morals.
Let' 's see why, then, beautiful Lucrezia may have not been as evil as collective imagination and popular culture always wanted us to believe.
She was born in Subiaco, near Rome, on the 18th of April 1480, daughter to, as we said, Pope Alexander VI Borgia and his favorite Vannuzza Cattanei. At 11, she got engaged with Giovanni Sforza, Lord of Pesaro, whom she married at 13. Of course, it wasn't a union of love, rather she was used by her father and brother as a pawn for their political expansion. Her wedding to Sforza, however, didn't last long because Rodrigo, her father, and Cesare, her brother, weren't satisfied: the marriage got annulled – Giovanni was forced to sign a paper that declared he was impotent to make it happen – and she became, once again, the instrument to tie the Borgias to another powerful European family, the Aragons. She married Alfonso of Aragon, Duke of Bisceglie, the illegitimate son of the king of Naples, Alfonso II and it seems Lucrezia, this time, was in love. But his sister's happiness didn't stop Cesare, known for how cunning and calculating he was, to get Alfonso killed, making her a widow and the child she had had with Alfonso a young orphan.
The years following the murder of her husband are those when, perhaps, Lucrezia's bad rap originates from, philologist and Renaissance historian Stella Fannelli explained to Viterbo Post some years ago. She also clarified how Lucrezia's behavior was, in fact, not so different from that of her contemporaries in general: "History made of her a wicked character in a very libertine Rome: seedy sex parties, murders, the poisoning of enemies… she was accused of all that and it is likely that Lucrezia did, in fact, take part to at least some of all this. Yet, actions must be contextualized within the historical period she lived in: in 14th century Rome, sin, corruption, lust, intrigue and shady practices were the norm, not the exception." Not an incredibly wicked woman, then, but rather, the product of her own time and upbringing.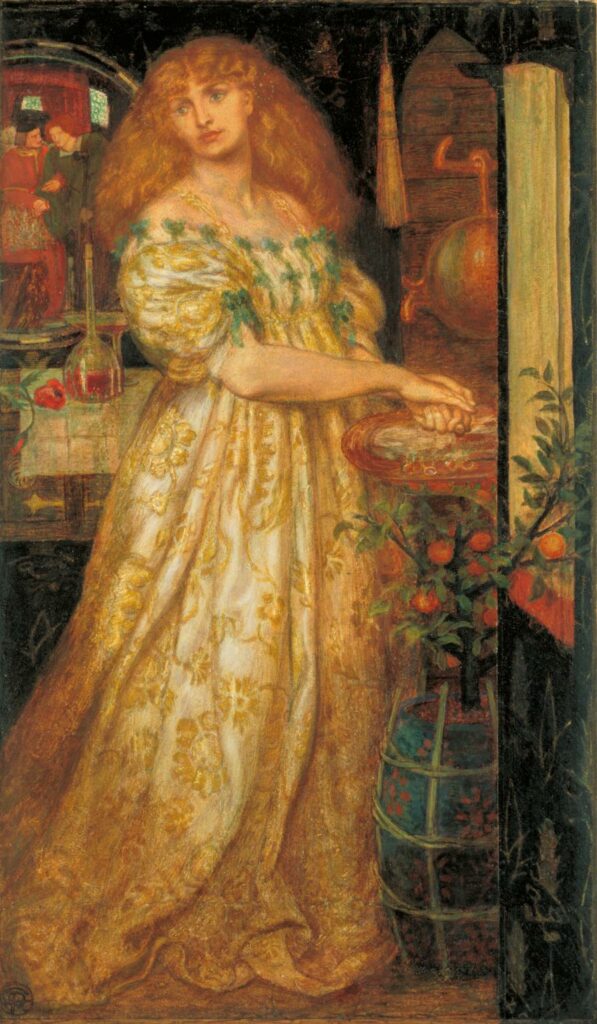 This idea seems to be proven by the profound change she undergoes when she marries her third husband, Alfonso d'Este, son of the Duke of Ferrara, Ercole, of course, chosen by her father and brother for her. The union wasn't simple, because Alfonso, considering Lucrezia's reputation and, perhaps even more worried about what happened to her two previous husbands, wasn't too kin on marrying her, but he eventually relented.
Once an Este, she moved to beautiful, elegant, European Ferrara. It was a turning point in her life. She started campaigning for the rights and well being of the least fortunate, including people in prisons; she sought and found a connection with her subjects, through honesty: she never denied anything of her past and, perhaps, this endeared her to Ferraresi, who considered her real and not ashamed of her mistakes. Her people loved her, and she also became a leading figure for the Este family: a good administrator, a good mother – she had seven children with Alfonso d'Este, and she died, in fact, of childbirth – and a dedicated woman of faith.
Indeed, in what, if we were in a novel, could be seen as a strategic plot twist for the ultimate coming of age of the main character, Lucrezia, in Ferrara, also finds God. Following the teaching of Saint Catherine and Saint Bernardino, she takes up a path of charity and support for the poor and neglected, that will materialize with the creation of the Monte di Pietà, financial institutions that would give poor people access to loans at reasonable interest rates, with borrowers giving valuable objects as collateral, a bit like it would happen in a pawn store today.
In Ferrara, Lucrezia also discovered the arts and became a beloved patron to some of Italy's greatest artists, including Ludovico Ariosto, Ercole Strozzi and Gian Giorgio Trissino. However, her favorite, most loved – perhaps not only platonically, some say – poet was Pietro Bembo.
She became, in Ferrara, a good mother, a good wife, and a beloved duchess. She was considered fair, just, and good-hearted. She died at 39, when giving birth to her last child, after years of paying penance – perhaps to her past, perhaps to her family's seedy way of life – by wearing a cilice to punish her flesh.
Who was, then, Lucrezia Borgia?
A child of her own times, without a doubt. Her figure teaches us clearly that judging and evaluating the past through the lenses of the present, without considering history, is a mistake. Lucrezia wasn't perfect, and she probably did commit some of the nefarious actions she has been blamed for, but it was in part ragion di stato, in part politics, in part cultural and social mores of those decades to lead the way for her. By accepting her past fully and uncompromisingly, but at the same time, by getting involved in acts of profound piety, Lucrezia showed she was a person of morals, in the end. Or that at least she became so, at some stage in her life.
It is interesting, to conclude our chat, to note that a lot of what we, today, believe about Lucrezia Borgia, comes from later works of literature: she was described as a heartless, seductive woman by Alexandre Dumas in Crime Célèbres (1865): he compared her to her murderous brother Cesare. Victor Hugo wasn't any nicer to her when he wrote a play about her life, Lucrèce Borgia in 1833, where she was also described as an expert in the use of poison and a perfect example of female wickedness.
Hugo's play became very popular and was used as an inspiration for movies, other theatre plays, and operas. So, perhaps, Lucrezia suffered an example of late damnatio memoriae, which made her more evil and ruthless than she's even been. Time to look at her with new eyes, without preconceptions.