The Colosseum is a symbol of Rome and Italy, with which everyone is familiar, even those who've never visited us. It is majestic and grandiose, as its name suggests, but also reassuring in a way: just like an old friend or a great grandfather who still dispenses advice to the family, the Colosseum has always been there, as sturdy as a rock. It is precious and iconic, so nobody was surprised when, in 1980, it became part of the UNESCO World Heritage and when, in 2007, it became one of the New Seven Wonders of the World.
The ancient Romans knew it as the Flavian amphitheater: the name "Colosseum" only appeared in the Middle Ages and its origins, in fact, are a bit of a mystery. Most likely than not, the word, which is Latin for "colossal," was used because the theater was erected near Nero's "colossus," a very large statue of the emperor. However, others believe its name originates from the building's location, on a hill where, once upon a time, there was a temple dedicated to Isis: from there, the Latin sentence colis Isei? "Do you worship Isis?" Not everyone thought that the temple was Isis' though: according to some, there was demonic worship going on there, so rather than colis Isei, people would say colis eum, do you worship him: him being the devil or some sort of pagan demon.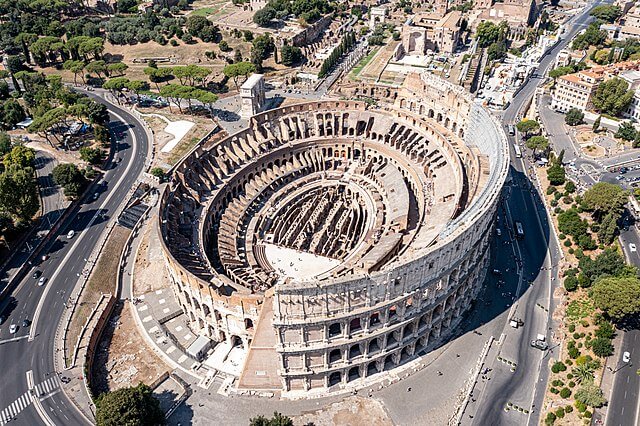 A very colorful history, that of its name, but in fact but its history as a whole is very colorful and there are a thing or two we may like to delve into a bit more. For instance, when it was in use, the Colosseum was widely considered one of the seven gates of Hell: I mean, a lot of people died there, so it certainly was eerie when you think about it. But there is more because some believed the blood of those who perished on its soil was used for dark rituals. In later centuries, during the Middle Ages, when it had been lying unused for centuries, local criminals had the habit to bury their victims there, and in the 16th century, it became very popular among men and women who practiced magic, because of the many particular botanical species that grow there. Yes, because the Colosseum is not only an important piece of history, but also a natural environment to be preserved: some 350 species are growing within its walls, some of which are not typical of Italy, but thrive in the peculiar micro-climate of the amphitheater.
Its history can also help us understand better how and why the monument changed through the centuries. Because the Colosseum we see today is not quite what the ancient Romans used to see, and not solely because a conspicuous part of it is missing.
Its construction began under the rule of Vespasian, sometimes around 70 AD, but it was officially inaugurated in 80 AD by another Emperor, Titus, and further modified ten years later by Domitian. This elliptical beauty, with its 189 meters in length, 156 in width, and 48 in height, is the largest amphitheater in the world. In its heyday, it could host, it is estimated, between 50,000 and 87,000 people, just like today's sports arenas and stadiums. And while you probably had to queue to get in, it may have taken less than today, because all of its 80 entrance doors were used!
At the apex of its popularity, gladiator games were perhaps the most common among the forms of entertainment presented at the Colosseum, but they weren't certainly the only ones. There were hunting games, military re-enactments, and even mythology-based plays, but the most impressive of all must have been the naumachiae, re-enactments of naval battles: according to Martin Crapper, professor of civil engineering at the University of Edinburgh, the arena was filled with water stored into internal wells, located underneath the bleachers, which would then flow through a complex pipe system to the arena: it would take up to 7 hours to fill it all. It must have all been very scenic, but gladiator games remained the favorite among Roman people, and maumachiae never quite manage to become as popular.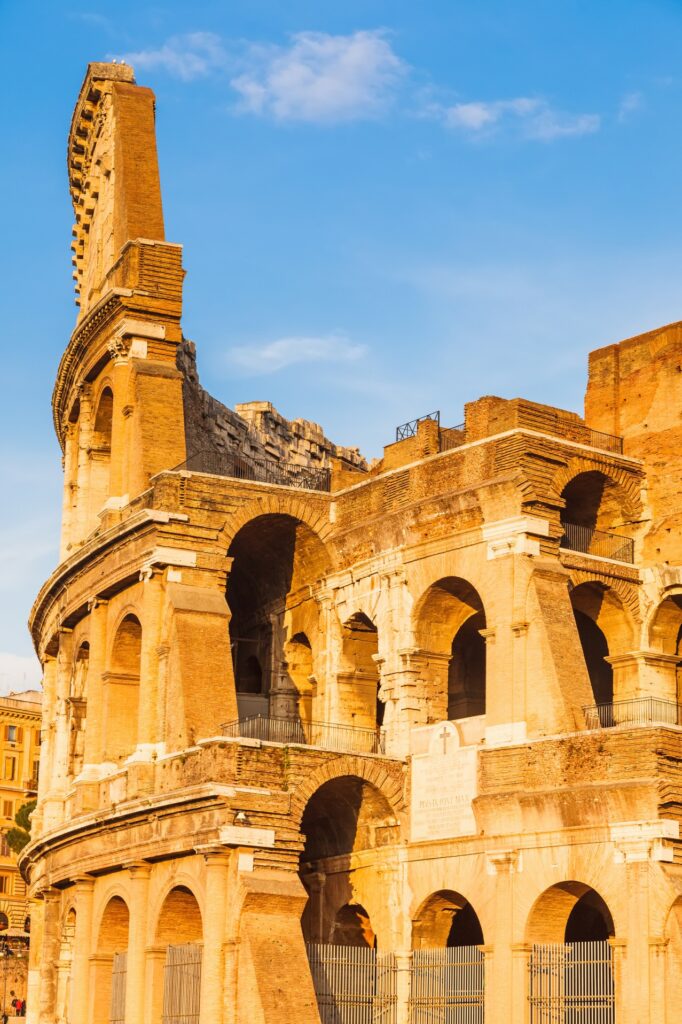 When it was in use, the Colosseum had other interesting features, such as a huge velarium (a cloth covering) made up of some 80 triangular sails, controlled by 332 support ropes. The velarium was used to cover the arena and the bleachers when the sun was too hot. Another notable characteristic was the presence of hundreds of statues and marble decorations, both outside and inside the structure: if it stands majestic and breathtaking today, imagine how it must have been 2000 years ago.
Around the 6th century, however, the Colosseum stopped being used and began suffering from neglect. Throughout the following centuries, it was used mostly as a source of primary materials – think of marble and bricks- to build or decorate other buildings in the city: this wonder of the Classical world was reduced in size and magnitude to what we still see today which, according to experts, represents only 1/3 of the original construction. Travertine was either used as it was, or cooked to produce lye; marble was taken away to embellish or restore buildings and homes; water pipes were pulled out and used as a source of lead, and even the iron rods keeping together masonry structures were often removed and repurposed. The "sack of the Colosseum" continued well into the Middle Ages and the Renaissance when popes would easily concede, for a handsome sum of money, the right to export materials from the ancient building; the only area left untouched was the north-side façade, because it faced the way followed by religious processions to reach San Giovanni in Laterano. Speaking of the Lateran, marbles, stones, and iron rods from the Colosseum were used to restore its façade in 1439. In 1452, some Giovanni Foglia from Como exported 2,522 cartloads of materials taken from the Colosseum and ten years later, it was again the ancient wonder's travertine that was used to build the Holy Staircase, part of the city's walls, Saint Mark Basilica and Palazzo Venezia.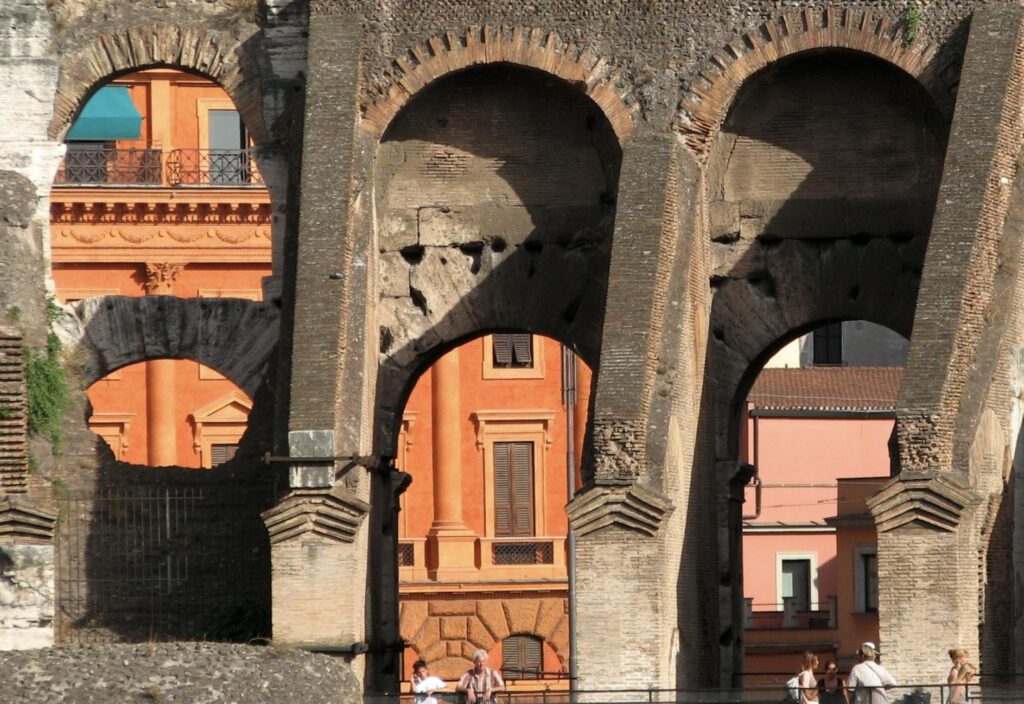 So far, we found out that marble, stones, metal, and even bricks were stolen from the Colosseum throughout the centuries, but what about the most conspicuous thing that's missing from it, half of its top part? To us, the Colosseum has always been asymmetrical, but of course, it hadn't been built that way! In fact, part of its structure collapsed in 1349, when an earthquake, the epicenter of which was in the Central Apennines, hit the capital. I can see some raising their hands to ask questions… yes, Rome isn't in an area at high risk for earthquakes, but it can happen, when they are particularly violent and their epicenter is relatively near, that they damage buildings in the capital, too. What's interesting though, is discovering why only half of the Colosseum crumbled down, while the other was barely compromised, if at all. That's because the structure was erected in part on solid, rocky ground, in part on a much more unstable terrain, mostly formed of river sediments coming from an ancient affluent of the Tiber. But the 1349 earthquake wasn't the only one to damage our Colosseum: the same happened in 442, 484, 1231, 1255, and 1703.