Italian kids hate September, the month schools open again, but once you grow older, the coming of the first month of the fall is often welcomed with a sense of relief. Because summer may be filled with sun kissed fun for some, but most of us still have to go work every day — beside that measly couple of weeks in mid-August when everyone else hits the road and half of the vacation is either spent on the highway stuck in traffic, or worrying about being on the highway stuck in traffic.
And so, we dwell in the office with the a/c on, then wander into the sweltering heat outside, then back to the a/c of our home: a perfect recipe to get neck pains and sore throats, if you ask me.
Personally, I am not a fan of the summer, for all these reasons and more. The lack of stability and routine that comes with children not having school and most of your friends expecting you to enjoy the season because it's sunny, while you'd sell your soul to the devil for some fresh, winter air, just makes me moody and temperamental. I understand I am part of a minority, though.
Yet, I am sure that even the hot season's lovers would agree with me when I say September is special, beautiful, reassuring; it's our "Linus' security blanket," a moment of the year filled with zesty, fresh air in the morning and pleasantly cool evenings, with colors that begin to change, moving from the bright coldness of greens and blues, to the baroque, gold-like warmth of reds and yellows, purples and oranges, azures and browns.
Because, yes: September is the month when the fall begins, but we shouldn't forget there are 20 days of summer in it, still. In fact, the most enjoyable part of summer from many points of view, and we Italians are well aware of it. In September, the sun still shines high and the earth is still warm; the sea is calmer and our beaches less crowded, the weather still nice enough to enjoy a holiday and get a tan, or to take a week long break in the mountains. With the beginning of school, even art cities start being less packed with tourists: mind, they are packed with residents, but queues for museums are shorter and prices in restaurants lower.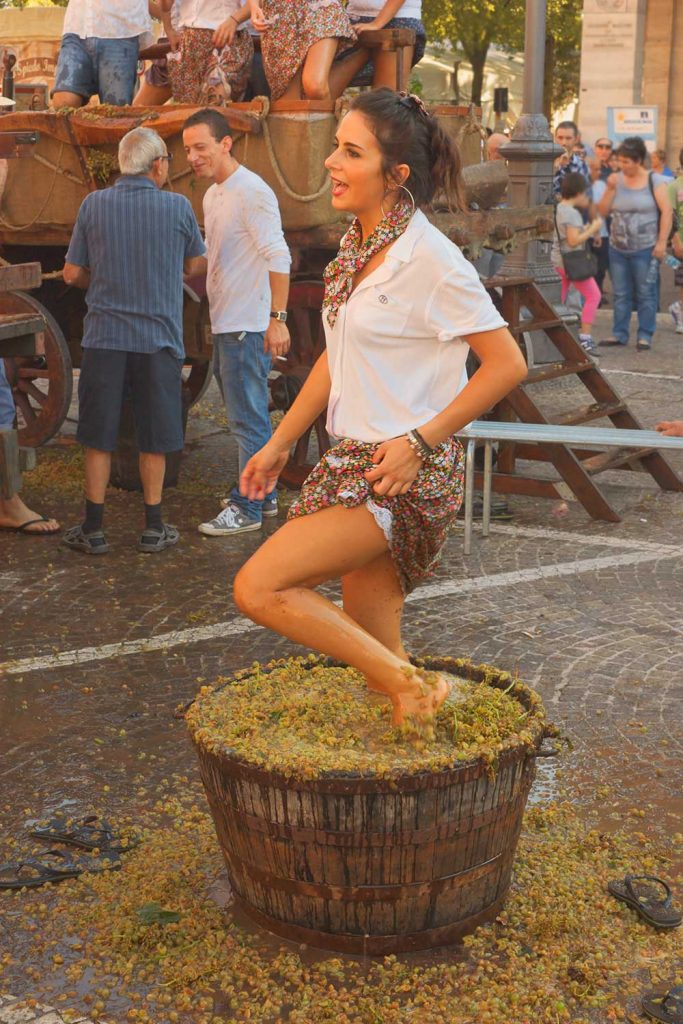 Of  course, enjoying the last September sun isn't for the youngest among us, as children and teens go back to school by the middle of the month. The dreaded primo giorno di scuola hasn't changed, in spite of time passing: it comes with a rush to finish summer homework for kids and a benevolent sense of relief for parents, in many a way happy to go back to routine. There are traditional activities intrinsically tied with primo giorno di scuola we all have memory of, one of the most common being the trip to town to buy new shoes and a new backpack. Because children from first to fifth grade wear uniforms — black or blue knee length overall for boys and girls — sometimes the choice of the grembiule (apron: that's how we call it, even though it's really a knee-length shirt) can also become an arduous task:  kids, of course, are all for the newest models, while parents are usually happy to hand down those used by older siblings the year prior. In olden times, all grembiuli were black and collars were detachable, so you could choose the one you prefered: those who had crafty parents or grandparents would often wear beautiful crocheted one, a hit, of course, among the girls.
What a month, September.
From an astronomical point of view, it is, of course, the month of the fall equinox, which takes place between the 22nd and the 23rd of the month, when the Sun is perpendicular to the Equator: this means that everywhere in the world on that very moment, day and night have the same length.  In our calendar, the Gregorian, September is the ninth month of the year, but it's interesting to note how it is named after the number "seven" (sette), because in antiquity before Julius Caesar promulgated the Julian calendar that placed the beginning of the year on the 1st of January, this was the seventh month of the year — yes, new year's celebrations would take place in March!
In ancient Rome, September was an important month, because festivals for  Capitoline Jupiter, who formed the Capitoline Triad along with his wife Juno and daughter Minerva, would take place: for 16 days, Romans were entertained with military parades, games, music, and dances. Traditionally, statues of the gods were carried in procession through the streets of the city, and sacrificial offerings to them were made: there is an interesting linguistic curiosity here to discuss because the animals to be sacrificed were covered with toasted wheat germ, or mola, and the common Italian verb immolare, "to sacrifice," comes right from that practice. Echoes of it are present also in the English language, where the verb "immolate" exists, too.
But history, we shouldn't forget, is not only made of great events set in a glorious past, but also of small, daily gestures and habits that, little by little, created the outline of the people we are today. Even in this, September is important. It is the month when the annual cycle of the vine comes to an end when la vendemmia takes place and the history of families and entire communities has been made. It was usual, for our grandparents' generation, to make of vendemmia a bonding event, with families helping one another in the vineyard, then enjoying evenings of conviviality together, perhaps in the farm courtyard if the weather was clement, or inside, around the sturdy, wooden tables typical of our old, beautiful, stone farmhouses.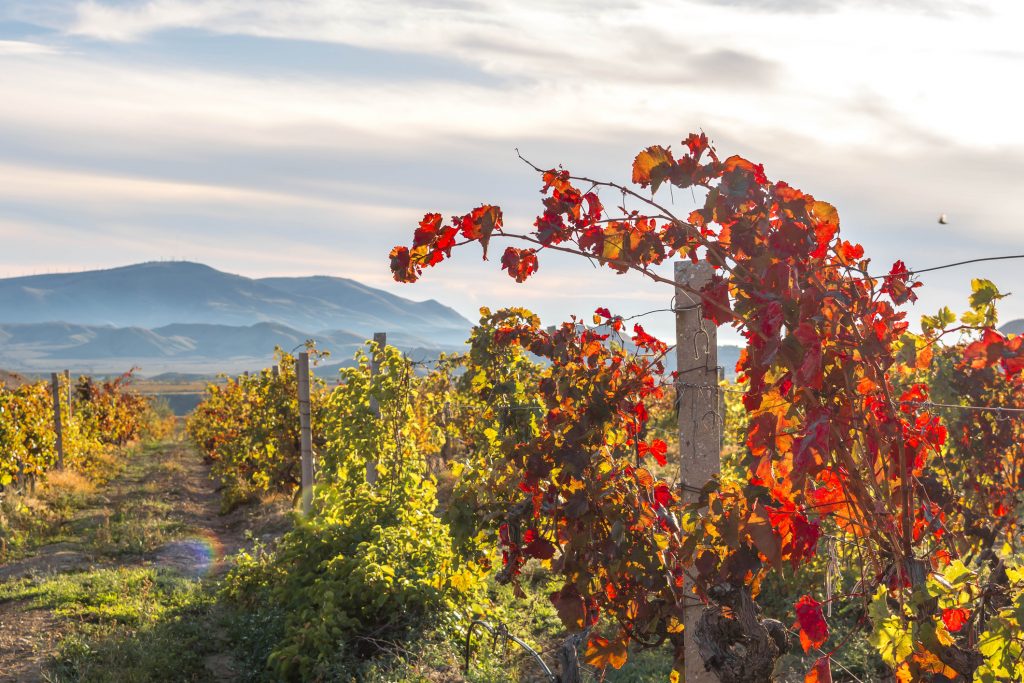 Grape harvesting was more than work, it was a celebration of life, love, family, and friendship, of that idea of "community" our grandparents enjoyed and considered natural, but that is almost entirely lost today. The sharing of labor came with a sharing of joy and rewards that went further than a mere evening together and a thank you because it symbolized union, respect, and support within and among families, within and among communities. It was the moment where the very heart of società contadina was forged and reiterated, year after year, generation after generation.
And then, after grapes were harvested, it was time for wheat and all cereals, the grains of our civilization and of life that continue through centuries,  to be sown again. Cereals, yesterday more than today, were life because with them we made bread. And bread, in the old times, was more than food in Italy, it was the symbol itself of life, of prosperity.
In those Septembers of one hundred years ago, sowing wheat was a poetic moment of connection with the soil, of hope, and, of course, of labor, because those Septembers weren't always a stroll in the park. There was hardship and sweat and early mornings with little rest at night:  nature couldn't wait for us to feel strong and ready to work to move on.  Yet, there was so much joy and serenity in the heart of our grandparents and great grandparents back then: because they were content with what they had, aware the most important — family, bread on the table, good friends — were there, always.
Wallowing in memories and colors of September's past is sweet if a tad nostalgic, but it shouldn't make us forget that we've just entered a month of great abundance. Besides grapes, we find chestnuts and pears, apples and hazelnuts, walnuts, and even some last, summer-scented peaches and plums. It is also the month of wild mushrooms and truffles, the kings of Italian fall, at least in some areas of the country. This wealth of flavors is celebrated throughout the country with fairs and festivals, our beloved sagre that, while present in all seasons, seem to get an extra "oomph" during the ninth month of the year: from cheeses to mushrooms, from sausage to baccalà, all the way to ravioli and, by the sea, fish of all types, traditional food and the bounties of a good harvest are celebrated and enjoyed with gusto.
And September is a time where good food becomes rich and comforting again after we spent the summer months fighting the heat with gallons of water and granitas, along with the lightest — but delicious, of course — of salads.  That's why we love to celebrate it gloriously with these fairs.
But this year, in Italy, September also brings along a heightened wish for normality: with the vaccination campaign going well and the green pass adding an extra layer of protection, we all hope this last month of summer and first of fall can give us back the simple pleasure of a coffee on Saturday morning sitting al bar without a face mask and, for our children, the possibility to be in school, with their teacher and friends, for the whole year. And so, it happens that, in 2021, September is not only the month of grape harvesting, memories, and ritorno a scuola, but also of hope.