The torta Pasqualina is a traditional savory pie from Liguria and its famous capital, Genova. As you may guess from its name, it is particularly common at Easter time, when it appears on the tables of many families, especially in Northern Italy. This amazing dish is made with a unique type of pastry dough and filled with Swiss chard, eggs, and other ingredients such as prescinsêua, a typical dairy product similar to sour curd cheese, which is very light and almost impossible to find outside of the Genova province. Usually, it is replaced with cow's milk ricotta.
Torta Pasqualina's origins are undoubtedly ancient, as attested by Ortensio Lando, a 16th-century writer, who mentioned it in his Catalogo de gli inventori delle cose che si mangiano e bevono, and loved this rich pie "more than bears love honey." Legend says the most experienced Genoese cooks would prepare torta Pasqualinawith 33 thin layers of pastry dough, in honor of the years of Christ. The religious connection is also embodied by another ingredient, eggs, which are found hard-boiled and whole in torta Pasqualina's filling, and are a powerful symbol of rebirth, the return of spring, and the victory of life over death. In the past, not everyone had an oven at home so torta Pasqualina was baked in the communal oven of the village, or at the baker's: to recognize one's own pie, the family's anagram was carved on the pie's edge with a knife.
Torta Pasqualina truly represents a slice of heritage for Liguria, so much so the region requested and obtained from the Ministry of Agricultural, Food, and Forestry Policies its inclusion in the list of Traditional Agri-Food Products (PAT), in the "Gastronomy Products" category.
Let's get practical now!
 How do you make a good torta Pasqualina? First of all, there are some things you should avoid, if you really want to stick to tradition: for instance, you shouldn't use puff pastry, especially if it's industrially made! Instead, you should prepare the pastry yourself by hand, mixing wheat flour, salt, water, and extra virgin olive oil. The secret to obtaining a crispy and at the same time crumbly crust is to overlap several layers of dough, rolled out with a rolling pin, and greased with oil, to prevent them from sticking to each other. This way, the pie shell will be firm and fragrant.
Torta Pasqualina became a staple dish of Ligurian cuisine and, over time, its popularity spread to other regions, becoming a delicious Easter tradition that many people enjoy all spring long. The filling can vary, and it's not uncommon to find recipes that use artichokes, peas, and a variety of herbs.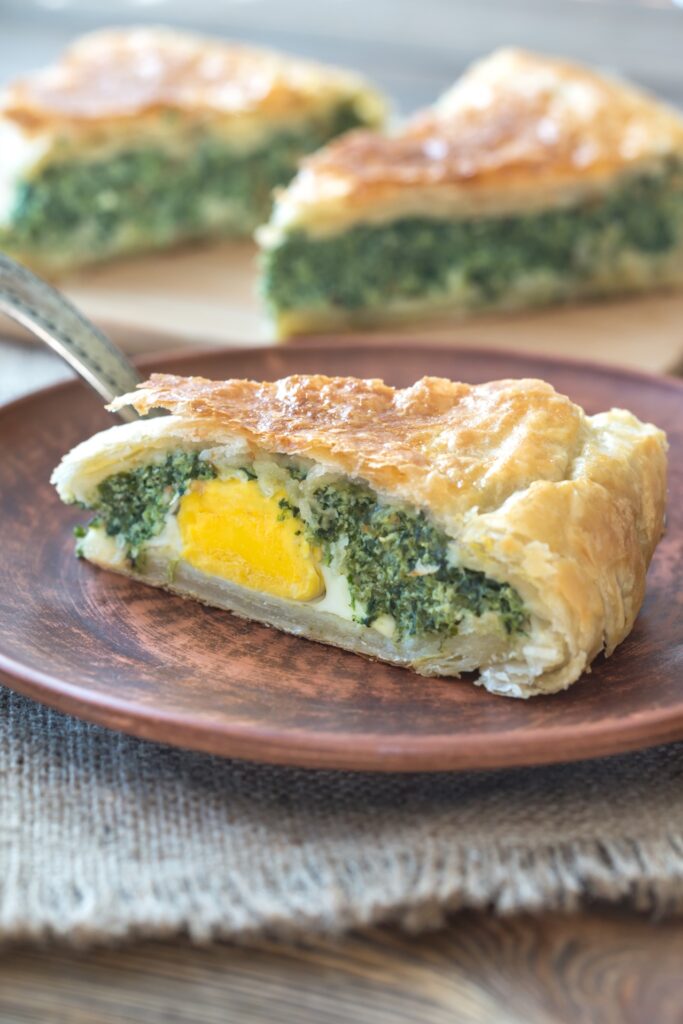 Ingredients (Serve 8-10)
For the dough:
2 cups of flour (if you can get Italian 00, go for it, otherwise, La Cucina Italiana suggests the use of all-purpose flour instead)
1 1/4 cup of warm water
1 tsp salt
2 tbsp of extra-virgin olive oil
For the filling:
10 oz. of Swiss chard
10 oz. of baby spinach
3 borage bunches (if you can't find borage, you can use, as suggested again by La Cucinan Italiana, 7 oz. of dandelion)
1 onion
1 clove of garlic
some fresh parsley, chopped
some fresh marjoram, chopped
8 oz of Parmigiano Reggiano
2 tbsp of cream
8 eggs
3 1/2 tbsp of butter
300 grams (about 1 1/4 cup) of cow ricotta (or, if you want to try and match the taste and texture of prescinsêua, which is very hard to find outside of Liguria, you can try what is suggested in the recipe by Joëlle Néderlants, recently published in the international edition of La Cucina Italiana: 9 oz. of buffalo ricotta and 4 oz. of Greek yogurt)
Salt to taste
Pepper to taste
Extra virgin olive oil
The first step is preparing the dough. Dissolve the salt in the warm water, then mix it with the flour and extra virgin olive oil until you obtain a smooth dough. Divide it into 6 balls and let them rest covered with a damp tea towel for one hour. 
In the meanwhile, clean the Swiss chard, spinach, and borage (or dandelion), cut them into strips, and steam them. Squeeze out the excess water, add a generous handful of Parmigiano, salt, some marjoram leaves, and mix well.
 In a pan, sauté the minced onion with garlic and parsley for a few minutes and set aside. 
In a bowl, beat 3 eggs with a tbsp of Parmigiano, then add the vegetables, the ricotta cheese, the cream, the onion, garlic, and parsley, then mix well. If you are trying the prescinsêua alternative, mix together the buffalo ricotta and the Greek yogurt beforehand, and add it to the vegetables just like you'd do with the cow ricotta. 
 Grease a baking dish with extra virgin olive oil and cover it with a piece of dough rolled out thinly, letting it overflow.
 Grease the dough just like you did with the bottom of the dish, and repeat the operation with two more pieces of dough. Do not brush the last one with olive oil but fill it with the vegetable and cheese mix. 
Now, the fun part: make five round indentations in the filling, big enough — you guessed it — to contain a cracked egg. I usually use a spoon and press it gently onto the filling, shaping a round hole with it. Mind, the hole doesn't need to reach the bottom of the dish!
Put a small piece of butter and then a whole cracked egg in the hole, being careful not to break the yolk. Cover with Parmigiano, some salt, and pepper. 
At this point, lay the remaining three sheets of dough over the filling, greasing each one with a little olive oil and folding the excess dough inward, the way you'd do with an apple pie.
Finally, brush the surface of the dough with oil and prick it with a fork, to prevent it from breaking in the oven.
 Bake in a preheated oven at 180°C (360 F) for about an hour, or until you see the dough turning golden brown.
Pasqualina is served warm, although it is even better when consumed cold, the day after it is prepared. This is why, over time, it became a symbol not only of Easter but also of Easter Monday, Italy's beloved Pasquetta.