Not many know that focaccia, timeless masterpiece of Italian cuisine, was born in the bustling kitchens of antiquity. Indeed this flatbread, sumptuously rich in olive oil and steeped in history, serves as a culinary bridge between past and present.
The debate over focaccia's exact origin is a fascinating journey through time. While some historians attribute its inception to the Etruscans, our ancient ancestors who once thrived in the regions of Tuscany, Umbria, and Lazio, others point to the influence of Ancient Greece: the Greeks had their own version of focaccia, known as plakous, often flavored with herbs, onion, cheese, and garlic. Regardless of its disputed beginnings, what remains undeniable is focaccia's Mediterranean soul—a perfect blend of earthy olive oil, sea salt, and aromatic herbs.
The etymology of the word "focaccia" itself is a poetic tribute to its storied past. Derived from the Latin panis focacius, the term translates to "hearth bread," evoking images of communal ovens where families would gather to bake and share this beloved flatbread. As the Roman legions marched through Europe, conquering lands and expanding their empire, they carried panis focacius with them, so it quickly found its way into the hearts and hearths of diverse communities, from the sun-kissed coasts of Spain to the misty hills of Britannia.
Originally crafted from a simple blend of flour, water, a generous dash of olive oil, and a sprinkle of salt, focaccia was the epitome of culinary democracy: it was a bread for everyone—soldiers and senators, peasants and patricians. Its humble ingredients made it accessible, yet its flavors were anything but ordinary: the olive oil lent it a rich, earthy aroma, while the salt added a subtle, palate-pleasing kick.
The versatility of focaccia made it a staple in Roman diets: often torn by hand, its soft, porous texture made it ideal for soaking up the flavors of soups and stews. It was an integral part of the meal, a tool for savoring every last drop of Roman culinary excellence! In this light, one can see how focaccia was a bit of a social equalizer: the act of breaking bread was a communal affair, a moment that transcended social hierarchies and united people around a common table. Whether it was shared among soldiers around a campfire or served at lavish feasts in Roman villas, focaccia became, just like bread, a symbol of communal eating and of the Roman ethos of convivium—living and eating together.
Let's fast forward in time and move from Rome to the labyrinthine, cobblestone streets of Genoa, where you'll find yourself irresistibly drawn to the intoxicating aroma wafting from local bakeries. Here, focaccia transforms into fugassa, a Ligurian culinary gem that encapsulates the region's love for simple, yet profoundly flavorful food.
At first glance, fugassa may appear unassuming, often adorned with nothing more than a loving drizzle of golden olive oil and a delicate sprinkle of sea salt. But don't let its minimalist appearance deceive you because the Ligurians have perfected the art of balance, achieving a texture that is nothing short of a masterpiece—crispy and golden on the outside, while remaining soft, airy, and almost pillowy on the inside.
The secret to this textural marvel lies in the region's rich culinary traditions: olive oil, a staple in Ligurian cuisine, is not merely an ingredient but a character in fugassa's story. The oil seeps into the dough, enriching it with a depth of flavor and aroma that is quintessentially Mediterranean. The sea salt, harvested from the Ligurian coast, adds a delightful and satisfying punch to this simple culinary pleasure. Ligurians are very jealous of their fugassa, which they even eat for breakfast, dunked into their cappuccino: no one makes it like them and, for the love of God, do not call it pizza bianca in front of them!
But focaccia is far from a monolithic entity: there are many varieties and regional types. In the already-mentioned Liguria, focaccia often comes topped with olives or — a personal favorite of mine — with loads of onions; of course, there is also focaccia di Recco, the iconic IGP delicacy made with prescinseua.  In Tuscany, it takes on an aromatic persona, infused with sprigs of rosemary that dance atop its golden crust. Journey south to Puglia, and you'll encounter a sun-kissed version adorned with cherry tomatoes, their sweetness intensified by the heat of the oven.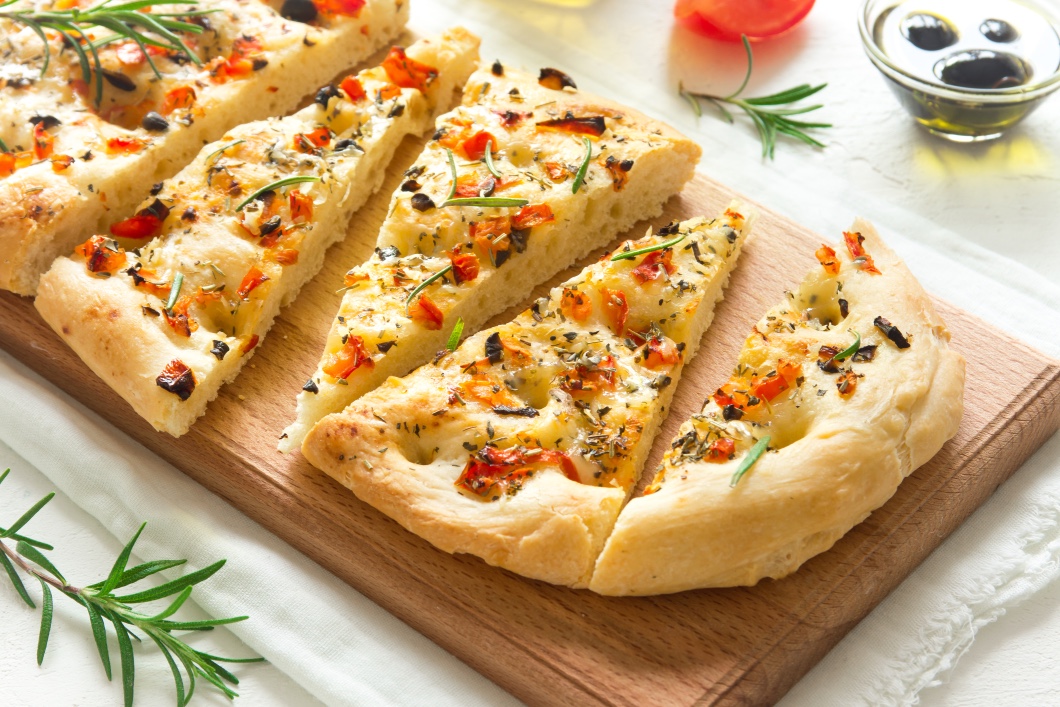 But focaccia's versatility doesn't end with savory renditions. In certain regions, it transforms into a sweet treat, embellished with plump raisins, a drizzle of honey, and even zesty lemon peel. In the Piedmontese city of Alessandria, sweet focaccia is simply made by adding sugar to the dough and on top instead of salt. These sweet variations serve as delightful desserts or snacks, perfect for those moments when you crave a touch of sweetness without overwhelming your palate.
Today, our humble focaccia has transcended its Italian roots to become a culinary ambassador on the global stage: in Spain, it turns into pan de hogaza, a rustic bread that shares focaccia's love for olive oil. Across the border in France, it takes on the elegant moniker of fougasse, often enriched with ingredients like olives and anchovies.
And, in the ever-evolving landscape of modern cuisine, focaccia has gracefully adapted: no longer just a simple bread to be torn and shared, it has become a versatile canvas for culinary innovation. Artisanal sandwich shops are elevating their offerings by using focaccia as a sumptuous base, its airy crumb and olive oil richness complementing a variety of fillings. Additionally, focaccia has found a place in the world of dips and spreads, serving as the perfect vehicle for flavors ranging from creamy hummus to spicy aioli.