Today, Italian food is known all over the world and our diet, the Mediterranean, is considered one of the healthiest. The importance we give to tradition in the kitchen is legendary, so it isn't surprising that so many of our recipes and dishes have a long history behind them.
But things have changed, too.
Economic development, cultural changes and, more recently, globalization, affected the ingredients we use and also the food choices we make daily, but in what way?
Up to the years of the Second World War, people's diet was very much tied to what agriculture and farming would provide. Our economy was largely based on the primary sector, with industries mainly limited to the northern regions of the peninsula. This translated into a diet made of what was seasonal and available, with an accent on legumes such as beans or lentils, polenta in the North and pasta in the South, fish along the coast and cheese or, more rarely, meat, near the mountains. Bread was the real staple of everyone's diet: families would buy flour, make their bread and then walk to the village oven to bake it. "Fare il pane" was an important social moment in small rural communities and the village oven a place where gatherings occurred easily.
Meat wasn't that common on our pre-World War Two tables, with most families eating it only on special occasions. In the countryside, poultry and pork were the most common, with the latter being a real lifeline for many families: in Italian, we say that del maiale non si butta nulla, "nothing of a pig goes to waste," because of the old tradition of using every part of the animal to make something you could eat, from meat cuts to salumi. Even its blood would go into recipes like sanguinaccio, a spicy sausage that was particularly common in rural areas, and that you can still occasionally find at some butcher's today.
The War, of course, brought everything to a halt: there were rationings and food, especially in the cities, became suddenly scarce. In those years, it wasn't unusual for people from villages and towns to go ask for food from friends or relatives living in the country: farmers were lucky because they had a direct source of nutrition they didn't need to pay for.
The 1950s marked the beginning of Italy's economic boom and, with it, a change in the way Italians ate. Families' income increased considerably and we started eating more and in a more varied fashion: for instance, meat appeared on Italian tables more often and no longer only on special days. Fruit and vegetables remained important, and sugar consumption increased, while legumes, la carne dei poveri ("paupers' meat"), were consumed more rarely. Italians couldn't get enough meat: poultry, beef, pork, cold cuts of all kinds. You name it, we ate it every week, and meat consumption became synonymous with economic well-being. In this sense, we shouldn't discount the role of the media, especially television, in the way we chose what to eat, because the advent of commercials made certain products more popular than others, deeply affecting the way families spent their money on food.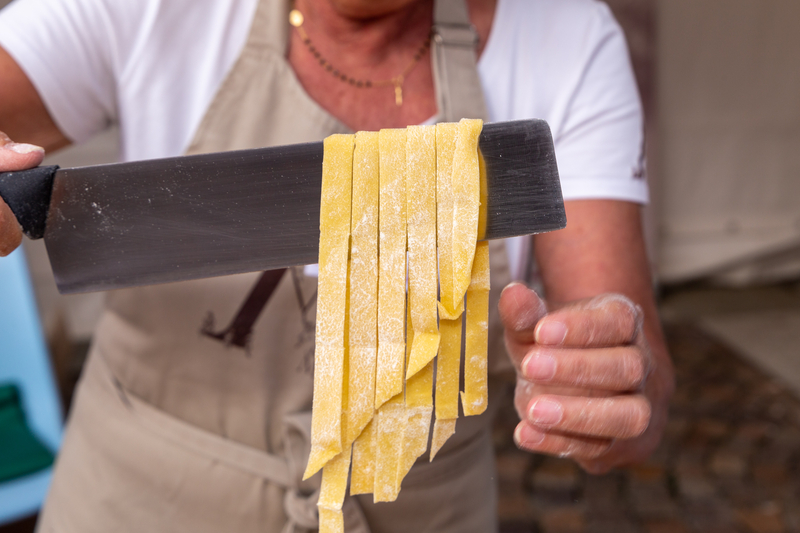 The 1980s were a particular moment in our culinary history because that's when Italy fell in love with American fast food. McDonald's and its Italian counterpart, the now defunct Burghy, were all the rage among teens, who dreamed of America while having fries and cheeseburgers on Saturday afternoons after school. In the same years, Italy developed a taste for more exotic flavors, too: oriental cuisine, especially Chinese, became popular, with restaurants opening everywhere, thanks to the establishment of a large and well-adapted Chinese community in the country.
The 80s were a time of abundance, but also of culinary change. Because if it's true that we embraced burgers and international cuisine, we also began paying more attention to our health.
Those years were characterized by more people with high cholesterol, higher incidence of cardiovascular diseases, and the fear of meat-derived illnesses such as the "mad cow" craze: all factors that rose our awareness of the risks of excessive meat and fat consumption. They were also the years when we became conscious that what we have on our plate can affect greatly the environment.
Today, Italians are very much aware of what they eat and do, on average, prefer a healthy and well-balanced diet, something to which, in the end, we are culturally used. There is a sincere interest in sustainability and avoiding waste, and many families learned how to eat local and seasonal. Sales of whole foods increased, especially in the past 20 years, as well as the popularity of health stores specializing in organic produce or "free-from" options.
But while we are certainly more careful with the amount of meat we consume, we remain quite reluctant to become vegetarian or vegan, especially when compared to other countries like the UK or the US. At the same time, even the smallest local supermarkets do offer meat-free products, something that was unthinkable only a handful of years ago.
The way we eat, so, is in continuous evolution. Thankfully, healthy eating is part of our tradition, so we don't have to go far to find good options!