It's not easy to be a dog in Venice. Plots of grass or even of unpaved earth are rare, as are trees. There are few open public spaces of much size, and even the city's one substantial park–on the island of Sant' Elena–has a basketball and a tennis court, two small playgrounds, a scaled-down soccer field, but no dog run.
Moreover, Venetian law requires that dogs be muzzled and kept on a leash, and though the muzzle law is rarely enforced, especially on smaller dogs, it's best not to push one's luck too far.
But, on the other hand, the challenges of being and of having a dog in this small city of stone only serves to make them all the more adored by the vast majority of Venetians. Like children, dogs embody a level of vitality, and a mixture of innocence and recklessness, that brightens the eyes of most inhabitants of this very old city, famous for its cramped calli and centuries of careful calculation.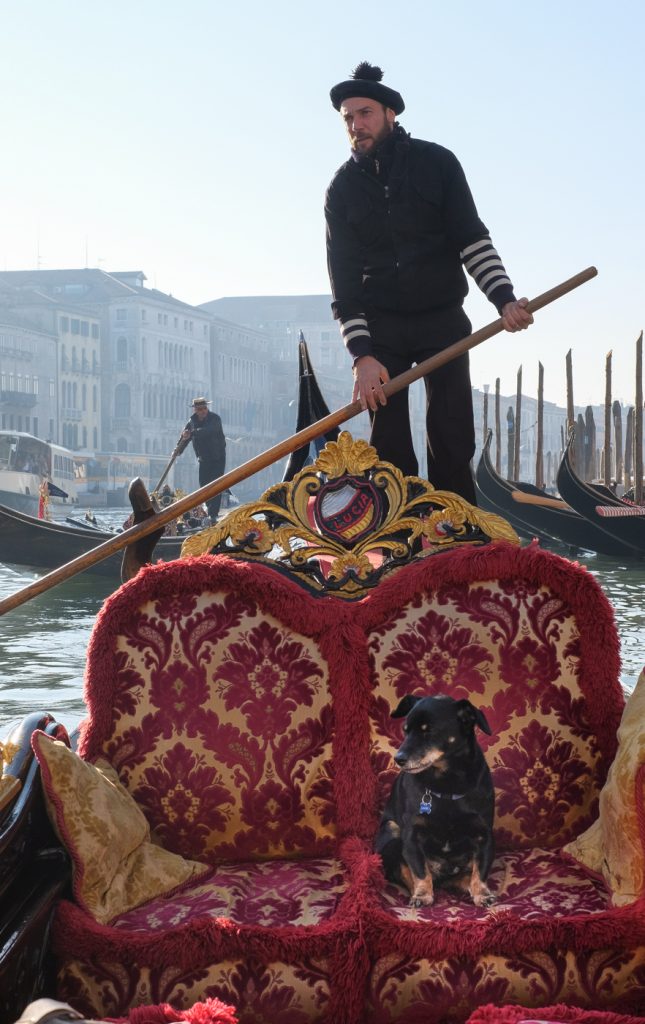 In fact, I know of no better social ice-breaker in Venice than either a small child or a dog of any size. Residents and shopkeepers, no matter how jaundiced by decades of mass tourism, tend to warm up at the sight of them–and shower them with attention, compliments, and treats appropriate to their species. While your own name might be forgotten, your dog's or child's will not be, and such is the goodwill directed toward both dogs and kids that it can seem a bit like walking around town with a minor celebrity.
But not all Venetian dogs live coddled lives of uninterrupted leisure. There are some whom you'll see at work day in and day out with their human companions on boats.
Of course, boat dogs in Venice are nothing new. In Venetian Life–which remains one of the most insightful English-language books on the city more than 150 years after it first came out–the American writer William Dean Howells remarks on a particular breed of dog that's a regular feature aboard both the small "coasting" vessels that transport firewood from Dalmatia to the city, and the commercial boats from the River Po. He describes them as "small yellow irascible dogs," fiercely protective of both the boat's captain and its goods, and prone to bristle when Howells directs so much as a curious glance at either.
The boat dogs of today's Venice, though, represent a much broader range of breeds, and usually a much milder temperament.
If you've ever seen a dog riding blissfully beside the open window of a car, you can imagine the pleasure of a dog in an open boat, with air flowing uninhibited by any windshield. They're the picture of perfect canine contentment, and often enough they mirror the demeanor of their human companions, as I've never seen Venetians appear more satisfied nor more august than when motoring in their boats (whether for work or play) on a fine day.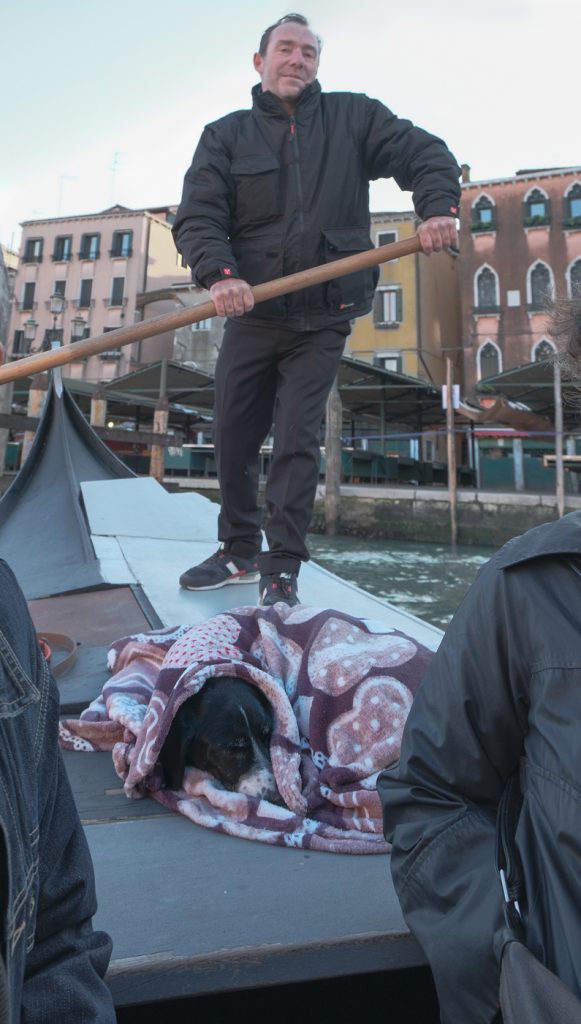 The most remarkable of all contemporary Venetian boat dogs actually inspired my children's picture book Ciao, Sandro!, which was published recently by Abrams.
Sandro was a small mixed breed dog rescued from an early life of neglect by the gondolier Nicola Grossi. Initially distrustful and peevish, Sandro blossomed beneath the attention of Nicola and soon demonstrated a keen intelligence and an extraordinary sense of direction.
Sandro and Nicola went everywhere together: on foot, in Nicola's small outboard motorboat, and in the gondola with tourists during working hours, and in this way Sandro came to have a comprehensive knowledge of the city. For, as a native Venetian told me soon after my family moved full-time to the city in 2010, there are actually two Venices: one that you see on foot and from the vaporetto, and a second that you can only come to know from the water in your own boat. Sandro, the formerly-traumatized foundling, became so confident in his knowledge of them both that when he grew bored during the long workday he'd leave Nicola on the gondola and go off on his own.
Soon after the phone calls would start coming in. One friend would call to tell Nicola that he'd just seen Sandro in Campo Santo Stefano. A bit later another friend would report a Sandro sighting near Campo San Barnaba… Nicola had such confidence in Sandro's sense of direction he never worried about his wanderings. Nor was he surprised when they started to involve solo trips upon the city's water buses.
When a concerned vaporetto crewmember or captain would dial Nicola's number from the tag on Sandro's collar to tell him that his little dog was lost, Nicola would reassure them that Sandro knew exactly where he was going. He'd ask for the vaporetto's current location and usually be able to tell the captain where Sandro was likely to disembark. For Nicola is the youngest of eight children, and Sandro almost inevitably was on his way to make a family visit. His favorite destination was Nicola's mother, on the island of Giudecca, who was the most likely to be at home, and always willing to give him lunch. He'd bark outside her window to let her know he'd arrived, then return to Nicola after his repast. And if Nicola had set out from the gondola station with passengers, so complete was Sandro's knowledge of the city's labyrinthine interplay of calli and rii (small canals), and of the particular route for each of the various gondola stations Nicola rotated among, that he'd position himself canal-side and wait to be picked up as Nicola passed.
Sandro died after a long and adventurous life at the end of 2019, shortly before what would have been his 19th birthday. But look carefully the next time you're in Venice and you'll see other boat dogs at work, keeping an eye on things when their human companions must leave the boat temporarily, and acting as a reassuring, calming presence throughout the course of the workday. 
Ciao, Sandro!, the children's picture book on Venice's greatest four-legged explorer written by Steven Varni, illustrated by Luciano Lozano, and published by Abrams Books, can be purchased in the L'Italo-Americano marketplace.