Who doesn't love shopping? Online, IRL, at the mall or at the market. Food, clothes, books, trinkets, anything goes, really. True, in this day and age, spending money on futilities or "extras," as we like to call them, it's become increasingly difficult. For many, it's difficult even to shop for what's necessary… But let us not think of it, right now. Let us talk about something different and find out how our great ancestors, the ancient Romans, used to do their own shopping back in the day.
In one of its most recent books, the first of a trilogy dedicated to the Great Fire of Rome, Alberto Angela describes colorful scenes of Roman life, in details so vivid one truly feels to be right there, roaming the Forum, some two thousand years ago: among the pages that tickled my curiosity the most were those where the two protagonists of the book walk through an alley filled with tabernae, stalls selling clothes and even a bookstore, although books, back then, were not bound as they are today, but were written on scrolls. What strikes, really, in Angela's description, is how doing shopping back then wasn't that different from the way we do it today, in the end, especially when you think of the way things go in large markets in Mediterranean countries: haggling all the way!
Rome was an incredibly lively and multicultural city, with thousands and thousands of different products coming from every corner of the Empire: back then, you could find everything you could have thought of. For your daily shopping, a bit like today, ancient Romans had a variety of options that went from horrea, similar to today's wholesale markets, to street vendors, who sold their products street by street. Horrea were usually located in specific areas of the city, where goods could be delivered and sold easily: for instance, one of the main horrea in the capital was between the Aventine hill and the Tiber, near the Emporium, Rome's own river port. Each horreum had a specific name, either based on what they sold, or on that of their owner. History blog Mondo Romano (www.mondoromano.com) mentions, for instance, the horrea pipetaria, whose name came from the exotic spices you could buy there. They functioned until the 4th century, when they left space to the Massentius basilica, and were particularly popular among doctors, who bought there the ingredients for their medicines; in fact, the area surrounding the horrea pipetaria became, in time, the "healthcare borough" of Rome, because healers and doctors had their own surgeries there. Incredibly, the area kept the same role in the city until the Middle Ages.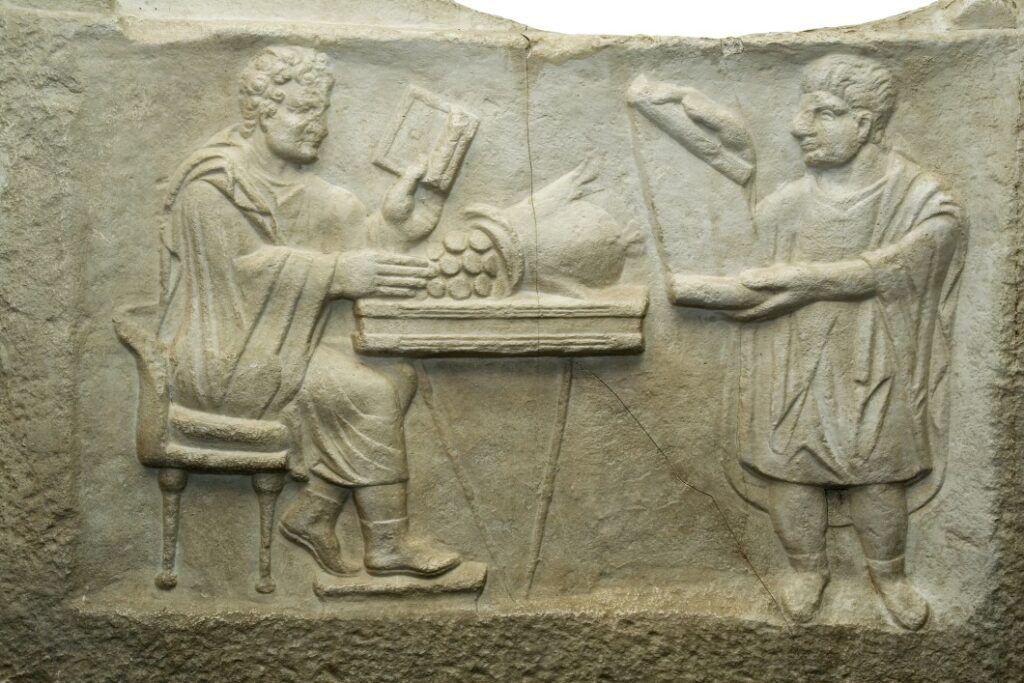 If you were after a book, the place for you was the Argiletum, an area between the Aventine and the Circus Maximus, home to the horrea cartaria where papyruses and all you may have needed to write were sold. Booksellers also had their stores there. Just like today, you could get books of every genre and, indeed, price, depending on the quality of their manufacture and of the material used in their making. A high-quality book could reach a price tag of 6 or 7 denarii, more than 50 USD.
And what about our daily shopping, what about food?
For that, ancient Romans had tabernae, which were the equivalent of our modern stores. We all know about the tabernae were you could buy and consume food because a beautifully preserved one was discovered only a couple of years ago in Pompeii. Tabernae were already common in both Greek and Etruscan cultures, and they didn't only sell food, but all types of goods and they often functioned both as a store and a workshop: the faber tignarius, the carpenter, worked and sold his products in a taberna, just like other craftsmen, like blacksmiths or tailors.
Tabernae were usually found at the fora. Yes, fora at the plural, because Rome didn't only have the Forum we still see today, the center of the capital's religious and political life, but also other gathering spaces with the same name, which were however more like open-air markets. You may be familiar, if you visited Rome, with the Forum Boarium, with its beautiful temples of Hercules Victor and Portunus, where you could buy meat. There was also a Forum Olitorio, no longer extant but located in the area where the Chruch of Saint Nicholas in Prison is today, which sold vegetables and fruits. Sources also mention other fora, like those selling wine and pork meat.
Similar, but more structured than the fora, where the macella: here, the average Roman could find everything they needed in one place, just like we do today at the supermarket. Macella were created for safety reasons: fora' s hygienic conditions weren't stellar so, to facilitate and supervise cleaning macella, which were organized adequately and hosted in a building, were created.
As you can see, two thousand years may have passed, but our Roman ancestors had the art of shopping already perfected!