As a former – and long-time – resident of the British Isles, I like reading Irish and English newspapers. During the first, 2020 Covid-19 lockdown I forked out for two subscriptions, one for Dublin's Irish Times and one for London's Daily Telegraph: both of them remain among my cherished, early morning, first-coffee-of-the-day readings. Just about two weeks ago, the best of news appeared on the Telegraph, especially for all of us kava-lovers out there: science confirms that coffee can make you live longer.
We all know that coffee is a serious matter in Italy. Statistics show that the average Italian family uses some 37 kg (81.5 lbs) of coffee a year and, while we come behind Northern Europe when it comes to consumption, it should be reminded that our espresso is different from the percolated brew usually preferred by our cousins up North. Of course, coffee is not only a pleasure in the Bel Paese, it's also a business: Italian coffee is famously good and we export it everywhere in the world – from France and Germany to the USA – where it is usually considered a synonym of good quality.
The potential benefits of drinking coffee have been discussed, more or less scientifically, for several years, which is only natural, when you consider that the about 2 billion cups of it are consumed every day around the world, making your average cup of joe – or espresso and cappuccino – the most popular drink on Earth. We Italians are particularly fond of coffee at breakfast time, with half of us starting the day with a brew. In Italy, there are about 150.000 "bar" (our coffee shops), serving an average of 175 tazzine each morning.
But, of course, Italy's coffee consumption isn't limited to breakfast time, having a cup is synonym with plenty of things. Four out of ten Italians associate coffee with taking a break, while two out of ten love if after lunch;  against all odds and fears of spending the night wide-awake, half of us loves coffee after dinner, perhaps while watching TV or reading a book.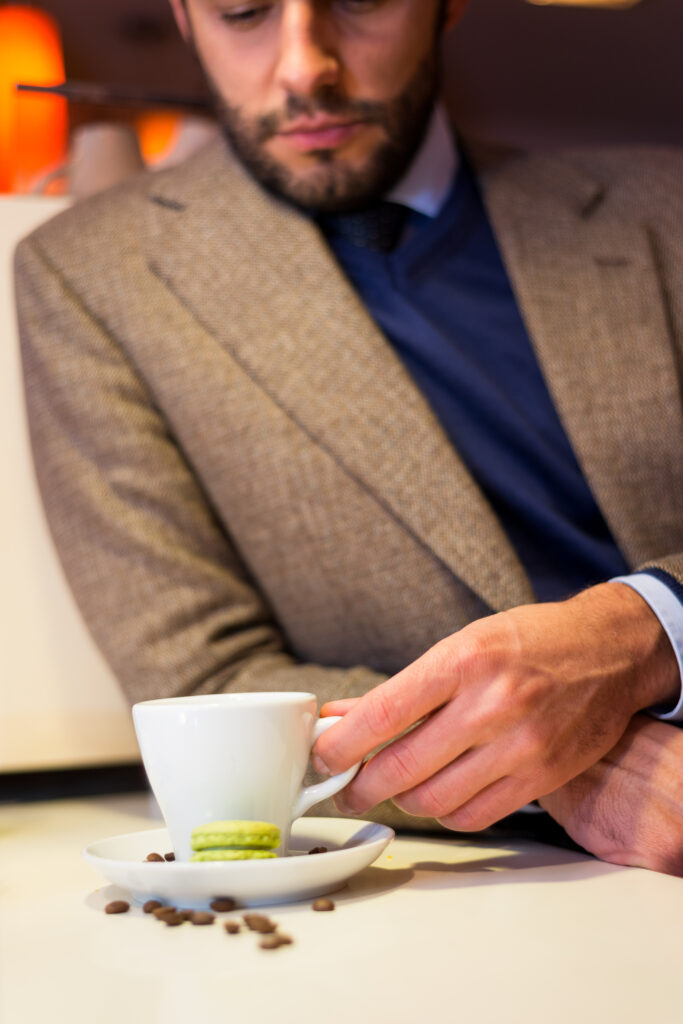 Unfortunately for coffee lovers around the world, including us Italians, there's always been the idea that drinking coffee isn't healthy: it may increase heart rate, it causes insomnia, it gives stomach aches. It even stains your teeth. But there is more and more research out there pointing at the contrary.
For instance, work published in Nutrients found out that moderate coffee consumption can have a protective effect against some common health issues, including gallstones and some liver diseases, as well as a stimulating effect on our digestion. The Institute for Scientific Information on Coffee (ISIC) also reported that coffee consumption can help us beat the winter blues or, to say it with the right medical terminology, Seasonal Affective Disorder (SAD).
Perhaps, though, the study mentioned by Joe Pinkstone in the Daily Telegraph is the more interesting, because it connects directly moderate coffee consumption to longevity. A UK Biobank study enrolled, 11 years ago, half a million Britons to carry out research on the benefits of coffee, dividing participants into three categories, people who didn't drink coffee, people who consumed up to three cups a day, and those who drank more than three cups. Results revealed that people who enjoyed coffee in moderation were 12% less at risk to die during the time the study lasted. Another study conducted by the Semmelweis University in Budapest and Queen Mary University in London, and always cited in the article above mentioned, found also a link between coffee consumption and a diminished risk to die of coronary disease and stroke. This work has been defined in the article as the "largest study to date which focused on the effect of coffee on cardiovascular health." As one of the countries in the world with the highest life expectancy – 81.1 years for men and 85.4 years for women, against 76.3 years for men and 81.4 for women in the US – and a major coffee consumer, Italy may well represent a good case study to investigate further the connection between coffee consumption and longevity, even though it is known that the main reason behind our "aging well" is, in fact, our beloved Mediterranean diet.
Mind, these aren't the first academic studies highlighting the health benefits of our beloved caffè. Scientists at Harvard University had already demonstrated in 2015 that a couple of cups a day could reduce significantly the dangers associated with heart disease, type-2 diabetes, and neurological issues such as Parkinson's disease. Ming Ding, who directed the study back then, had declared that "bioactive compounds in coffee reduce insulin resistance and systematic inflammation. That could explain some of our findings. However, more studies are needed to investigate the biological mechanisms producing these effects."
And apparently, it isn't all down to caffeine, because benefits have been recorded also among participants with a penchant for decaf: this seems to demonstrate that coffee's goodness, at least when it comes to our hearts and brains, doesn't come from caffeine, but rather from other substances and compounds that make up its chemical composition.
And what about the instant coffee drinkers out there? A survey carried out in 2014 and published in Times Magazine and the Washington Post found out that while Americans have become more and more discerning when it comes to the quality of their brew, instant coffee is the most consumed type of coffee in the world. To be quite honest, this doesn't faze Italian much: we aren't great instant coffee drinkers at all, with most of us using it to make caffelatte in the morning more than anything else.
However, those favoring a quick caffeine fix to the pleasure of a proper cup or tazzina di caffè may change their mind now because, apparently, none of the benefits recorded among full and decaf coffee drinkers have been found in instant coffee consumers. According to Dr. Zahra Raisi-Estabragh of Queen Mary University, this may be caused by the way coffee beans are processed to make ground and instant coffee and by the different additives utilized.
We need to be careful though, because too much of a good thing may turn into risky behavior. If you thought that with coffee, a bit like with fruit or vegetables, more is always better, you're down for a bad surprise: excessive coffee drinking is actually dangerous for our health: basically, if you cross the three-cups-per-day line, you do so at your own risk. Too much coffee can actually increase the risk of developing the same illnesses moderate consumption help reduce.
So, yes, our beloved caffè is good for us: let's just stick to three cups a day!