Roman cuisine is as iconic as the city it was born in, with many of its most typical dishes having become integral part of our national food tradition, from carbonara to pasta alla gricia, all the way to deliciously cheesy supplì and decadent carciofi alla giudia, artichokes fried in plenty of extra virgin olive oil, twice. The name itself of this delicacy betrays its origins and it's only one of the many signs of how deeply Jewish culture marked the life in our capital, kitchen included.
While Jewish communities have been thriving from North to South for centuries, the one in Rome is one of the most ancient: its history is, as it often and painfully happened for the Jewish people, characterized by times of segregation and persecution, but also by a continuous and enriching cultural presence that links the present day to 200 years before Christ was born. With such a past in common, it comes as no surprise that Judaism and Rome became so close to one another, a closeness that is very well represented by Judeo-Roman cuisine, of which our carciofi alla giudia are only one of many examples.
A perfect example of fusion cuisine — a concept far from being modern, as much as we like to fancy ourselves as its creators — Judeo-Roman food brings together culinary influences rooted in religion, spirituality, history and geography. The Jewish community in Rome is millenary, and its food is probably the best place to discover the way Romans of the past used to eat; but the Judeo-Roman table isn't only a precious screen filled with long lost food habits and recipes, it is also deeply influenced by religious precepts.
But the turning point for the Jewish community in Rome came in 1492, when the Jews of Spain found refuge in our capital after being expelled from the country. Rome welcomed with joy and tolerance its new residents, until 1555 when Pope Paul IV created the ghetto, the second oldest in the world after that in Venice, where all Jews of the capital and its surrounding territories were forced to move to.
It is at the sephardite and Spanish roots of the Judeo-Roman community in the 15th century we must look to learn more about the flavors, textures and scents of their food. The exclusive use of olive oil, which was quite a luxury at the time in the capital, in many traditional dishes like artichokes alla giudia and deep fried zucchini flowers stuffed with mozzarella and anchovies, but also the introduction of typically Spanish ingredients, such as baccalà (dried and salted cod) can all be traced back to the hiberic peninsula.
Some believe that the popular use of offal, the so-called quinto quarto, in Roman cuisine is also the result of Jewish culinary habits. According to La Cucina Italiana, historical sources present traditional Jewish recipes for offal cooked with chickpeas or flavored with sage, garlic or vinegar and cinnamon. While these are no longer common, you only need to take a look at two famous Roman dishes, pajata and trippa, to see how much these ingredients are still used in traditional cuisine.
When, in 1661, special laws called leggi suntuarie imposed to the Jewish community in Rome not to consume expensive foods, most fish became forbidden, with the only exception of oily fish like anchovies and sardines: this is, according to food historians, the moment when another staple of Jewish-Roman cuisine, aliciotti con l' indivia (anchovies with endive) was created. To make it, layers of fish and seasoned endive are stacked one upon the other then baked.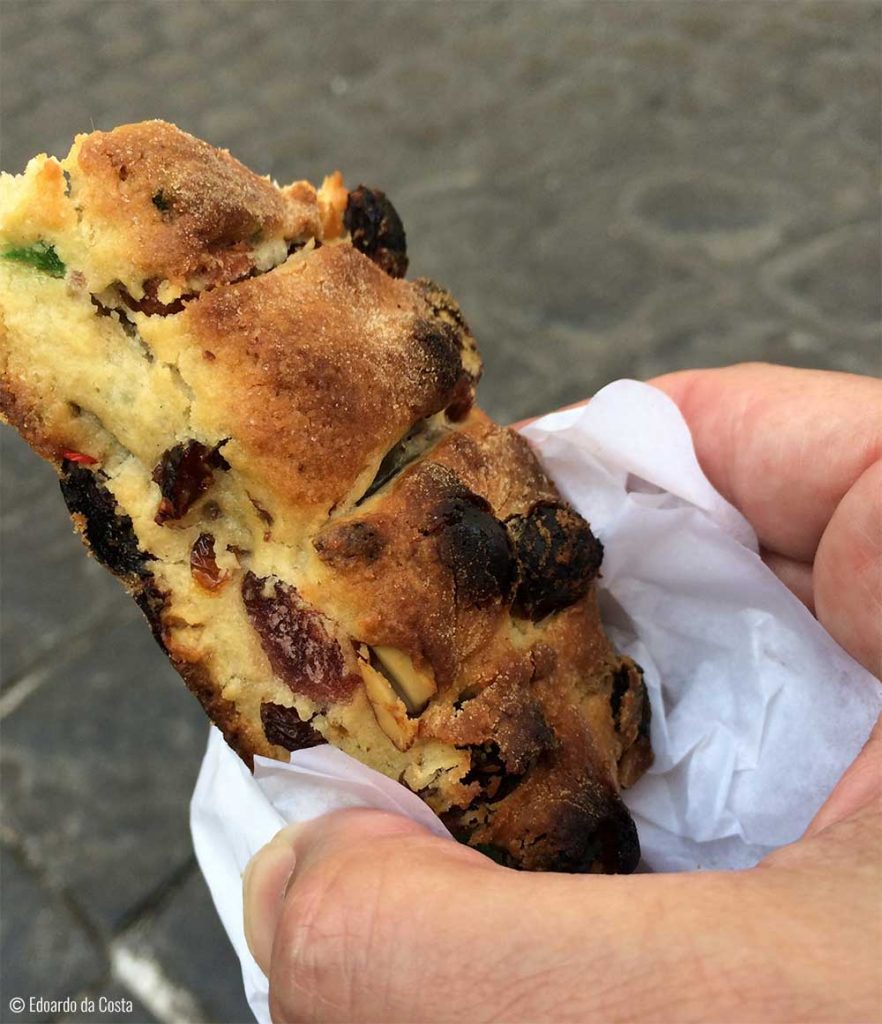 Last but not least, dessert, of course. There are some popular Roman desserts that are so reminiscent of the Middle East you'd almost think to be in Jerusalem when you taste them: we have the pizza dolce ebraica or, more correctly, pizza dolce di Beridde, a sort of large cookie with candied fruit, pine nuts and almonds; the nocchiata, sweet balls made with egg and nuts — usually almonds, hazelnuts or walnuts — then fried with honey; and the tortolicchio, a cake made for Purim with honey, sugared anise seeds and almonds.
In fact, it seems that one of the best kept culinary secrets in Rome is a Jewish bakery, Forno Boccione, in Via del Portico d'Ottavia, not far from Largo Argentina, the place we all know for its archeological landmarks and cats. Owned by the Limentani family since it opened more than 90 years ago, this small bakery is the perfect stop to try some traditional Jewish cakes and desserts in Rome.
As a recipe, we propose the pizza dolce di Beridde, which is a traditional baked delicacy, typical of the Roman Jewish community. Its name probably comes from the dialectal expression Berit Milah or Brit Milah, which means alliance, in reference to the relationship between Yahweh and the people of Israel.
Ingredients
— 1 ¼ cup of flour
— ½ cup of white sugar
— ¼ cup and 1 tbsp of extra virgin olive oil
— a pinch of salt
— 1 ⅓ tbsp of pine nuts
— ½ cup and 2 tbsp of raisins
— ½ cup and 2 tbsp of mixed candied fruits
— ½ cup and 2 tbsp of almonds
Warm up the olive oil in a small saucepan: mind, it just needs to be lukewarm, not hot! Set aside.
In a large bowl add the flour, the warm olive oil and mix with your hands. Then add also the sugar and the salt and keep on mixing with your hands.
Add the nuts, the dried fruit and mix again until you get a smooth ball of dough, similar in consistency to shortcrust pastry.
At this stage, place the dough on a large baking tray lined with parchment paper and mould it in the shape of a rectangle of about 4 in in length and ¾ in in height.
With a sharp knife, mark the pizza's surface to divide it in smaller rectangles, but without cutting the dough through.
Bake in an already hot oven at 425F for about 20 minutes, until the surface of the pizza is golden. Let it cool and cut in pieces following the knife incisions you made before baking. The final result is a sweet, aromatic cake, with a crunchy crust and a moist inner part.