Sophia Loren had one. So did Anita Eckberg and Sean Connery…as did violet-eyed Liz. Brigitte Bardot's had zebra print seats, and even George Bush was often spotted in his, breaking waves in the Hamptons. They've always been the nautical epitome of cool — and we're not talking about the owners, but of the craft… the 100% Italian built Riva yacht.
Sleek, sexy, oh-so Italian…these streamlined vessels are known throughout the nautical world for their extraordinary quality, unforgettable design, and well…for having a suave factor that would be off the charts if suave charts existed. Even if you're not familiar with the name, Riva yachts might hold a spot in your subconscious. Just for a second, visualize a bevy of the rich and famous motor-boating across an Italian lake, Prosecco in hand, or maybe a pulse pounding James Bond clip, our hero soaring over breaking waves as he escapes the ire of his latest nemesis. Odds are your imagination included a Riva built boat.
The Riva name is synonymous with luxury and glamour in the boat world, a brand that defies being classified as "just" a watercraft. It might even be more of a zeitgeist of ideology, of concept, of beauty, a melding of style and function that make Riva one of the most desirable yacht names around.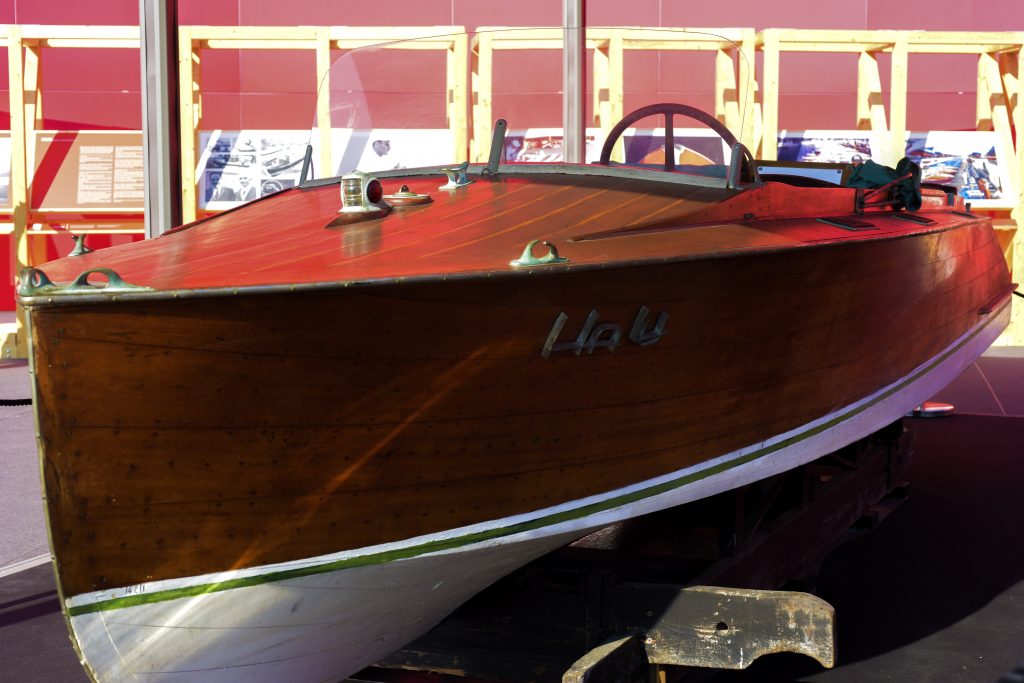 It's a remarkable story of serendipity and talent that led to the birth of Riva boats. While Carlo Riva (1922-2017) is considered the father of classic contemporary Riva watercraft, had it not been for a run of bad weather on the banks of Lake Iseo in 1842, Sophia would've had to settle for a much less classy ride over her Italian lakes.
Heavy rains pummeled the small lakeside town of Sarnico, forcing the River Oglio from its banks. As flooding torrents scoured the village, they carried with them the small fleet of fishing vessels, tumbled about like children's toys. The humble boats experienced severe damage; immediate help was needed and found through the expertise of a young boatwright by the name of Pietro Riva. Newly arrived from Laglio, Riva quickly set to work repairing and refitting the vessels with skill and quality. His craftsmanship earned the village's admiration and trust, and eventually Riva opened his own shipyard on the Sarnico shoreline. Pietro's early production featured quality battel da pesca (fishing boats) and canotto da passeggio (pleasure craft) to suit the needs of the locals, but as his young family grew, so did his vision for his small company.
Pietro's mastery of boatbuilding was the beginning of a legendary line of shipwrights. His son Ernesto introduced power combustion engines, a forward-thinking step that brought the latest mechanical innovations to the business. His insight introduced not only speedier transportation of goods over the lakes, but the launch of nautical tourism, as well. Ernesto's own motorboat prototype was a success…and a lot of fun; why not offer tourists the chance to experience the wind, waves, and sights that he was enjoying?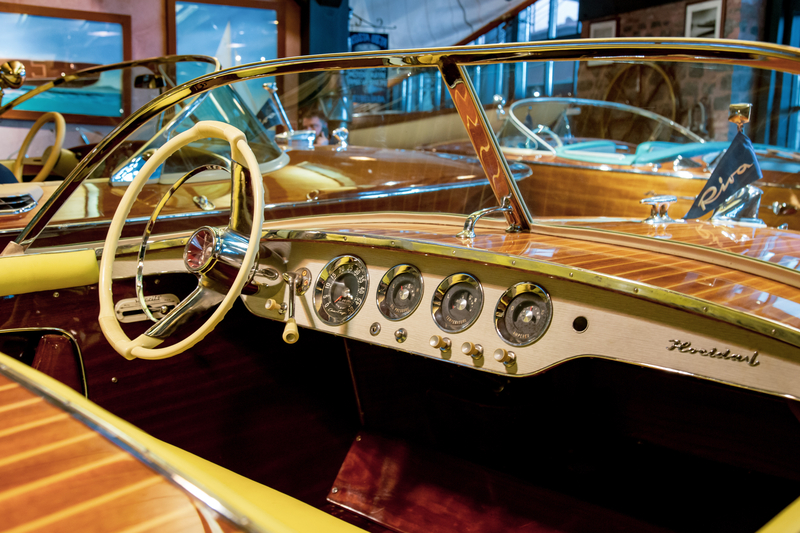 Riva's visionary heritage continued when Ernesto's son Serafino took the helm, bringing a major shift to the boatyard. It was after World War I and Italy was ready for distraction. Capitalizing on this, Serafino built and promoted high speed pleasure boats. Equipped for speed and agility, Riva power boats became the hot rod of the Italian lakes. Serafino's designs quickly set the standard for the popular sport of speedboat racing in the 1920s and 1930s. Riva's successful incorporation of efficient design and high-powered engines earned fame through multiple wins and titles in Italy and around the world.
"I want to build boats my own way I told my father…I started production in 1950 with six months of testing…It was the happiest day of my life." ~ Carlo Riva
It wasn't until Carlo Riva, son of Serafino, took the helm of Riva, however, that the seismic shift in production — and notoriety — began. With the skill, training, DNA, and drive of the Riva dynasty under his skin, Carlo revolutionized Riva design. After some serious head-butting with his father Serafino — who saw no need to change the line's traditional success — Carlo succeeded in forging ahead with his vision for a sleek, immaculately built boat featuring flawless functionality and glamorous visual appeal: the nautical version of Italian flair and desirability. A new manufacturing facility was constructed in 1954 on the shores of Lake Iseo fusing state-of-the art innovation with Riva's famed tradition for minute attention to detail and quality. Carlo's vision set into motion Riva's golden age of luxury watercraft; Riva yachts quickly became the coveted status symbol for those with an eye for ultimate fashion and function.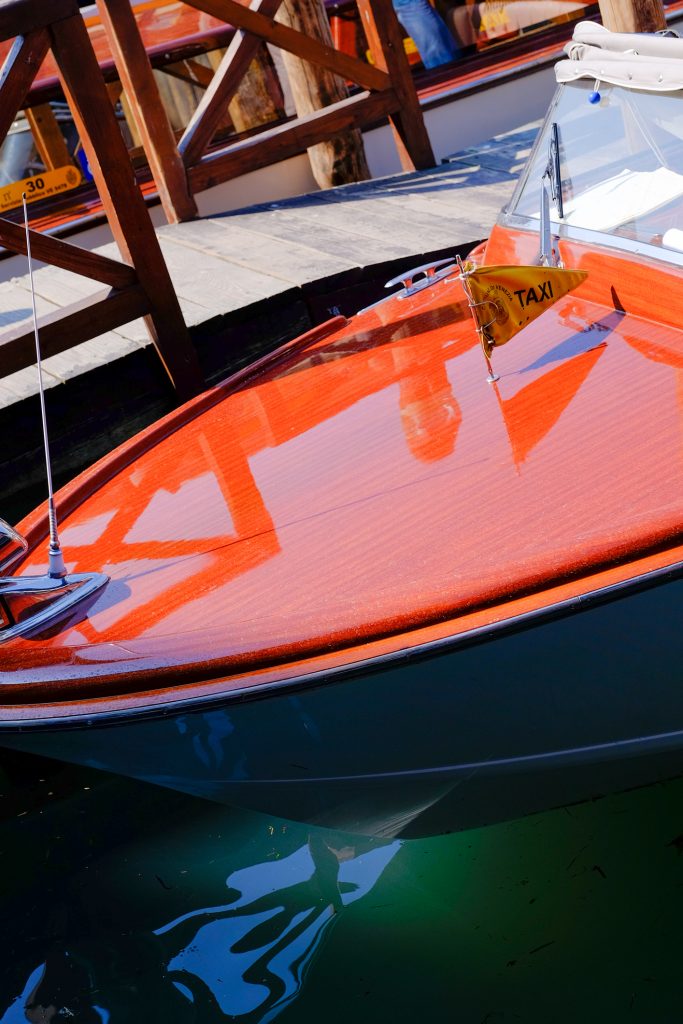 The breakthrough, however, that imbedded the iconic Riva style in modern awareness came about in 1962 with the launch of the Acquarama. Using the design protocol of his highly popular Tritone, Carlo reimagined the boat to feature roomier passenger space, a sun deck that seemed to beg for bathing beauties, and other innovations that set precedents in the boating world. His signature feature of turquoise blue upholstery with a matching wheel was the cherry on top. Named #1 of the Top 100 Best Boats Ever by "Motorboat & Yachting Magazine" and "Most beautiful boat in the World" by the International Press, this "Ferrari of the boat world" still quickens the pulse in many whenever she shows up in movies or commercials — or lakeside if you're lucky enough to witness one slicing through the blue.
Carlo sold his company to an American firm in 1969 yet remained active for several more years. A succession of non-Italian owners finally came full circle in 2000 when the Italian Ferretti Group purchased Riva Yachts. Active in production today, Carlo's imprint remains strong within the company, evident through the breath-taking style, consummate quality, and suave elegance permeating every Riva boat from cruiser to mega-yacht.
Riva Yachts, a name synonymous with Italian flair and elegance, remains one of the most coveted brands today. Even if owning one is out of reach, it's possible to get up close and personal with a visit to the Riva Yacht factory in Sarnico. Standing next to Ernesto's first motorboat, or perhaps feeling your pulse quicken as you admire the Aquarama #784, the last classic model off the production line in 1996, can quicken the pulse of any fan of the beauty of Italian design and innovation. Carlo's spirit is alive and well on the shores of his beloved Sarnico.
"…Designed with love, pure and strong like a pedigree horse. Unforgettable!" ~ Carlo Riva