It's quite easy to toss around the term "magical" when referring to Italy's vast number of charming, romantic villages. Some, however, wear the title a bit more earnestly than others.
The tiny Umbrian borgo of Rasiglia is one such place. This hamlet has occupied its Alpine-esque Apennine foothill stronghold since the 13th century. Rasiglia found life serving as a logistical waypoint on the Via della Spina, a major thoroughfare from Rome to the Adriatic, followed by an industrial rebirth a couple of centuries later after the roadway lost importance. We'll explore a bit of her colorful history, but first…the magic.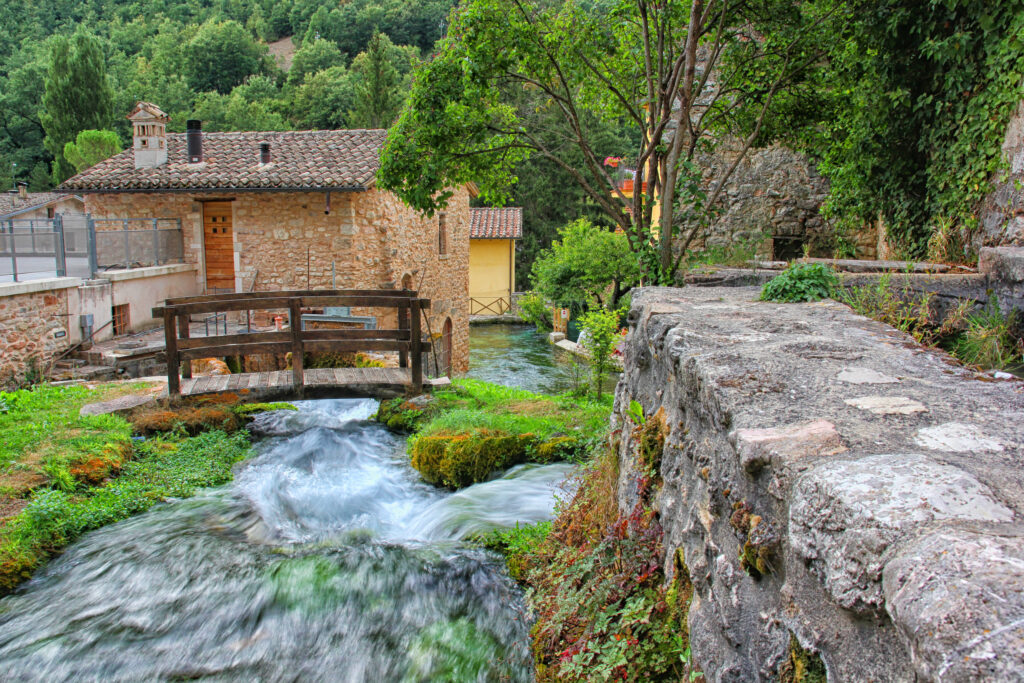 Upon arrival by car (the only means of reaching this remote location), the first impression can be a little disappointing. Parking is found along a dirt road that hugs the rushing stream, its endpoint a large, open field. It's a short distance back to the village; the walk is pleasant. Pristine waters of the Capovena stream guide you towards the village, burbling cheerfully as towering trees offer shade and a roost for chattering birds. If the season is right, you'll pass by overstuffed bags of gloriously red potatoes, the pride of area farmers, priced to sell. The unimpressive entrances at the village wall might seem a little puzzling, understated. Yet like Alice's rabbit hole, the magic that awaits is just beyond view.
The real beauty of this special place begins to emerge as you wind through her narrow pathways. The sound of gurgling water greets your ears, a sweet appetizer to that first glimpse of one of the many waterways, pools, and small waterfalls that weave themselves like a liquid tapestry through Rasiglia. A network of underground springs feeding the Menotre River provides this unending source of cold, immaculately clear mountain water – the lifeblood of the village. Small footbridges, both wooden and stone, reach across emerald-hued mossy canals, the rushing water sending cooling breezes aloft. Stone buildings are tucked in and amongst the network of streams, locks, and pools, somehow placed in a postcard-perfect imperfect jumble. Sunlight and clouds take turns adding and subtracting reflections of light and shadow creating breathtaking scenes in every direction. Certainly, this must be the place the faeries and gnomes call home, its enchantment almost surreal.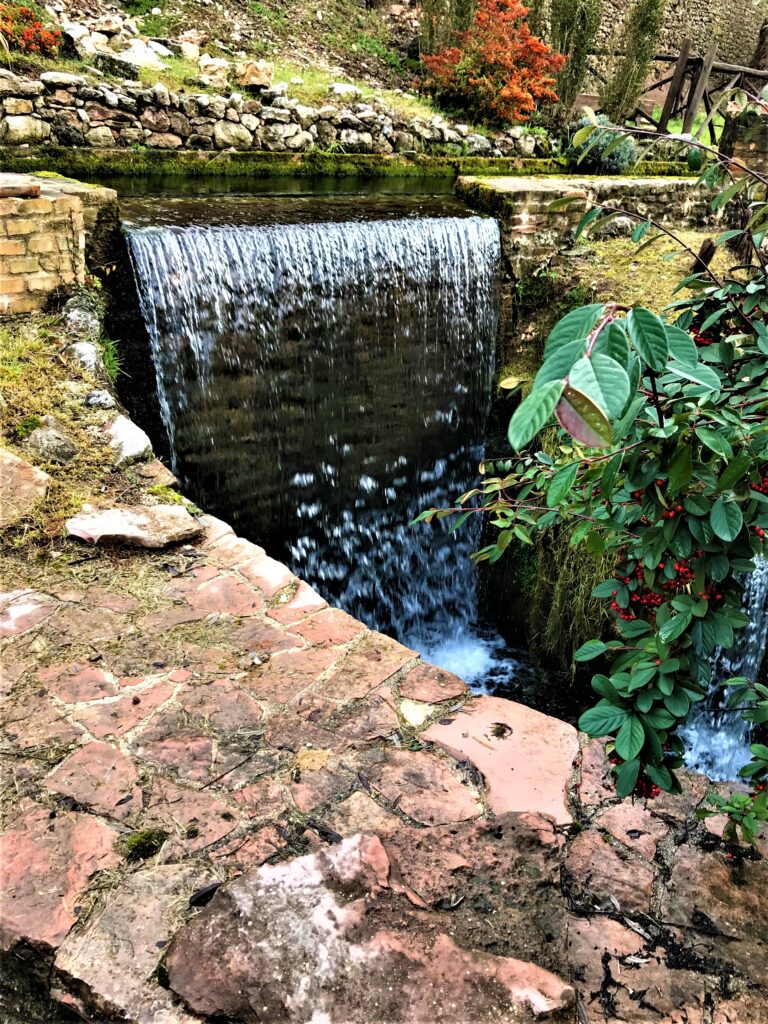 There is purpose, though, to this magical outlay that appears more the result of a magician's wand than ingenious engineering and taming of natural resources. As mentioned earlier, Rasiglia's beginnings date back to its strategic importance as a stop along the Via della Spina. The ruling Trinci family (1305 -1439) left their mark on Rasiglia during this time, as well. This noble family aligned itself with the Holy Roman Empire and were granted rule over the city of Foligno and the surrounding region, including Rasiglia. Partly for defense purposes and partly to enjoy the beauty of the area, the family built a fortified castle upon the hill that cradles the village. The ruins of the castle are still there, although one must use a good bit of imagination to appreciate them. A hike up is worth the effort, though, especially for the view from the remains of the watchtower.
Trinci rule ended when Corrado Trinci III decided he would break completely from Papal rule. Rome carried a lot more muscle than Corrado's small parcel of power; it wasn't long before Foligno was assailed and absorbed into the Papal States. Trinci influence never quite left Rasiglia, however, as the family became integral in assisting with the village's recreation.
With its abundance of fresh water, Rasiglia emerged as a rural industrial center during the 16th century. The steady supply of water-fueled power was corralled by a network of manmade canals, locks, and waterways. As one would expect, milling became a major commodity. Grain mills, wool dying facilities, and "fulling" mills featuring water-powered machinery to clean and felt wool sprung up giving the village new purpose and life.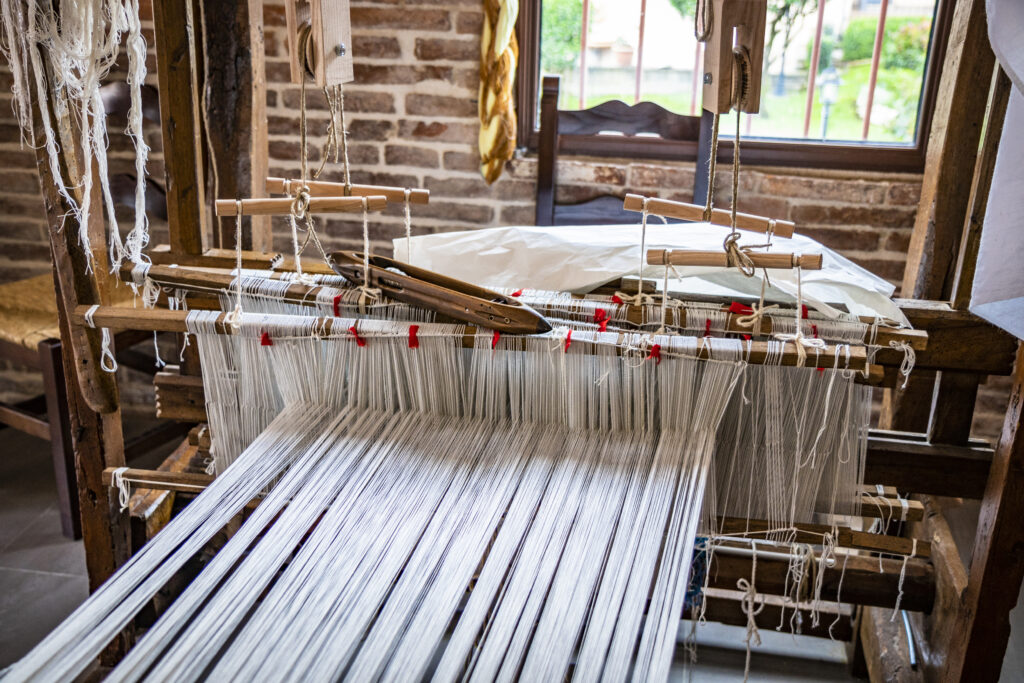 As the centuries passed, textiles became the predominant trade in Rasiglia, a trend lasting into the 1960s. In recent years, the old mill house and other significant buildings have been restored and repurposed to support Rasiglia's third re-invention as a tourist destination. One can set foot inside the main mill, as well as the dying and washing houses where you might encounter a local scrubbing off the day's dirt from a woven doormat. Weaving still takes place here, but in small quantity and more as heirloom preservation. Enlargements of old photos celebrating the village's textile history are strategically placed, each black and white image acting as a mirror to the past.
Don't come to Rasiglia if you're seeking perfection or slick tourist offerings. The town is home to about 45 inhabitants, hardy people who are proud of their legacy and are doing their best to preserve it. Part of the charm, the quaint appeal, is the imperfection found here. The wooden bridges and benches don't hide their wear and age, the walkways are fringed by healthy grasses and natural plants; a manicured look would just not fit. Its beauty is of the best kind, though…a melding of nature and man's innovations working in harmony.
Creature comforts certainly aren't lacking, however. A handful of cafes and a bar or two offer the best of local food and drink. While no hotels are located here, it appears several old homes have been converted to b&bs. And of course, there are enough shops offering local textiles and remembrances to satisfy that need.
Perhaps my favorite experience in Rasiglia was practicing that challenging notion of "living in the moment". Find a bench, sit…listen to the harmony of the water dancing and burbling over stones and moss; marvel at the birds flitting from tree branch to stream to steal a cool drink; admire the array of vibrant flowers lovingly tended by homeowners; strike up a conversation with a shopkeeper; dip your fingers into the cool spring waters and dab your face. There is magic here – make some of it your own.
"I find myself alone in this Alpine spot at the foot of a holy and glorious mountain, where a source with whispering waters arises among alive stones…"   – Marco from Rasiglia, poet.