Ah, prosciutto – that lovely, pink hued, paper-thin sliced meat that has delighted Italy's residents for at least 3,000 years. Perhaps not as romanticized as wine or olive oil (anyone for a cozy picnic in a pig pen or butcher shop?), but possibly revered even more, there's no question that prosciutto makes a daily appearance on tables throughout Italy.
Believed to have taken its name from the Latin word proexsuctus, meaning literally to suck out the moisture, the formula for creating prosciutto sounds quite simple: take a ham hock, add salt, wait. But alas, nothing is ever as simple as it seems!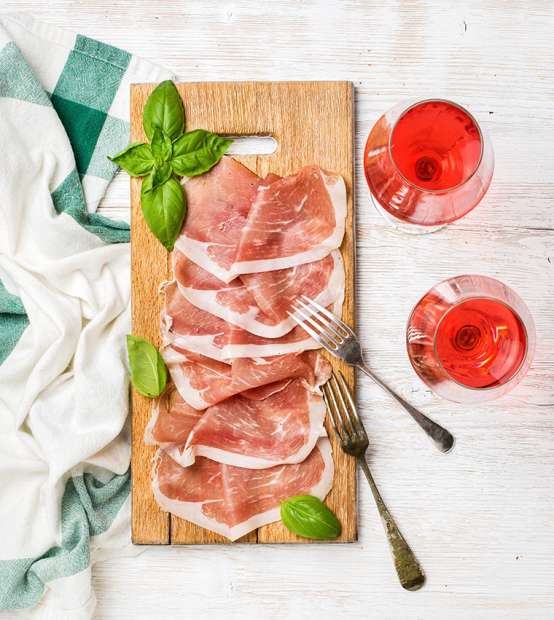 The creation of prosciutto, like many traditional Italian slow foods, cannot be rushed. From birth of the pig to finished product, even a lower quality meat requires at least nine months to be table-ready. Products awarded D.O.P status (translated Denomination of Protected Origin) require even longer, more controlled methods specific to the product. Regardless of a D.O.P label or not, all livestock must be Italian born and bred to be considered the origin of a good prosciutto.
The process from start to finish begins to tighten up when we look at what goes into a D.O.P. prosciutto. Take one of the better-known products, Prosciutto di Parma. Overseen by the Parma Ham Consortium, livestock must be raised in a setting between the Enza and Stirone rivers at an altitude no higher than about 2,500 feet. Only 3 breed types will do, and the diet must consist of specified grain, along with whey from parmesan productions (of course!). And you can count on it that someone is closely monitoring adherence to these requirements. All that good food stops when the pig reaches about 9 months of age and weighs in at around 300 pounds.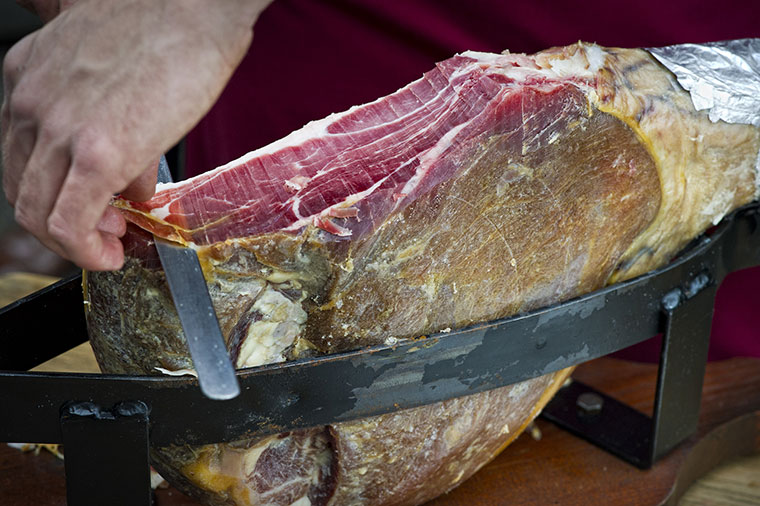 AThe breed itself is notable. Indigenous to Tuscany with origins back at least to the Middle Ages, the Cinta Senese pigs were all but extinct after World War II. In fact, it's said that only two males and 20 some-odd females existed at one point. In stepped good folks like Raymond Lamothe of Castellina in Chianti. Ray, born to an Italian mother and an American father, was one of the original people who set out to save the practically non-existent breed…and they have succeeded admirably!
A founding father of the consortium that now oversees conservation of the Cinta Senese, Ray's involvement didn't stop there. He and his wife Anna Rita rear these pigs on their family farm, Casamonti (which is also the site of a 900 year old monastery), and have produced salumi products since the early 1990's. This labor of love requires following to a "T" each and every consortium and government agency rule.
Cinta Senese must be bred and raised in Tuscany and are tagged at birth with their genetic inheritance. Interestingly, the DNA of this breed is unique in the pig world and cannot be traced to any other breed. The pigs are free to roam the farm from age 4 months until they are butchered at around age 2. Allowed to forage, they are also supplemented with highly controlled natural feeds – no GMOs, no soy, no additives of any kind.  Livestock must be inspected by a veterinarian every 2 months, while other assigned vets do periodic quality control checks on the meat products.
The results, however, produce a remarkable prosciutto that is delicate, extremely flavorful, and lean. In fact, Cinta Senese fat is quite similar in structure to that of extra virgin olive oil! No worries about raising your cholesterol with this product, so over-indulging is allowed.
As Ray shared with me, a lot has changed for D.O.P. prosciutti producers, including the Cinta Senese variety. Once upon a time, most farm homes sat atop a classic musty cellar perfect for curing, and the family had the ability to tend the hams 24/7. Nowadays, the majority of producers use the services of hi-tech and tightly controlled prosciuttifici, off-site labs, for the entire curing process.
Once butchering and trimming of the leg portion have occurred, the real work begins. Salt is rubbed manually over the entire ham daily for a month. Gentle pressing and massaging during this time drain all traces of blood, decreasing the chance of mold growth. After about two months, a series of washings remove the salt, and sugnatura (a mixture of salt, spices, and fat) is applied to the exposed portion of the leg not covered by skin. The ham is then hung in a controlled room to dry where humidity and temperatures must mimic those of the region the ham is from. Curing takes anywhere from 9 to 18 or more months depending on the size of the ham.
Any D.O.P. designated prosciutto is going to go down good, and even a lesser quality would bring a smile – but which is the best? That from Parma? Tuscany, specifically Cinta Senese? Well, what about the famed Prosciutto di San Daniele from the region of Friuli-Venezia Giulia? It depends on what region you're in when you ask, of course, but any would be welcome on an Italian table.
At one time, all pork products from Italy were banned from export to the United States; however, in 1989, prosciutti from Parma and San Daniele were permitted after the repeal of a 22-year ban. I came across indications that 2016 saw a lifting of the age-old ban on all meat products from Italy, but was unable to confirm this (sadly so). The current proclamation on the USDA website — In very few cases swine and swine products can enter the United States – suggests you still might want to avoid stuffing that lovely leg of Italian-made prosciutto in your suitcase and just enjoy an affettati misti (cured plate meat) from your local deli.