Il Peposo, also known as Peposo del Chianti or Peposo alla Fornacina, is a deeply delicious beef stew from Tuscany which was traditionally prepared by kiln workers of the Chianti region. The men spent long hours by the kiln making terracotta tiles and utensils and they took advantage of the heat from their ovens to slow cook the meat in pots placed just outside the kilns. Fornace is an Italian word for kiln, hence the name Peposo alla Fornacina.
Peposo is a very easy dish to prepare. It can be cooked either in a terracotta pot in the oven or in a pot with a heavy lid on the stove. For this dish, you need a "poor" cut of meat rather than a tender, good quality cut, which would melt in the slow cooking process.
Traditionally, Peposo was made with scraps of beef meat that were relatively inexpensive. Stewing steak is ideal, better still if it contains a bit of fat. If you can only find a prime cut of beef, then it will be necessary to reduce the cooking time. With the right type of meat, you will typically need 2-3 hours.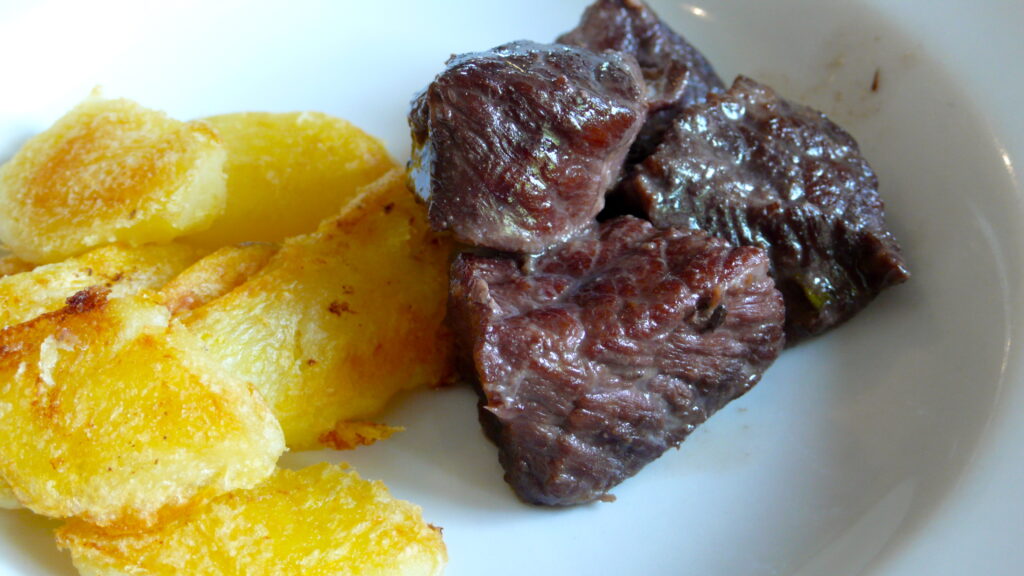 Ingredients (Serves 2-3):
• 2 tablespoon olive oil
• 4 cloves garlic
• 1 tablespoon black peppercorns
• 1 handful of sage leaves
• 450 g (1 lb) of beef meat, cut in approx. 2.5 cm (1 inch) cubes
• 1/2 lt (2 cups) of Chianti wine
• 1 lt (4 cups) hot water
Procedure:
Preheat the olive oil in a heavy casserole pot and briefly sauté the garlic cloves. Add the peppercorns, the sage and the meat and sear for 5 minutes, until the meat has an even brownish color on all sides.
Pour in the wine, cover, and let it simmer on very low heat or in the oven at 150 °C (300 F°) for about 1 hour. When the wine starts to reduce, add 4 cups (1 lt) hot water and allow to simmer slowly for 2 additional hours, checking regularly to see that the liquid has not evaporated completely.
If the liquid dries up, add some more water to cover the meat. After 2 to 2 1/2 hours, remove the lid, and let the liquid evaporate until the meat is left in a thick brown juice. There is usually no need to add salt.
You could add a few tomatoes to the meat, which results in a creamier dish, and serve it on stale or toasted crusty bread. If you choose to do that, don't let the juices evaporate completely.
Il Peposo is best accompanied by a good, hearty red wine, and possibly a salad to balance the rich taste of the meat.
Letizia Mattiacci is a cookbook author and owner of Alla Madonna del Piatto Cooking School and Agriturismo in Assisi, Umbria, https://incampagna.com. This recipe has been previously published in Mrs. Mattiacci cookbook entitled "A Kitchen with a view." Recipe by Gloria Cappelli.