New York is the Big Apple, Chicago is the Windy City and Los Angeles is, as its very name tells us, the City of Angels. Cross that pond and come to Italy, where you'll find of course Rome, the Città Eterna, and Venice La Serenissima. Cities love nicknames, all over the world, but it's about the Italian flair for alternative geographical denominations we'll chat a bit about today.
Well, that Rome is called "the Eternal City" comes as no surprise, as her millennial history is witness and memory to the fact Rome is just that, timeless. And La Serenissima, the "most serene" Venice, where does that image come from? Alas, even I use it continuously when writing about the city, yet, beside the fact the expression dates back to the times of the Repubbliche Marinare, I known nothing about its origin.
Let us start from Venezia, then. When ruling over the seas and the lands of the East, marvelous Venice was governed by the Doge, a man who loved grandiose epithets as much as any other king: he was il Serenissimo, not his city, which only became so by extension and association with him. Time and history, though, gave back to Venezia some justice: I don't think many people outside of Italy – or even in Italy, as a matter of fact – know who the Doge is today, but the whole world certainly knows that Venice is "the most serene." Funny how, I think, a name the city gained in such a manner mirrors its nature so well: because what's Venice if not an image of elegant, magnificent serenity? Now, in her heyday she was also known as La Dominante and La Regina dell'Adriatico, likely to annoy a bit her fiercest rival, Genoa (more on her in a few words), but La Serenissima is really what we still like to call her today.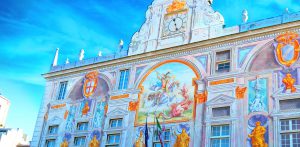 Genoa, we said: well, Genoa has one of my favorite nicknames, La Superba, the haughty. Unlike Venice with La Serenissima, the Ligurian capital earned her most cherished title because of her own dominance over the western seas and commercial ways, not because it had been given to her ruler. She was powerful, proud and rich: now, haughtiness is usually a pretty common trait of those with such a personality, isn't it?
Move not too far from Genoa, leaving sapphire blue seas behind your shoulders while welcoming with the eye the maternal embrace of the Alps, and you'll meet my beloved Torino. Lesser known jewel of Italy's Crown Treasures, Torino is not only the land of Baroque, but also that of magic and it is, indeed, as la città magica we amicably know her. You see, those with a bit of knowledge of the occult or history of magic, will be fast to explain how Turin is considered one of the vertexes of the world's triangle of White Magic, along with Lyon and Prague. And of that of Black Magic, along with London and good, old San Francisco, but let's not think about that, shall we?
To the East, we meet luscious Bologna: known for her university – the oldest in the world – and her food, she's called La Dotta, the erudite, thanks to the first, and La Grassa, the fat, thanks to the latter. Bologna is also famous for her architecture and, you guessed it, she has nickname for that, too: La Rossa, the red, because of the chromatic schemes of her streets, largely dominated by hues of red.
Pleasure-loving Emilia Romagna is home to another curiously nicknamed city, Ferrara, known as la città delle biciclette because Ferraresi, apparently, have a penchant for cycling everywhere.
In the centre of Italy we have, of course, Firenze, also known as la città dei gigli, the city of lilies. Nothing can better represent her ethereal and elegant beauty than these flowers, but why? Because lilies have been one thing with Firenze for almost 1000 year. The city's coat of arms – a red lily on a white background – had the colors inverted, once upon a time. It was during the Guelfi vs. Ghibellini affair that they were exchanged, but no one dared touching il giglio fiorentino since. Actually, Napoleon tried to get rid of it in 1811, but he didn't manage.
It's curious to think that, in spite of such a long lasting union, no one truly knows why the lily became the symbol of Florence: some believe the lily was chosen because intertwined with the image of the Virgin Mary and Her purity, others date the beginning of the relationship in Roman times, when the lily was symbol of the Spring, others still say the lily is just a way to remember the founder of the city itself, Fiorino (which means little flower in Italian), a Roman praetor. Wherever the truth is, the lily remains Florence's daintiest symbol.
Time to move South, to the colorful and precious splendor of Napoli. Napoli is not simply and only the city of Vesuvius and pizza. And in spite of what some British newspaper tried to make the world believe, she's not even the city of crime. Napoli is la città delle 500 cupole, the city with 500 cupolas and you know why? Because Napoli is filled to brim with beautiful churches, monasteries and other religious buildings. The only city with more churches than Naples is, surprise surprise, Rome.
Nicknames, who would have thought to learn more about Italy thanks to them? Truly, this is a country of a million surprises.