Right now, the Italian property market is absolutely booming. And I mean BOOMING.
In my nearly 8 years of working in the real estate and holiday rentals industries in Italy, I have never seen the market as buoyant as it is now. Many people who were once originally looking in areas such as Tuscany or Puglia have become priced out of the market due to the consistent growth and have now begun their searches in other regions of Italy. Some people may be wondering what region could be a great alternative area to invest in, and Lazio is it.
If you have not ever had Lazio in your mind, let me share with you why it could be a potential contender for your list.
Imagine leafy rolling hills, gorgeous lakes, uncrowded beaches, and little towns with stunning historical centers and villages filled to the brim with history and fine architecture. Many people who visit Rome on holidays never take the time to actually discover the region of Lazio and all its wonders: they really do not know what they are missing.
Rustic Palazzos itching to be returned to their former glory
When I think of Lazio, I think of all the incredible and stunning palazzos that are on the market. We are talking about grand stately homes, original frescoes, cementine flooring, wide banisters, marble stairs, the works.
In my research for my weekly property magazine La Dolce Vita Lifestyle Magazine, I am always in awe of the properties for sale in the Lazio region and above all, the prices! Lazio at one point was becoming known as "the new Tuscany" and foreign buyers are slowly but surely realizing all of what Lazio has to offer and property prices are still incredibly low (for now).
And what sort of prices might you expect? Small houses in fairly remote villages can be had for as little as €50,000, but even in the more accessible and economically prosperous areas, you might still pay only €100,000 or so. Rustic farmhouses needing restoration start at about €120,000, and fully-restored country homes get going
at about €200,000.
Gorgeous lakes
Lazio boasts some gorgeous lakes and the two that really spring to mind as excellent choices for investment purposes are Lake Bolsena and Lake Bracciano.
Lake Bolsena is strategically located between Tuscany, Lazio and Umbria, so let's call it a "Golden Triangle" of sorts where there are still some extremely reasonably priced properties for sale. Buying in the Lake Bolsena area as a potential holiday rental offers your future guests a myriad of options for day trips and getaways whilst using Lake Bolsena as a base.
Lake Bracciano is also an excellent option for its vicinity to Rome, and also for the gorgeous little towns dotted around the lake such as Trevignano Romano, which are certainly worth taking a look at and are in demand by foreign buyers.
Lazio provinces
If you look at the Viterbo and Frosinone provinces there are some absolute bargains to be had, and many properties are sold completely habitable, turnkey with no work needing to be done. A great spot to also check out is the province of Rieti, which is located just outside Rome.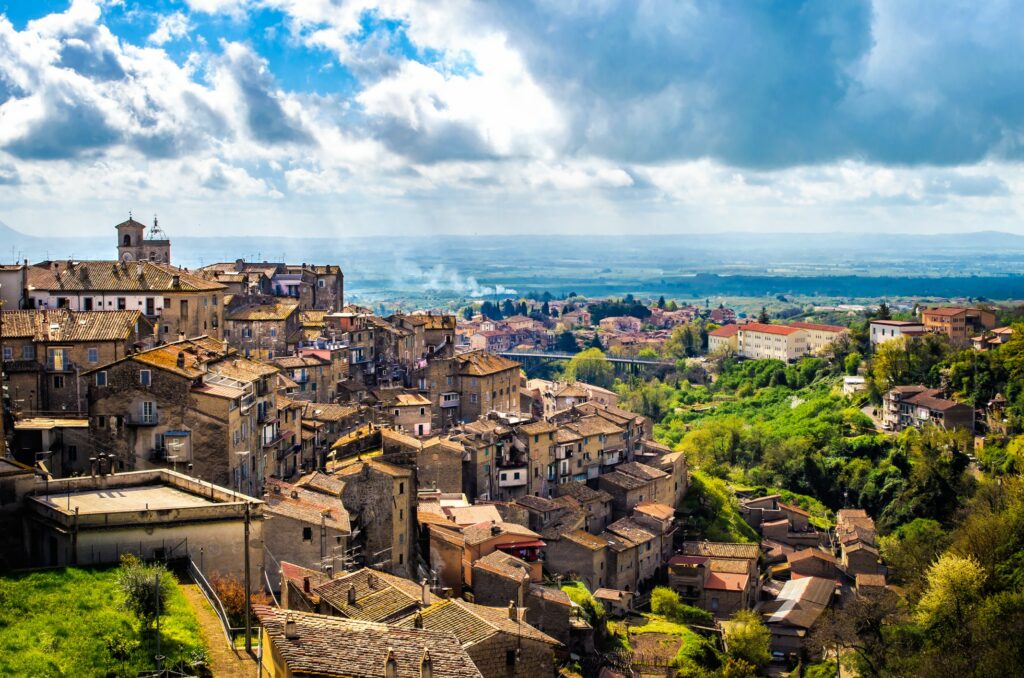 Smart working initiatives
In 2021, the local comune in Rieti introduced a "smart working" incentive to encourage digital nomads to move to the region and work remotely and in return receive subsidies on their rent. What impact has this on the region itself? It is bringing more awareness to the area; people are now looking to purchase properties to use as rental investments and it is repopulating the area, too
Rieti is also located near Rome and has excellent transport links both with the trains and autostrada which can transport you into the capital in just over an hour. Not a bad little commute!
If you are a complete newbie to Lazio and want to learn more about the region and where might be the right place for you to invest, this excellent article from E-Borghi breaks down the most beautiful villages in Lazio and what makes them so unique.
If you want to know what the best websites for searching for your dream property in Italy are, then head over to:
And if you would like to sign up to get my top 8 favorite properties for sale in Italy each week, head over to: https://ladolcevitalifestylemagazine.com and subscribe for the Free Weekly Recap! 
Happy House Hunting!