The stunning Amalfi coastline might be one of Italy's most recognized landscapes. A spectacularly clear sea laps at the shore of one picturesque town after the other, each a tumble of pastel buildings and majolica tiled church domes arranged like puzzle pieces between steep mountainsides and pebbly beaches. But perhaps most iconic of all are the sunny orbs of citrus that grow terraced on the seemingly unforgiving slopes, their sweet aroma and cheerful appearance defining the Costiera Amalfitana. These are the Sfusato Amalfitano, the celebrated lemons of the Amalfi Coast.
The lemons of Amalfi as we know them today haven't always been such a fundamental part of this coastal culture. Historians believe Arab conquest in the 11th century carried with it the arrival of lemons to southern Italy. The ingenious Italians cross-bred these small, tart imports with local oranges. The sweeter, juicier hybrid that developed over time became a staple on merchant vessels, their flesh the cure for the ills of scurvy. As a result, demand grew throughout the European world and the small towns of the Sorrento-Amalfi peninsula became a hub for the cultivation of the prized lemons.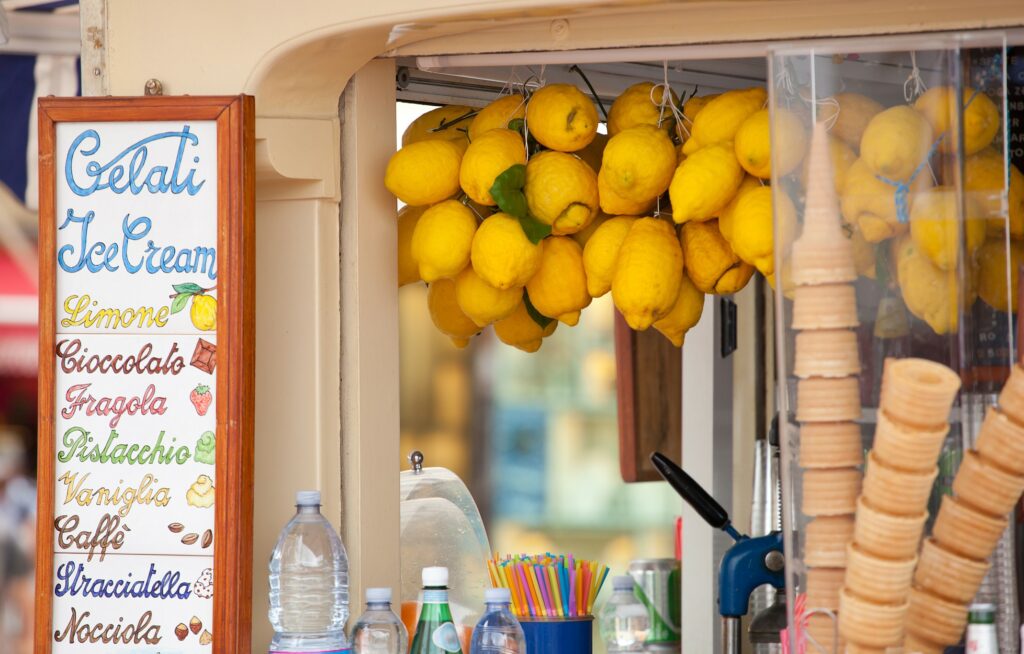 Besides presenting a great photo-op, what makes the Sfusato Amalfitano stand out amongst its peers? The name "sfusato" – meaning spindle – gives an initial clue. Amalfi lemons grow in a particularly elongated shape and sport a prominent nipple. Their organoleptic (related to the five senses) properties, however, send them over the top. Large in size, the lemon-drop yellow skin is typically smooth, with an extremely high concentration of aromatic oils, while the interior flesh is extra juicy and mildly sweet. The aroma of one of these lemons in and of itself is a heady experience. They can be eaten like an orange or even an apple with peel and all, but you'll still get a little pucker power from the experience! Most lemons yield a small number of seeds, making them ideal for use in many local dishes, desserts, and of course… spirited beverages (a little more on that later).
The Sfusato Amalfitano lemon and its varietals became such a vitally important part of the region's culture and livelihood that geographic protection (Indicazione Geografica Protetta) was awarded in 2002. Christened the Limone Costa d'Amalfi IGP, the sfusato and its cousins – the Zagara Bianca, Ovale di Sorrento, Cedro Profumato d'Amalfi, and Limone Gigante to name a few – were awarded recognition along with stipulation that all Sfusato Amalfitano lemons and products produced from them must derive from trees grown within a designated geographic zone comprised of 13 towns. Protection of the traditional ways of cultivation and purity of varietals is assured, as well, through the Consorzio di Tutela del Limone Costa d'Amalfi I.G.P. Like a good olive oil or wine, you and I can be guaranteed we're tasting the real thing by looking for the consortium seal on any product claiming to be made with Amalfi lemons.
Why is it, though, that unlike grapes or olives, the trees that produce these magnificent lemons thrive only in one small region of Italy? Location, location, location! A perfect microclimate culminates along the steep mountainsides of the Amalfi peninsula. Brisk breeze wafts upwards from the Tyrrhenian Sea onto the mountain slopes, eventually settling and cooling the valleys and ravines. The perfect amount of full hot sun mingles with the cool ocean air and rich volcanic soil – the result: optimal growing conditions for the exacting lemon trees.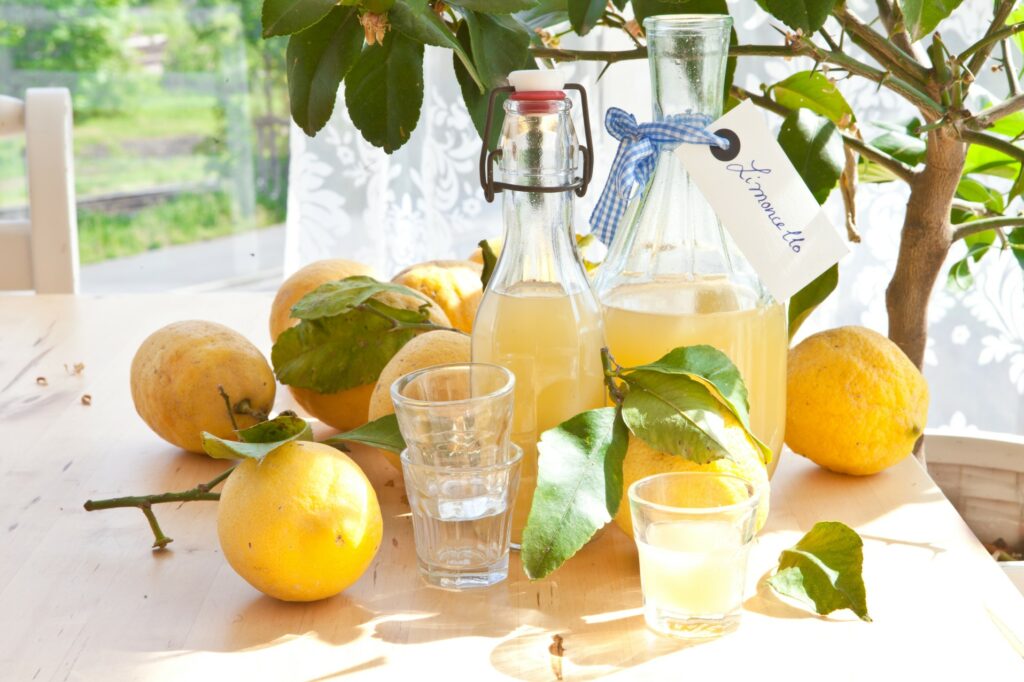 It's a symbiotic relationship with the hardworking local farmers, however, that creates bountiful harvests year after year. The ideal climate is critical, of course, but these trees would be out of luck if they tried to grow as renegades along the steep, rugged cliffsides of the Lattari Mountains. What we see now as a scenic part of the coastline, the row upon row of terraced lemon trees that decorate endless mountainsides, are the results of hundreds of years of ongoing labors of love. Dug into the rocky mountainsides, reinforced with sturdy stone walls, braced with pergolas made of chestnut poles to support the pregnant branches, and gracefully protected from hail and frost by plastic drapes, these terraced sky-gardens are the sacred grounds of lemon production. Much of the labor is still done by hand. Pruning, weeding, daily tending of trees as old as 500 years produce two to three harvests a year – all done by hand. While some growers have installed powered pulley carts to haul the lemons down, many others still rely upon traditional means such as fruit-filled hampers loaded on donkey backs or woven baskets carried by hand. It's easy to see why cultivation here is often referred to as "agricultura eroica" …heroic agriculture. These are robust and passionate people — perhaps that spirit somehow permeates these precious lemons and becomes part of their magic.
A visit to Amalfi and the surrounding towns of the peninsula is a visual indulgence. Chromatic Mediterranean landscapes and vistas, beauty almost too overwhelming to absorb fill every angle. Her lemons are of the same qualities – larger than life, sensual and alluring…and very tasty. While sight, smell, and sound bring Amalfi's many riches to life for us mere mortals, it's lemons that bring the added richness of taste. Interestingly so, lemons only found their way to the palate as enjoyment sometime in the 18th century. Prior to that, their properties were seen as medicinal (treatment for scurvy, stomach ails, skin conditions) or as pleasing additions to a garden. Thank goodness times have changed! Today Amalfi is known for the wide variety of dishes featuring her special lemons. Most local menus spotlight lemon-based seafood and meat dishes, as well as creamy pasta sauces, tantalizing salads, all kinds of desserts and candy, and that oh-so-marvelous digestivo known as limoncello: in fact, over 60 percent of lemons produced in this region are used for the production of the wildly popular spirit.
Actually, let's spend some time in the kitchen… Among the most delicious and popular lemon-based dishes, as we said, we must mention desserts. And how could we discuss dolci al limone without dedicating some words to delizia al limone and sorbetto? Sorbetto is a typical Italian dessert, the origins of which go back in time. The tradition of mixing snow and ice with flavorings to create something fresh and sweet to enjoy after the gargantuan meals they were known for, came already to the Romans: indeed, it seems that Emperor Nero himself had snow from the Apennines brought to the capital so that it could be mixed with honey and a variety of flavors. But iced and lemony sweet treats entered our tradition for real centuries later, during the Arab conquest of Sicily: the ingenious and cultured Moors didn't only give us lemons but also reintroduced to Italy the habit of enjoying icy treats, offering what was to become the most quintessential of them all, the sorbetto al limone.  The very word sorbetto, in fact, may come from the Arabic sherbeth or sherab, which translates as "fresh drink." However, it was only in the 17th century that sorbetto al limone – and also other varieties of it – took the peninsula by storm, thanks to the work of Sicilian Francesco Procopio dei Coltelli.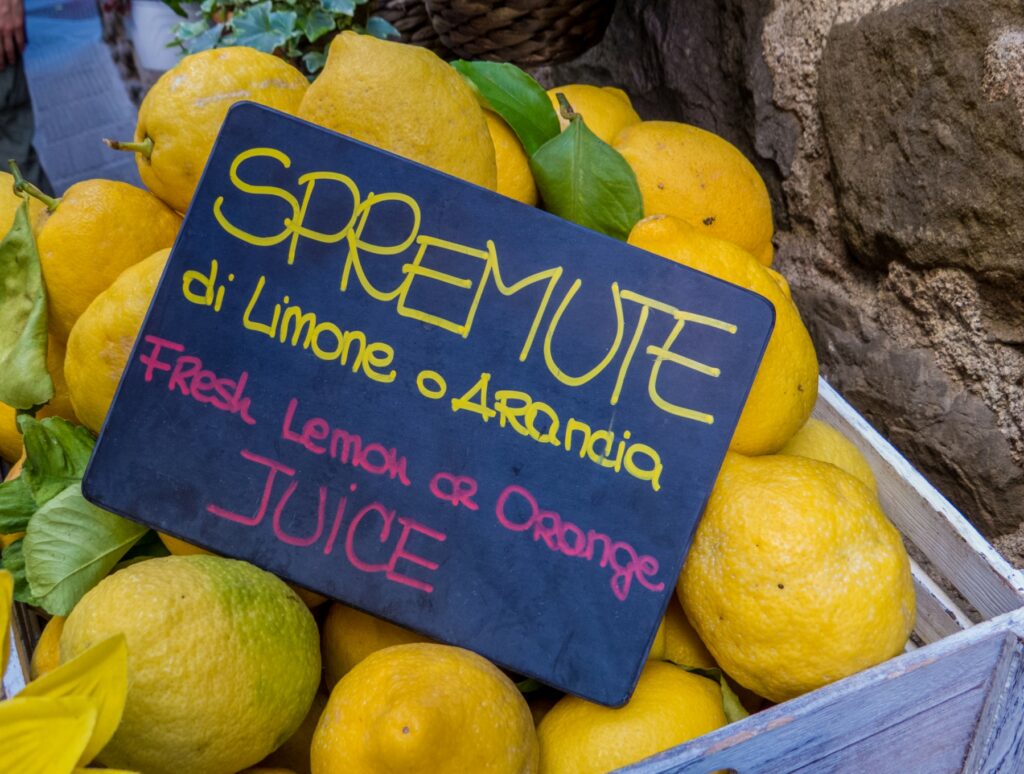 If sorbetto has ancient and geographically varied origins, the amazing delizia al limone is 100% Amalfitan and 100% created to honor the Costiera's lemons. This fresh and flavorsome dessert – its name translates as "lemon delight" – is typical of Campania and, as opposed to the ancient, historical roots of sorbetto, it has pretty recent origins. It was created just over 40 years ago, in 1978 by Carmine Marzuillo, a baker from Positano, who wanted to pay tribute to his Costiera's lemons with a new dessert, made with a base of pan di Spagna (a light butter-free sponge), soaked in limoncello syrup, then filled and topped with lemon cream: fresh, decadent and, of course, deliziosa! One naughty curiosity: because of its shape, which is reminiscent of female breasts, it is also known as zizza della monaca, or "nun's breast"!
Back on our side of the Atlantic, while a tipple of limoncello is one way to enjoy a taste of Amalfi on American soil, beware of low-quality products that add food coloring, flavoring, and may not even contain Amalfi lemons. Read that label and don't be a "limone spremuto" …someone totally taken advantage of!
"A certified yellow star shines among the brilliant colors of the Amalfi coast…a sweet and juicy soul in a land to discover. The intense and exciting smell evokes the emotions, magic and colors of the Divine coast." – Consorzio di Tutela Limone Costa d'Amalfi I.G.P.