Ensconced on a rocky base at the foothills of the Apennines, a strikingly peculiar castle rises over the Emilia-Romagna countryside. You won't find the usual architectural suspects adorning this eclectic castle, but instead an array of gilded onion domes, spindly rows of minarets, and an assemblage of European, Eastern, Moorish, and medieval styles that converge to create one of Italy's most unusual buildings.
This strange castle, christened La Rocchetta Mattei, was begun in 1850 atop the remains of what had been an important ancient Tuscan stronghold. Its unconventional creator, Count Cesare Mattei, envisioned a commanding castle that would serve not only as his personal home but also as the perfect location for manufacturing and dispensing of his controversial medicinal cures. Believing his rocky hilltop was rich with magnetic energy that would enhance his cures, Mattei continuously added on to his castle until his demise in 1896. Whether he was that enamored with his creation or just an idiosyncratic fellow, the Count never left the Rocchetta during the last 20 years of his life.
Cesare Mattei was the successor of a wealthy merchant family. Before he was 20 years of age, Mattei's father had passed, but not before making sure his son had received a fine multi-disciplined education. Intelligent and curious, the young Cesare became a well-read scholar and scientist, a self-taught physician, a politician, and even found favor (and his title) with the Pope after a hefty donation of strategic land.
The pivotal plot twist came when Mattei's mother passed after a long struggle with cancer. Frustrated and despondent, the Count withdrew from all his former endeavors and began an intense quest for natural cures. The result: a new form of therapy known as electro-homeopathy. The Count believed that extracting "liquid vegetable electricity" from plants, then distilling a tincture would cure disease by neutralizing negative and positive charges within the body. Traditional and even homeopathic practitioners of the era ridiculed the method, yet it caught on and spread across Europe and eventually the world. Truth often being stranger than fiction, tinctures were produced and sold up to 1969. Even now, there are electro-homeopathy organizations scattered across several continents.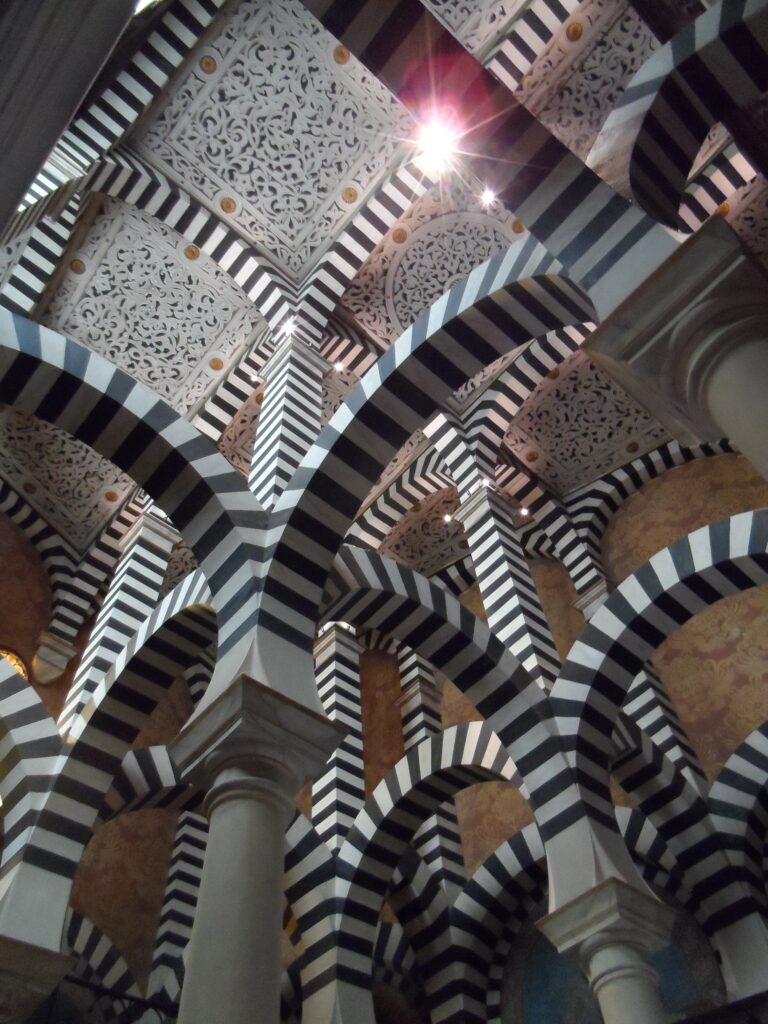 His mission clear, the Count began construction of what he fancied as a sort of sanitorium, a place to come and take the cure through electro-homeopathy. His tangible vision for the castle was as grandiose as his curative vision – he wanted the world to notice both. Even if initial construction favored a classic medieval stylization, Mattei soon diverged into a miscellany of masterful Moorish, Eastern, and gothic styles that evolved into perhaps the most peculiar castle in Italy.
Throughout his 30 years residing and practicing in the castle, Mattei's presumptuous wishes continued to find life in innumerable additions. Nothing was too extravagant or flamboyant. Symbolism was excessive throughout the disjointed labyrinth of styles, a reflection of the Count's mystic way of seeing the world. Upon entering the castle, guests passed through a narrowed passage beneath statues representing good and evil, finally stepping into a sunlit courtyard. "Your cure is found here!", the Count seems to suggest. A round symbol placed on the main entrance is said to perfectly align with the sunrise on the morn of the summer solstice, one of many celestial symbols embedded throughout the castle. What seems as merely showy décor goes much deeper, as well. Statues, carvings, frescoes, and even floor plans representing Christian, astrological, pagan, and Rosicrucian symbolism are abundant throughout the structure, all proclaiming Mattei's unorthodox views and concepts.
Count Mattei's death didn't end his mission. Honoring his father's wishes, Mattei's adopted son Mario Venturoli pressed on. Additions continued; wealthy guests were still welcomed to sequester within the castle walls seeking cures; parties and gatherings were endless.
Venturoli's death in 1937 marked the beginning of the downturn for the Rocchetta and its highly lucrative tincture business. World War II brought further decline and a seeming coup de grace to Cesare Mattei's dynasty. Able to avoid destruction by bombing, the castle could not escape German occupation inside its walls. Looting, vandalism, and burning of precious furniture for warmth brought sad destruction to the utopian wonderland. Many years passed as the castle fell into decay. But like the promises of Mattei's remedies, the castle found new life when all seemed lost. The Rocchetta Mattei was purchased by a Bolognese bank in 2005; finally, restoration began, and the doors opened once again in 2015. Mattei's Rochetta no longer offers cures, but definitely offers curiosities.
Restoration of the entire castle is nowhere near completion, yet what is available for tours is impressive. The main public areas stand refitted and reminiscent of their original glory. Guided tours lead guests up a stone stairwell through an elaborate Moorish archway. First stop – an awe-inspiring chapel, Mattei's scaled-down replica of Spain's Mosque-Cathedral of Cordoba. A mind-bending flow of black and white Moorish key-hole archways lead skyward, punctuated with frescoes and swirling embellishments. The features seem to merge and converge, defying the laws of physics — pleasing yet confusing the mortal eye much like an Escher illustration. As was his wish, Mattei's body was laid to rest here at the central altar, resplendent with mystical designs and inscriptions. A rather apropos burial for this self-made redeemer, one could say.
The amazement continues inside Mattei's rendition of Spain's Lion Courtyard of Alhambra, its details rivaling the real thing. A massive stone fountain featuring a circle of lions keeps watch over intricately patterned tiled walls and floors. Keep walking, however, to find yourself in Mattei's "Sala dei Novanta" – his Room of the 90. Overseen by a huge stained-glass window featuring – who else – the Count, the grand hall was designed specifically to host Mattei's 90th birthday party. His plan: 90 people of 90 years of age would fill the seats set for 90 guests, then celebrate through the night. What a shame that the Count missed the mark by just three years.
Despite the majestic appearance of the Rocchetta, much is an Oz-like illusion. Elaborately carved wood ceilings are, in fact, nothing more than the skilled paintings of a trompe l'oeil artist. Gargantuan marble arches when closely inspected reveal no stone – just realistically painted wood. What appears to be handsomely carved geometric shapes exotically decorating certain ceilings are nothing more than painted papier-mâché. Throughout the magnificent Rocchetta Mattei much is not as it appears, but more a reality that exists through the eyes of the beholder. An odd coincidence…or the Count's last laugh? We'll never know.