In the rest of the country is al bar per l'aperitivo, but in Venezia, you go to the bàcaro for cicchetti. If you're not familiar with them, you're forgiven: neither was I until an old friend from Veneto, back in the days when I was young and living abroad, waxed lyrical about how great Venice's cicchetti were.
Anyways, yes: cicchetti, what are they? Well, in short, they're little morsels of traditional Venetian food, often compared to Spanish tapas in articles about them: they comprise a variety of cold cuts or fish, served on bread or squares of polenta and – a key and essential characteristic – they change depending on the season. Their name comes from the Latin ciccus, which means "small quantity." Indeed, cicchetti are not quite a full dish, they are a small taste of it. But that's the beauty of them because you can have many and enjoy the variety. They can be hot or cold, and they are not quite a meal, mind: in that, they share a lot with the nation's beloved aperitivo which, in truth, has become heftier and more substantial in the past 20 years than it was back in the 1990s when you'd get, at the most, some potato chips and a couple of squares of focaccia. I wonder if this modern, often stylish version of aperitivo has taken inspiration from Venice's own cicchetti which, we'll see, offer a variety of fairly hearty foods to satisfy every palate.
Cicchetti are typical of Venezia and there is a type of tourism associated with them, because visitors often make a point of trying the best in town all in one go, a bit like a pub crawl in Dublin, just with food and wine instead of Guinness and cheese and onion chips. To find them, you have to go to the right place, which is neither a traditional bar "all'Italiana" – where you'd get your Aperol Spritz, to be clear – nor a restaurant. If you want real cicchetti, you must find a bàcaro. A bit of history about this bona fide institution of La Serenissima is here necessary. According to Venezia Today, an online magazine dedicated to the city, the term derives from the name of a type of wine that used to be imported in the 19th century from Puglia; it was sold, back then, in taverns called malvasie, where you'd find only non-local wine. Out of curiosity, there were also other types of taverns, on the base of wine sold: magazen only sold cheap wine, while furatole only sold to the poor. Anyway, legends say that, one day, a gondolier tried a glass of Apulian wine in his local malvasia and commented with a "questo xe proprio un vin de bàcaro," which roughly translates as: "this is a wine good for partying," because in Venetian far bàcara means to party hard in honor of Bacchus, the god of wine.
Bàcari today are a mix between a pub and a bar, but they keep their traditional Venetian allure. It's here you need to go if you want to try cicchetti and an ombra. Having un'ombra di rosso or di bianco, means having a glass of red or white wine and it's a typical Venetian expression that, it seems, comes from the habit wine merchants had, back in the day, to place their stalls in the shadow of St Mark's belfry to keep their drinks cool. Andar per ombre in Venice is just as traditional as andar per cicchetti, so you should really do the two together.
We know what cicchetti are, where to find them, and what to have them with. All we need to do now is try them. We should, however, get to know them more closely: we should know what to expect!
The quintessential cicchetto is sarde in saor,  sweet and sour sardines, that are first fried, then layered with onions, pine nuts, raisins, and finally stewed in oil and some vinegar. They need to rest for at least 24 hours before being served. Baccalà mantecato is simpler to prepare but just as wholesome and tasty, and usually served on plain bread or a square of polenta: according to foodies magazine Dissapore,  no real bàcaro would serve cicchetti without baccalà mantecato, you've been warned. Another typical cicchetto is the simple and delicious mezzo uovo con l'acciuga, which is just that: half a boiled egg, dressed with some salt, pepper and olive oil, and finished with an anchovy on top. You may be more familiar with mozzarella in carrozza,  a tradition of Naples that found its place among the cicchetti, too: here in Venice, it comes with anchovies or ham. And then, musetto (a type of sausage made with the snout of the pig, similar to zampone) e polenta; bovoleti, small snails usually caught between April and October; folpeti, delicious baby octopus boiled and dressed in olive oil, pepper, lemon, and sliced celery. All traditionally Venetian options, that go hand in hand with more ubiquitous choices like polpette (meatballs) and fritti, a mix-and-match of fried deliciousness which can include zucchini flowers, vegetables, and fish.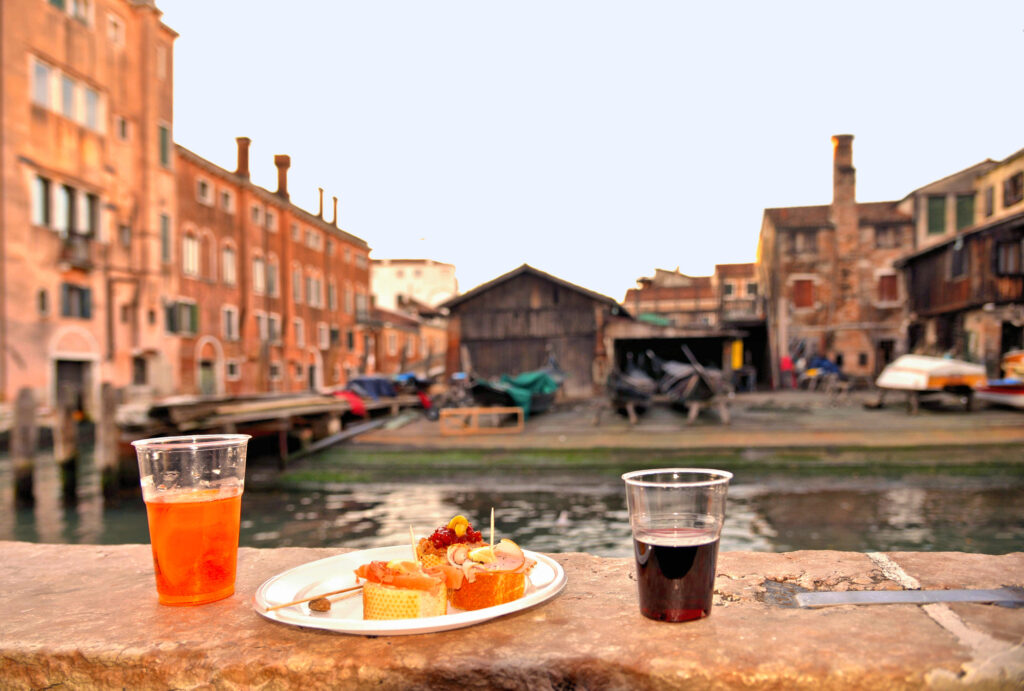 Last but not least, during Carnevale, cicchetti come also as a dessert: the best bàcari, this time of the year, will also offer you fried custard!