Before I was more seasoned in the ways of beloved Italy, I would pay only a passing glance at the small, mysterious shops that sat modestly under the shadow of a blue sign marked with a prominent letter T. An inquisitive peek inside brought instant curiosity: colors and shapes and rows and shelves of all things imaginable squeezed into what seemed the tiniest of places. I'd almost swear the same disgruntled-looking fellow was behind the counter of every single one.
Fast forward a handful of years. I'd figured it out. That big white T, as common a cultural logo as the golden arches are in America, heralded one of Italy's most important incarnations of necessity – the tabaccheria. They are legion, these small shops that sell tobacco, of course, and an impressive list of other goods and services. You'll find one in the tiniest of villages; you'll find one on practically every corner in larger cities.
While it's a fact that many Italians smoke, is there really such a great need for that many tobacco shops?
Well, yes and no. We'll have to slip back in time a bit to tease out this ambiguous answer, beginning with Cardinal Prospero Santacroce (1514 – 1589). While the presence of tobacco in Europe wasn't a new thing in the 1500s, it had not yet reached Italy. It was on one of Cardinal Santacroce's journeys that he was introduced to a "botanical" full of curative powers (so it was believed): nicotiana rustica. Believing he was doing a noble deed, the Cardinal carried seeds home to Italy for cultivation. Towards the end of the 16th century, this "cure" known as tobacco was being grown throughout Italy. Apothecaries added the remedy to their array of medicinals; it caught on quickly and skyrocketed in popularity. Over time, many apothecaries evolved into dedicated tobacconists. Not prone to miss a profitable opportunity, the government stepped in to tax and regulate the highly appreciated product. By the time Italy united as a Kingdom in 1861, tobacco along with salt, another high-demand and valuable product, were fully regulated. Sales were allowed only by tobacconists in specified shops, denoted by a large sign stating "Sali e Tabacchi" (salts and tobaccos). Early 20th-century signs featured the addition of the star of the Italian Republic, but this was eventually replaced by the prominent white T against a dark background that we see today. Even the "Sali e Tabacchi" were kept, despite salt's demotion to an everyday commodity. Tradition reigns!
Like savvy chameleons, tabacchi (short for tabaccheria) found ways to reinvent themselves as Italian society changed. To their credit, they made the best of Italy's penchant for government regulation. Why stand in the excruciatingly slow post office line for a postage stamp, or any other required government paperwork such as valori bollati (revenue stamps) or carta bollata (official document paper) for birth or marriage certificates, when you can pop into the corner tabacchi for the same? It's even possible to pick up legal documents such as rental agreements, house contracts, and court requests in these humble shops, along with getting your bollo dell' automobile (car taxes) taken care of. All those unpleasantries aside, maybe Lady Luck will take pity as you choose the perfect biglietto del lotto (lotto ticket), or perhaps sign up for the football pool — because your team will win! — with whatever euros are left. So much can be accomplished with never setting foot outside the neighborhood tabaccheria.
The possibilities continue, however, within the walls of these compact markets. Found a ticket on the windshield after overextending your welcome in a blue-lined (paid) parking space? Pay the multe (fines) while you purchase a few needed biglietti d'auguri (greeting cards) at the tabacchi. And even if your car is impounded for said violation, no worries – you can buy a few biglietti dell'autobus (bus tickets) here and arrive for aperitivo in plenty of time.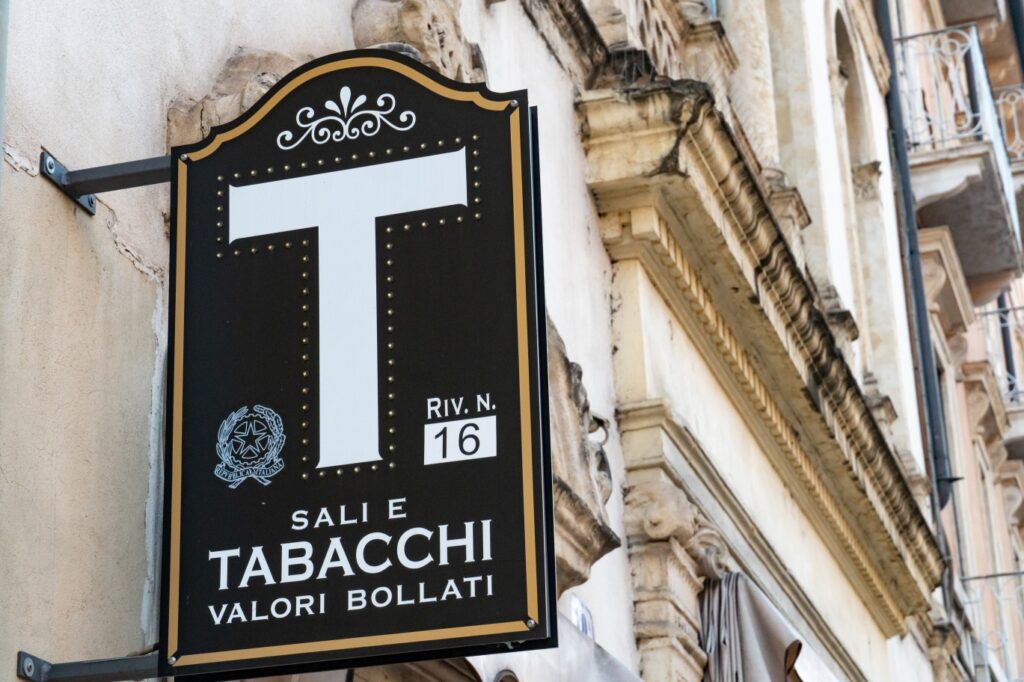 If a first-timer in Italy, a little knowledge about the tabacchi is a good thing – they are prolific and at least one need can probably be met there. For smokers, it's notable that only a tabaccheria can sell cigarettes and smoking-related products. Regulations also curtail cigarette vending machines to specific and limited areas, mostly tabacchi storefronts, but be warned: one must carry a government-issued tessera sanitaria (health insurance card) as proof of age 18 or above to get the goods. 
For what they might lack in space, tabacchi make up for in goods, services, and character. It's as if 7-Eleven and the "Cheers" bar got together. A friendly microclimate exists here; the community can gather to pick up a few things and take care of pending official business, but also to discover the latest local hear-say, find out how the ailing nonna is doing, debate lotto numbers, and chat awhile with the neighbors. It's not unusual to find a small coffee set-up and even a few bottles of spirits in many tabacchi, along with an assortment of snacks, toys, gifts, and trinkets. The American "corner store" may indeed have Italian roots!
I'm reminded of Frank Sinatra's song "I Did It My Way" when it comes to Italian regulations. Why yes, we'll abide by them, but yes…we'll do it our way. Thus goes the tabaccheria, the unpretentious shop filled with curiosities and government dictums, jovial greeting cards and vouchers with the promise of fortunes, the means to a bus ride, and the ease of obtaining one more pack… just one more. There's no match for these iconic stalwarts of Italian life and culture, and there's also no possibility of buying a match anywhere but within a tabacchi. Hats off to versatility and government regulations.