The 13th of December is a special day across the country, where the cult and worship of Santa Lucia is very alive. It is a day that feels a lot like Christmas already: the bright blue skies of December, the snow on the Alps, orange peels burning in the fireplace and the tree already up. Christmas lights are up and shining and we have likely begun our festive shopping.
Lucia is a figure of faith, a martyr of the Catholic Church, a young woman of more than one thousand years ago, who lived an extraordinary life. Our South is particularly fond of her, Sicily above all. Santa Lucia is the patron Saint of beautiful Siracusa, but she is honored across the island, where it is common to observe special culinary rules on the day dedicated to her, especially in its western part, where Palermo is. Here, for the whole day, tradition says you can't eat any flour-based food, including bread and pasta: fear not, though, there are plenty of amazing alternatives, as we will see.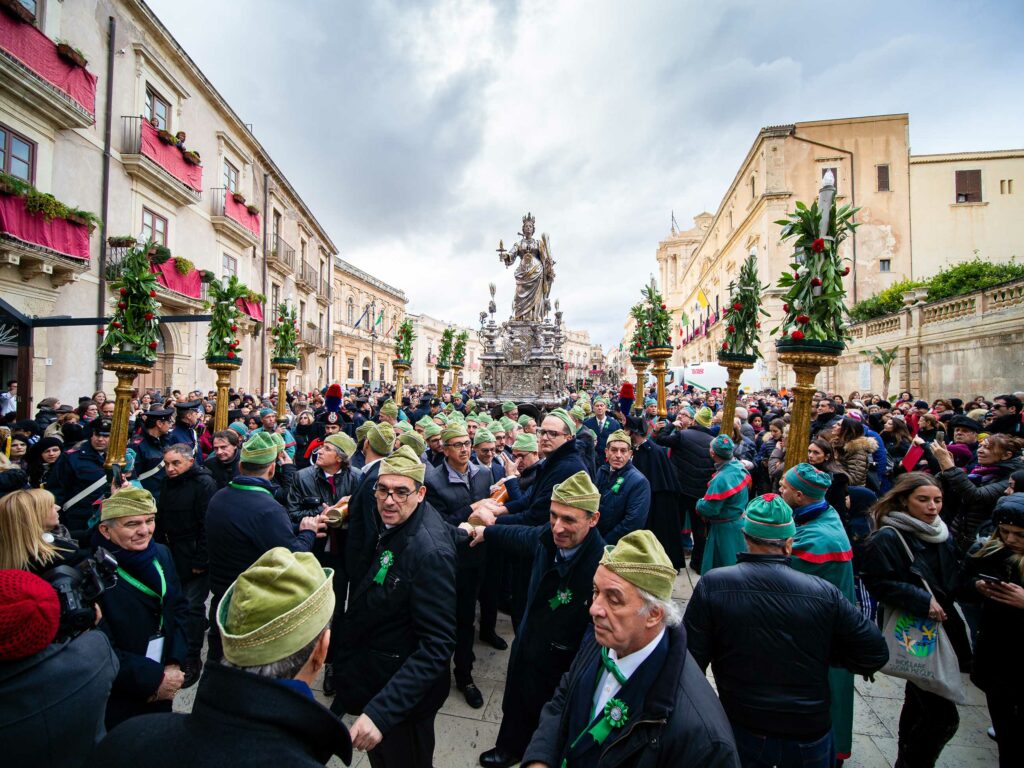 Let's start with a bit of history about Lucia herself. She was born in Siracusa around the year 283 AD and she was the child of a wealthy couple. Her father died when she was very young and her mother became seriously ill soon after. A devout Christian, Lucia – who had been promised in marriage to a pagan – decided to take a pilgrimage to Catania and the holy tomb of Santa Agata, to ask for her mother's recovery. In her mind, it was all clear: if the saint granted her request, she would have donated all her riches to the poor and dedicated her whole life to God. Guess who didn't agree with the plan? Her pagan fiancé, who certainly didn't like the idea of losing the opportunity to marry into wealth. In an act of vengeance, and probably also to save his face in front of family and community, he reported her as a Christian to the authorities as, back then, being a Christian was against the law. She was arrested, tortured and beheaded in 304 AD. She is, for this reason, considered a martyr by the Church. Her cult took up quickly in the region, as demonstrated by a 4th-century epigraph found in the catacombs of Siracusa – the largest in Italy after those in Rome – that bear witness to an already-established devotion. A devotion that soon spread up North, too: in 384, Saint Orso had a church built in her honor in Ravenna and, shortly after, another was built in Rome.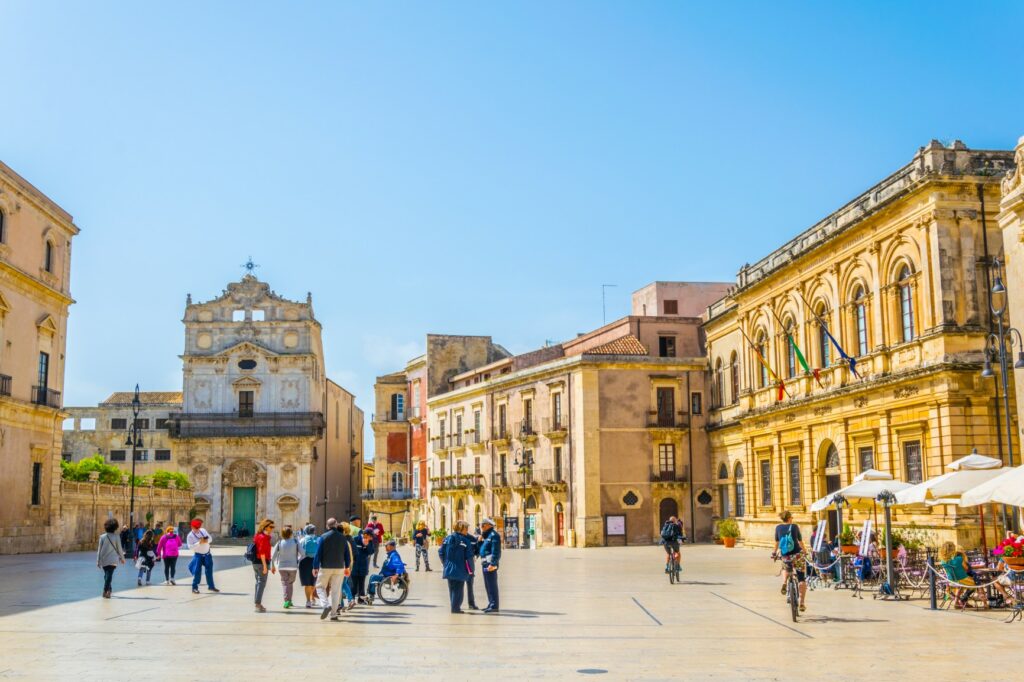 Lucia is associated with the eyes and their health, perhaps because of her name, which means "promise of light," perhaps for an interesting hagiographical legend, where the young girl pulls her eyes out to follow the words found in the Gospel of Matthew 9:18, if your eye causes you to sin, gouge it out and throw it away. Because of her faith, however, Christ visited her and returned them to her, awarding her commitment to a life without sin.
Because her cult is so widespread, it's not strange to see her honored in Palermo, even if she isn't the city's patron saint. In truth, there is a special reason behind it. Palermitans became especially fond of Santa Lucia after she ended a deadly time of famine that had hit the region in 1646: legends say that after months of hunger, the people of Palermo asked for Lucia's intercession and, soon, a large ship filled with wheat reached the city's port, ending this deadly time of starvation. People were so hungry that they didn't even mill the wheat to make flour and bread, but just cooked it as it was, adding only a dash of olive oil to it before eating it: this is how the most traditional of all Sicilian dishes for Santa Lucia, cuccìa, was born.
Today, cuccìa is not only eaten with olive oil, but also with many other ingredients, especially sweet: many add chocolate or ricotta to it, but also a traditional Sicilian pudding called biancomangiare, made with milk, sugar and candied pumpkin. As it happened for other famous Sicilian delicacies like cannoli and cassata, cuccìa was likely created by nuns in their monasteries. Its name probably comes from cocciu, the word for chicco ("grain" or "corn").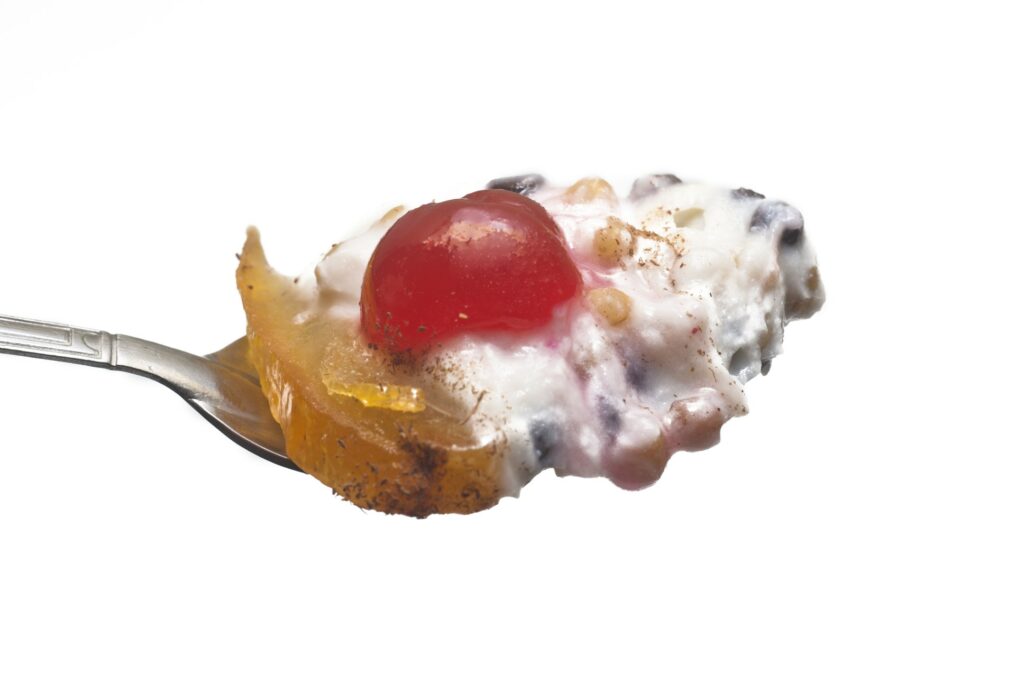 But, there is another traditional Santa Lucia food, one that most of you know definitely better than cuccìa, we are talking about arancine. Yes, we are using the feminine because, in the west of Sicily, where Santa Lucia's traditions are particularly strong, these tasty balls of rice and a variety of other ingredients have a feminine name! The masculine version, arancini, is the one used in the east of the region.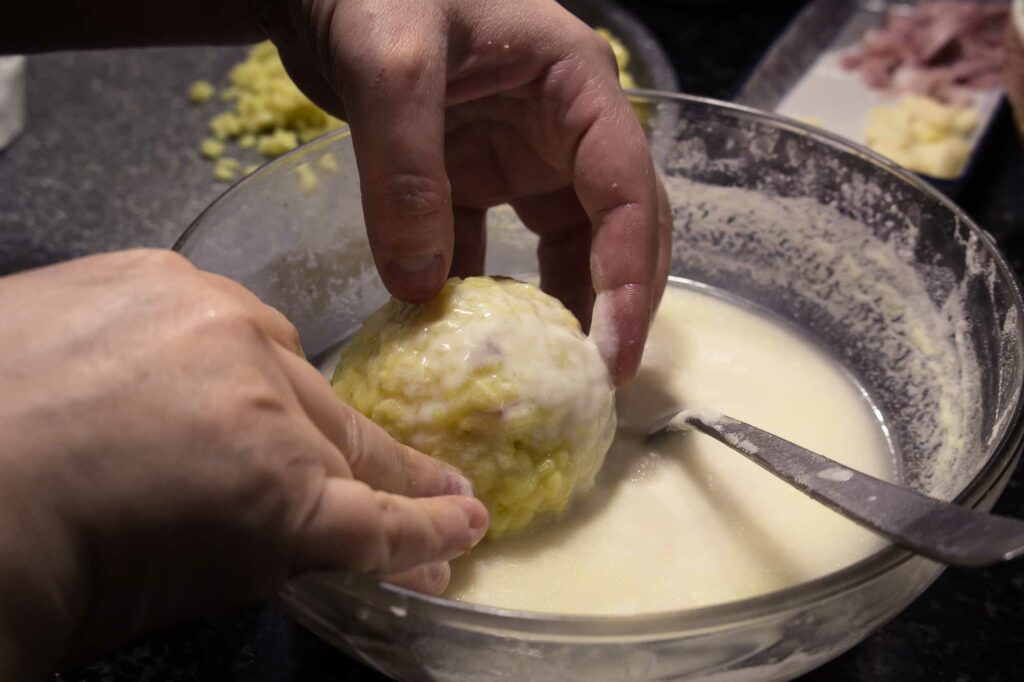 Legends say that arancine, just like another famous Sicilian dish, timballo di riso, were created during the Arab conquest of Sicily by an Emir who wanted to have something tasty to eat while hunting. Soon, it became obvious that, if you reduced the size of this rice, meat and saffron concoction and fried it, its transport was much easier, not only because it was smaller, but also because frying it made it more resistant. Of course, the name comes from the fact that its size and shape are, usually, just like those of an orange, arancia in Italian. Arancine come in a variety of flavors: al burro, which means – strangely- they are made with ham and cheese, but also with spinach, salmon, speck and even chocolate. The most traditional, however, remains the arancina al ragù, enriched with delicious meat sauce.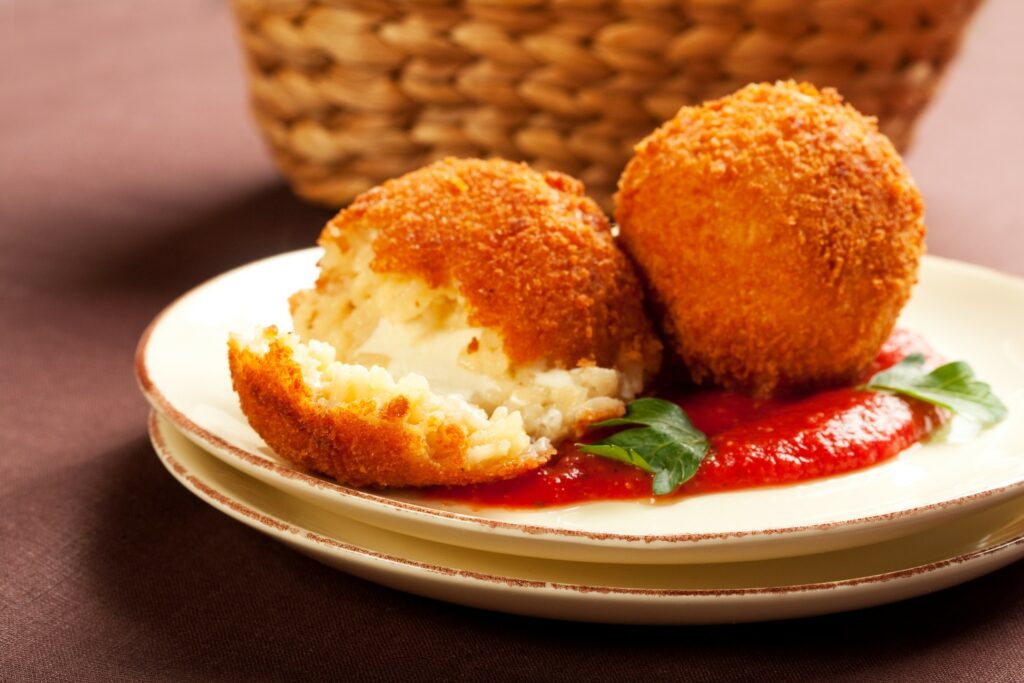 Another traditional dish you'll find on Santa Lucia day is the amazing gateau di patate, or "grattò" or "gattò." The recipe is, in fact, French in origin, and landed in Naples – not Palermo – from Paris thanks to Maria Carolina of Habsburg, wife of king Ferdinand I Bourbon, who had a thing for French food. Potato gateau is a common French delicacy from the region of Sologne, to which 18th-century Neapolitans gave their own twist, adding to it mozzarella instead of French cheese. The recipe became popular across the Bourbon kingdom and reached Palermo, where it turned into "grattò:" Sicilian cooks added to it a key ingredient, meat ragù, creating the dish we enjoy still today on Santa Lucia day. In Palermo, making grattò is a day-long event: you begin with the ragù, which needs to cook slowly all day, and finish with its gentle baking, followed by some time out of the oven to allow all flavors to mix. As many Sicilians can testify, grattò is even tastier the day after you make it.
Now you know why, on the 13th of December, if you are around Palermo, you'll find all bakeries closed, but all friggitorie open, serving dozens of delicious arancine, panelle (chickpea fritters), gateau di patate and cuccìa: for one day, to honor the miracle of Santa Lucia, Palermitans stay away from bread, and indulge in a feast of delicacies worthy of a king.
But the day is celebrated also in other parts of Italy, where it becomes often a prequel to Christmas celebrations. Lucia is a beloved Saint across the country, and she is honored also in the North where, however, her tradition and cult are closer to that followed in central and northern Europe. In many parts of Piedmont and Veneto, but also in Lombardia and Trentino Alto-Adige, where her lore resembles even more that in central Europe, Lucia, the saint of light, brings small gifts to people, especially children, who usually write a letter to her asking for toys and candy and explaining why they deserve them. If they have been wise and obedient during the year, Lucia will bring them what they asked for. In the olden times, on Santa Lucia night, older children would walk the streets of towns and villages, ringing a small bell to remind their younger friends to go to bed early, so that the saint could come to bring them presents. A small plate with oranges, cookies, coffee, half a glass of red wine and some hay – or flour – would be left out for Lucia and her donkey, just like children do today for Santa and his reindeers. Of course, very little of it would be left in the morning, a clear sign that she was in the house the night before. And the presents? If children had been good, she would leave them, of course, but not under a tree nor near the window: Lucia would play "hide-and-seek" and hide them around the house for kids to find.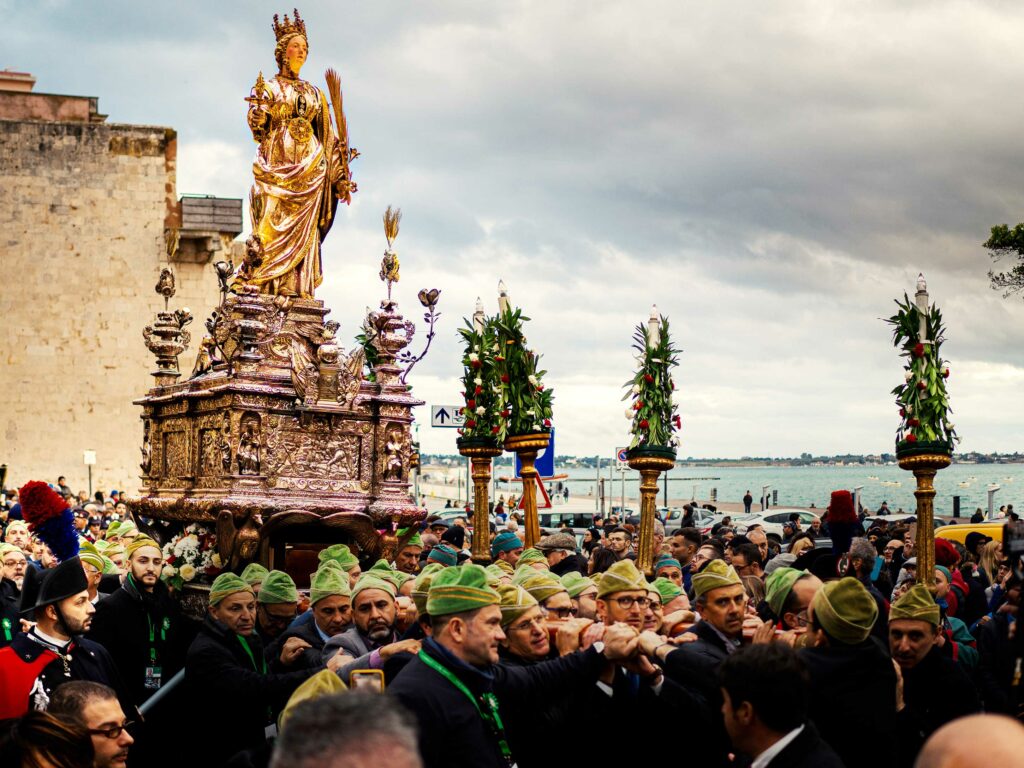 Santa Lucia, from North to South, is a figure of love and hope, who opens up the festive season with her little gifts and the special food prepared in her honor, just like a special rehearsal of what's to come on Christmas day!