Ten days ago, I went to my neighbors for a barbecue. Delicious, summery food – we had grilled fish and plenty of eggplant and zucchini! – good wine and chats with friends: what can you ask more from an end of august Saturday night? As we live in the countryside, and we are surrounded by beautiful mushroom and truffle-yielding woods, our discussion soon moved to how the mushroom season was going to be: it had just rained for a few days in a row, but temperatures were said to raise again, the perfect recipe for plenty of porcini and co. Indeed, last week was hot again and mushroom hunters all over the area got excited: after a couple of years of meager results, in 2022 we may have a good harvest.
In this pretty idyllic corner of Italy, the Alpine North-West, we love mushrooms: they are a key ingredient in our cuisine, but they also represent a way for our communities to gather and celebrate, as the many fairs dedicated to them show. But there is more: for those who enjoy the thrill of searching mushrooms, they are also the reason behind a cherished seasonal activity often shared with friends and families, especially with the younger generations. I can say that, especially in rural areas, mushroom searching with your parents or, probably even more often, your grandparents, is a moment of generational bonding that also involve the passing of knowledge about an activity, which is much more meaningful and complex than many may think. It's not only a matter of learning how to recognize good mushrooms from the poisonous ones, but also of respect for nature and its preservation. It's all about living in unison with the land that feeds you, just as it was centuries ago, without spoiling it or hurting it. And that's why mushroom picking often becomes a bit of a life lesson, too.
The way we see, love, and cook mushrooms in my area is not unique, because fragrant funghi are ubiquitous in the country, which is not surprising when you think that 35% of Italian territory is covered in woods, the sine qua non condition for them to grow. Proof of it is how often mushrooms are found in Italian recipes, from North to South: if it's true that risotto, tagliatelle or polenta ai funghi, are quintessentially northern, pappardelle with mushrooms are popular in Umbria, mushroom polpette are common in Sicily and fregola sarda with mushrooms is typical of Sardinia.
Italy is a land of mushrooms, then! Yes, it is, but don't make the mistake of thinking it's all about porcini.
Don't get me wrong, the famous boletus edulis is not called "the king of mushrooms" for nothing: it is among the most versatile wild mushrooms because you can use it to make virtually anything. It's good in sauces, you can make stews with it, or fry it – if you've never tried fried porcini, please do yourself a favor and have a plate next time you find them on a menu; you can jar it to make our famous funghi in composta, usually flavored with juniper, garlic, and laurel leaves. And of course, you can slice it and dry it, which makes it last longer so that you can use it throughout the year to add depth to any dish you want.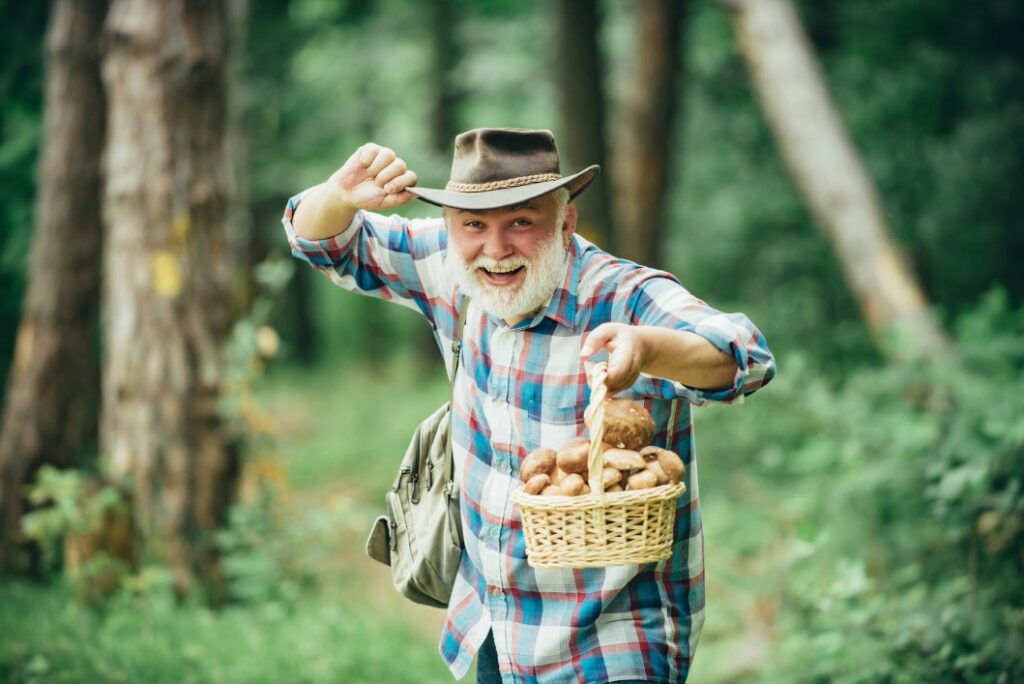 But considering porcini the only wild mushroom variety worth our time and money would be reductive and a big mistake. In Trentino Alto-Adige, and around the Alps in general, you'll find the finferlo (chanterelle mushroom) which is also known as gallinaccio, galluccio or galletto. Its crunchiness makes it perfect in mushroom stews, and as a delightful addition to sauces or risotti. We love also pioppini and chiodini, which are small, brown and often found in bunches: cooked in a nice tomato sauce, or with loads of parsley, they make a greatly satisfying side dish and, like all wild mushrooms, they are delicious in sauces. They are also almost always part of jarred wild mushroom mixes.
Ovoli mushrooms (Caesar's mushrooms) are characterized by their dark yellow head and by the fact they are so tender you can eat them raw: in fact, one of the most common ways we enjoy them is in salads, just with a bit of olive oil. They are also delicious in soups and baked. But when you talk about baked mushrooms, no variety can beat mazze di tamburo (parasol mushrooms): I still dream about the times when my grandmother would bake them in the stone oven, covered in olive oil, garlic and chopped parsley, their heads as big and fleshy as a steak.
We shouldn't certainly forget savory and fragrant sanguinelli that get their name from the reddish, concentric circles on their head and are especially good grilled and served with potatoes. In my area, we love to stew them along with finferli – which we call gallinacci – chiodini, and tomatoes to have them as a main dish, served with loads of nice bread, and perhaps a salad.
Last but not least, we should mention spugnole (morels), which get their name from the way they look, just like sponges! They are very "meaty" and can be added to sauces and stews: they are very, very versatile.
You see then, I was right: there is much more to mushrooms than porcini in Italy!