Citing Queen Elizabeth II, 2020 has truly been an annus horribilisfor the world. During its last days, perhaps moved by the necessity of feeling hopeful for the future, we've all begun planning about our 2021 as if it could be the beginning of a new era. Truth is, we are likely to live suspended in this pandemic limbo for some more months, but the worldwide vaccine campaign is certainly a sign that, yes, we may come out of it this year, finally.
It's normal, then, to think about what will come after the pandemic, especially for those involved in one of the sectors that, across the world and in Italy especially, suffered the most: tourism. The numbers for 2020 are frightening, as they don't only speak of financial losses, but also of struggling activities, of families without a livelihood anymore. Minus 245 million visitors and 14 million in profits when compared with 2019, the most significant economic debacle registered in our country: data that call for an important and powerful plan to rebuild a sector on its knees, but also to solve some old problems and create new avenues of interest.
As reported in a recent article by Sara Pietrantoni on Vanity Fair Italy, this was the subject of an online meeting promoted by Associazione Civita and ANSA, among Lorenza Bonaccorsi, MiBACT's undersecretary, Bernabò Bocca, president of Federalberghi, Tommaso Sacchi, Florence's councillor for culture, fashion, design and international relations, and secretary general of Civita, Simonetta Giordani. Civita is an association created in 1987 to protect and valorize the town of Civita di Bagnoregio, and that has been working on doing the same for other areas of Italy.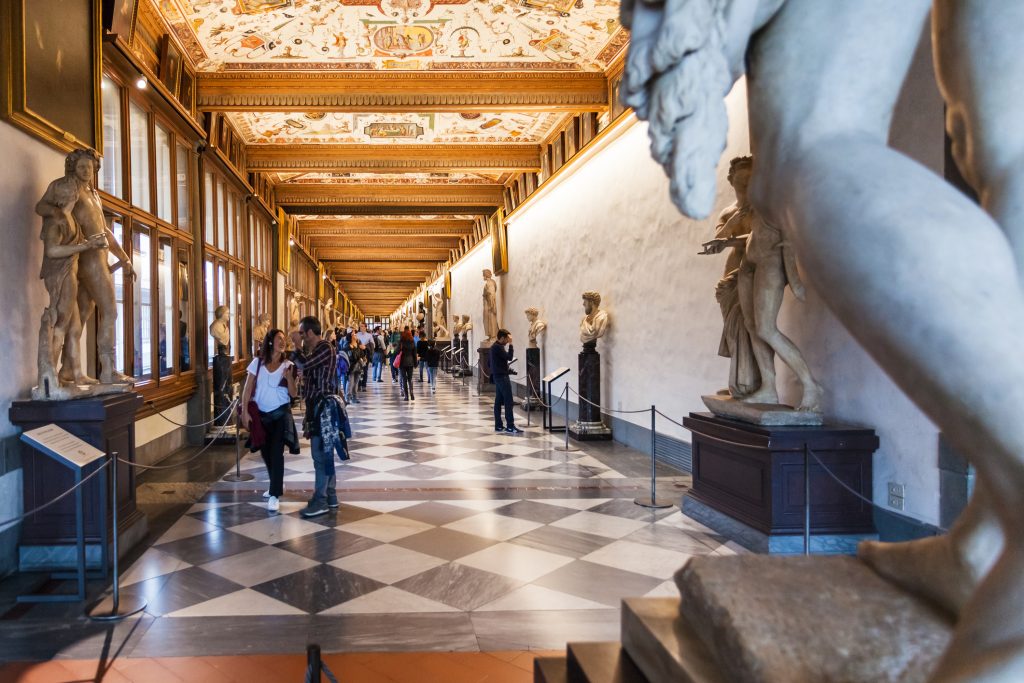 The meeting brought forward interesting considerations, highlighting the need to find a way to bring back Italian tourism on its feet, without falling into the same mistakes of pre-Covid times, over-tourism among them all, as noted by Giordani herself. Without a doubt, the first step must be economic, as the industry is still suffering and needs financial support to avoid total collapse. A series of interventions have been already implemented, such as the suspension of TOSAP, the tax owned to the State by restaurants, hotels and bars that have outdoor seating areas. The so-called ristori (financial support for businesses) implemented by the Government are criticized, but fundamental, as they can help both the activities that decided to stay open and those that, on the other hand, made the difficult choice to stay closed, awaiting better times, as it has been the case for many hotels.
Bernabò Bocca, president of the Italian association of the accommodation sector, says the sector is bound to suffer for at least another couple of years, at least until 2023, when US tourists will return to visit Italy in the same numbers as pre-Covid times. Bocca says also that, meanwhile, many hotels could be restructured and transformed, but investments are needed and the process may be difficult.
But the tourism we need can't be the same as before: the pandemic changed us, and changed the way we conceive travel and vacations. The fear of infection, the dread of crowds will stay with us for long, even when we'll all be vaccinated and the virus will be long forgotten. And there is more, because the exploitative turn mass tourism took in the past 10 to 15 years is not something we want to return to. It is then important, as mentioned by councilor Sacchi, to embrace a way of doing tourism that is "sustainable and integrated," and no longer centered on a circus-like invasion of our art cities and naturalistic and historical sites. This means directing the interest of our visitors towards holidays centered on relax, on the respectful discovery of Italy's beauties also through lesser known aspects of the country, including its countryside. A stronger accent placed on Italy's patrimonio diffuso, its widespread patrimony of natural, artistic, culinary and historical heritage. 
If there is something that 2020 taught the world, including the world of tourism, is that everything can be done online. For the whole year, in particular during the first months of lockdown, last Spring, museums, libraries and archaeological sites opened up their doors to virtual visitors, often for free, investing in a new way of learning and getting to know the world. Without a doubt, virtual tourism has been a thing in 2020 and it needs to remain so in the next months, when our opportunities to travel for real will remain largely limited. Online visits, but also guided tours, where people can book their ticket and even interact with their guide, just as it would happen in reality. An example of this new format is offered by Museum Tribe, an association that organizes virtual tours of Italian museums and locations, both for free and by payment of a ticket (not more expensive of what you'd pay IRL): recently, they offered an amazing tour of the Vatican and they are dedicating a whole month to the exploration of Venice.
You can check out their mission and their tour offerings here: https://museumtribe.com.