When you're on vacation, it's easy to get caught up in tourist traps and buy generic souvenirs that don't hold much meaning. We've all been guilty of it. Fake, made-in-China Venetian mask? Check. Plastic copy of the Colosseum? Check. Anything with a flag or a pizza on it? Check again. It's certainly easy to pick these things up from any of the many souvenir stores and stalls that pepper our cities, but how cool would it be to choose something that is not only better but also truly connected to the history of the place we visit and its community? Let's check some ideas together.
Citrus honey from Basilicata
Besides being the home of beautiful Matera, Basilicata is known for its production of high-quality honey. The region has a wide variety of flora, including Mediterranean herbs such as thyme, rosemary, and oregano, which provide an ideal environment for beekeeping. Indeed, Basilicata has a long history of beekeeping that dates back to ancient times: archaeological evidence suggests it was practiced as far back as the Bronze Age, around 3,000 years ago, and we know that both the Greeks and Romans practiced beekeeping here, as well as other parts of Italy. Honey was traded throughout the Mediterranean, too, because it was highly valued for its medicinal and culinary properties.
The most notable variety of honey produced in Basilicata is citrus honey, made from the nectar of citrus flowers. it has a bright, tangy flavor that is perfect for adding a bit of zest and sweetness to your tea and desserts, including ice cream. Honey is usually harvested in the spring, when the citrus trees are in bloom, and can be found in markets and specialty shops throughout the region.
One of the best places to sample citrus honey in Basilicata is in the town of Metaponto, on the coast of the Ionian Sea. Metaponto has a long history of beekeeping and is home to several local producers who are dedicated to preserving the traditional methods of honey production.
Metal handcrafted objects from Molise
Molise has a rich tradition in the field of crafts, particularly metalworking, whose practice goes back millennia in the area. Archaeology and history show that metalworking was a key craft for the region's ancient Samnite inhabitants, known for their skills in working bronze and iron. The Samnites were a powerful Italic people who lived in central and southern Italy during the 1st millennium BC. Molise kept its connection with metalwork throughout the Roman era, and during the Middle Ages, the region's craftsmen played an important role in producing armor, weapons, and other military equipment for the armies of neighboring kingdoms and principalities.
Today, the metalworking tradition in Molise continues to thrive, with artisans using a range of techniques and materials to create unique and beautiful pieces, often inspired by the region's rich history and cultural heritage.
Chocolate from Piedmont
Turin is one of the country's chocolate capitals, and its region, Piedmont, is home to many renowned chocolatiers, including Ferrero, Venchi, and Caffarel. In fact, some believe that it was the Savoias, once Piedmont's – and then Italy's – royal family, who made chocolate popular in Italy, because they were so fond of it, especially its drinking form. Whether that's true or not, chocolate in Piedmont is a serious thing, and it certainly makes a great souvenir. One of the most popular Piedmontese chocolates is gianduiotto, a smooth and creamy delicacy made with hazelnuts, which are one of the region's most significant and famous products and central to many a traditional Piedmontese recipe.
Terracotta cups from Apulia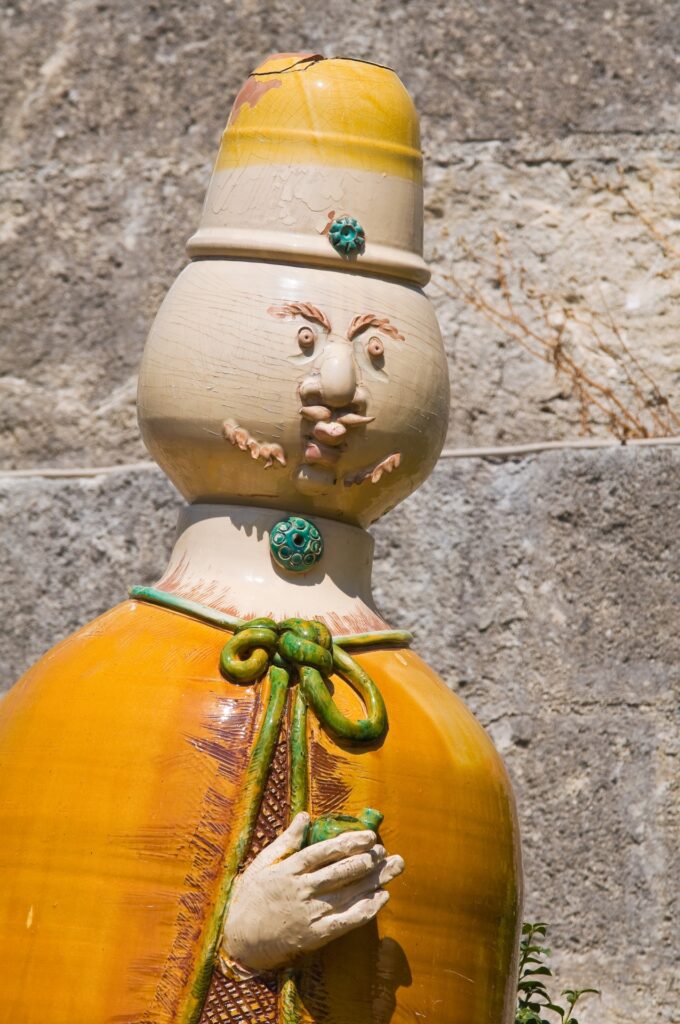 Apulia, located in the southeastern corner of Italy, has a long history of pottery-making. The region's rich clay soil and sunny weather create the perfect conditions for creating beautiful, durable terracotta pieces. The pottery-making tradition in Apulia can be traced back to the ancient Greeks, who settled in the region in the 8th century BC and introduced their already highly developed techniques to the area. Throughout the centuries, Apulian potters continued to refine their craft, using local materials and time-honored techniques to create some of the most beautiful terracotta pieces in Italy.
Leather handcrafted goods from Tuscany
Tuscany is known for its art, culture, and cuisine, but we shouldn't forget its beautifully made leather goods. The city of Florence, in particular, is famous for its leatherworking tradition, which dates back to the Renaissance. Tuscan leather artisans are known for their attention to detail, their use of high-quality materials, and the beauty and durability of their creations. From small pieces like wallets and key chains to larger statement pieces like shoes or bags, Tuscan leather is bound to make an impression, if you bring it back to a loved one as a souvenir.