If you grew up in an Italian home, you definitely had a bunch of them hidden in some drawer or, if they were particularly pretty, making a good display of themselves somewhere in the sitting room. Yes, I'm talking about the bomboniera.
This small, decorative object — it can be a box, but also a simple tulle sachet attached to any type of ornamental trinket — containing sugared almonds, (known as "confetti" in Italy), is typically given as a gift to guests at weddings, baptisms, and other special occasions. But where did this tradition come from, and how did it become such an integral part of Italian culture?
The word "bomboniera" comes from the French bombonnière, which in the 18th century referred to a precious box used to keep those times' most popular candy, the bonbon. These boxes were particularly popular among noblewomen at the French court, who would carry them as a status symbol and as a way to indulge in a sweet treat between a gossip session about the king and the other.
However, the tradition of the bomboniera was born much earlier, and not in France. Three centuries earlier in Italy, it was already common for future brides and grooms and their families to exchange jewel-like boxes filled with sugared almonds. But there was more to the tradition, back then, because the groom would also give his bride a coppa amatoria — which we could translate as "lovers' cup" — a ceramic dish containing sugared almonds, as a symbol of fertility and prosperity for their future life together.
The habit then crossed the Alps and reached the court of Louis XIV of France, where the practice of giving elaborately crafted bomboniere as a sign of gratitude became popular. These boxes were often made of precious materials such as mother-of-pearl, painted ivory, enamel, and gold.
But it was not until 1896 that the bomboniera became the gift bride and groom make to their guests, and it was all thanks to the wedding of Prince Vittorio Emanuele of Naples, who would later become the King of Italy, to his queen, Elena of Montenegro. The guests of this grand event received bomboniere as presents, inaugurating the modern tradition we know. Nowadays, bomboniere are an integral part of Italian culture, and their significance is still tied to sugared almonds, which are considered a symbol of good luck and prosperity. Whether made of porcelain, glass, or other materials, these boxes are still given as gifts at weddings, baptisms, first Holy Communions, and confirmations to thank guests for their presence and to commemorate the occasion.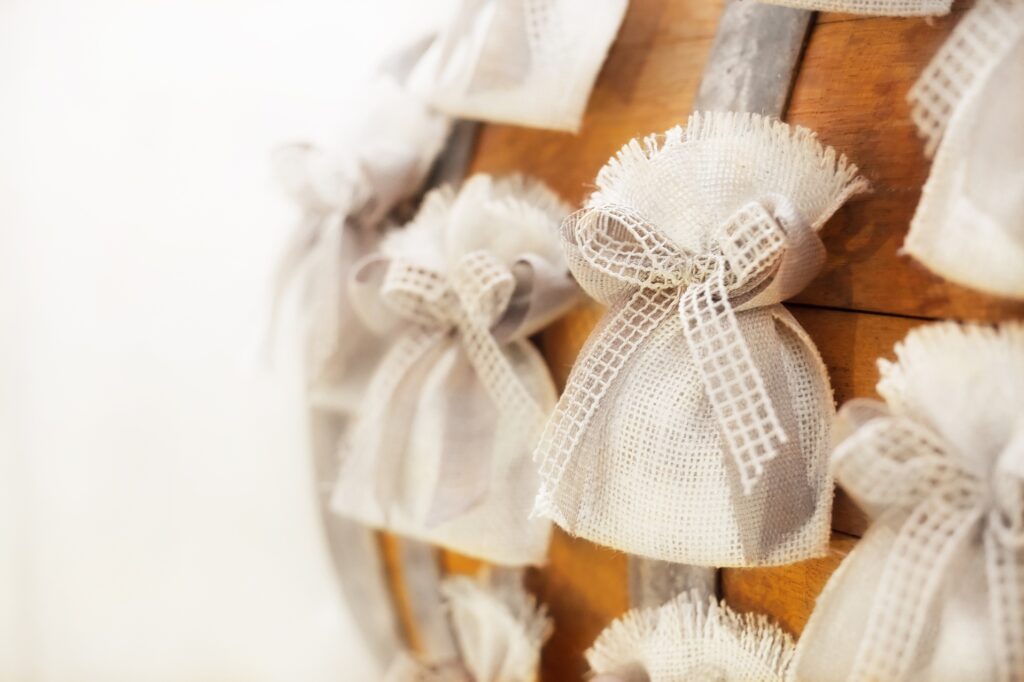 But the tradition of the bomboniera is not limited to Italy alone: in fact, it has also become popular in other countries such as Greece, Portugal, the United Kingdom, Ireland, the United States, and Australia. Today, the bomboniera has evolved to include a wide range of different designs and styles, from classic and elegant to modern and whimsical; some are personalized with the names of the bride and groom or the date of the event, while others feature intricate designs and decorations. Regardless of their style, the underlying meaning of the bomboniera remains the same: a symbol of good luck, prosperity, and gratitude, and a keepsake to remember a moment of celebration and happiness.
Of course, if we talk about bomboniere, we have to talk about sugared almonds. Known as confetti in the Belpaese, the habit of gifting almonds on special occasions apparently dates back to Roman times. But why are these nuts specifically used and what's their true meaning in this context?
Well, as said, the use of almonds as propitiatory gift dates back to ancient times, when the Romans would offer them as a symbol of fertility and prosperity. Almonds were believed to have special properties that could bring good luck and ward off evil spirits, making them the perfect choice for wedding and baptismal gifts.
In Italy, the habit of using sugared almonds in bomboniere is as old as bomboniere themselves, as we can trace it back to the Renaissance, too. The five sugared almonds typically included in each gift box represent the five things people want for the newlyweds: health, wealth, happiness, fertility, and long life. Others, however, say they symbolize the five fingers of the hand, which we use to make the sign of the Cross during Catholic weddings and baptisms. There is more, though, because it's not only the almonds to be symbolic, but also their hard, sugary shell: some believe the sweet and crunchy cover of confetti portrays the challenges and hardships that the newlyweds will face in their married life, while the almond inside represents the rewards coming once those hardships are faced together.
And, while traditional confetti made with almonds are still people's favorite, today you can find many other varieties, with some having colorful shells and other filled with fruit-flavored chocolate.