Who doesn't have a jar of honey in the pantry? A naturally healthy and versatile product, honey has a place in many a recipe but it is often used as an eco-friendly ingredient to keep our skin supple, too – you only need to browse the internet for a second to find hundreds of honey-based face masks, body scrubs, and hair treatments.
In fact, honey has been known as a precious gift of nature since the neolithic era and the times of our hunter-gatherer ancestors, as demonstrated by a cave painting found near Valencia (Spain) that shows a man collecting honey from a comb. Archaeologists and historians tell us that the ancient Egyptians were among the first, along with the people of Mesopotamia and the Middle East, to use honey, both as an ointment to reduce the risks of infection and help wounds cicatrize, and as food. Also the Celts and the Etruscans knew about honey's therapeutic characteristics, but it was the Greeks who created what we call today apiculture: Aristotle was the first to study bees and the way they reproduce. In Rome, Pliny the Elder described bees' behavior, but it was Virgil to pen the earliest treatise on apiculture: our first national poet was a fond beekeeper and discussed his passion at length in the Georgics, where he explained the way a beehive is organized, as well as the flowers bees preferred. Just like the Egyptians, the Romans used honey as nutrition and as medicine. We should also remember it was an important substance to preserve foodstuffs and lengthen their shelf life; in Rome, it was also added to wine to make it sweeter. During the Middle Ages, beekeeping had a boom in Italy, thanks to the arrival in the country of bees from the East, that produced more honey than our local species and, in the Renaissance, it became a profession.
In Italy, honey is an important ingredient in many traditional recipes: we find it in torrone, strufoli, cartellate, and many varieties of cookies and cakes. Plus, you'll find many an Italian smiling at the suggestion of having a slice of bread with butter and honey on it, a traditional and ubiquitous merenda Italian children enjoyed since time immemorable.
But honey, in our country, is more than a beloved ingredient that makes us think of childhood, it is a true excellence. Italy holds the world record for the variety of kinds of honey available: we produce more than 60. We are the fourth honey-producing country in the EU, with almost 1.5 million beehives and a yearly production that reached 23,000 tons in 2018 even though, because of climate issues, production has almost halved since then, reaching around 13,000 tons in 2022. Honey is made everywhere in the country, from North to South, with Piemonte, Tuscany, and Emilia Romagna being the highest-producing regions.
The importance of honey production in Italy is well explained by Raffaele Cirone, president of FAI, the association of Italian beekeepers: "Thanks to the multifaceted nature of its territory and environment, Italy is the only country in the world where honey production is characterized by the use of 40 to 50 different flowers, which makes us truly unique in the world when it comes to honey's variety and quality."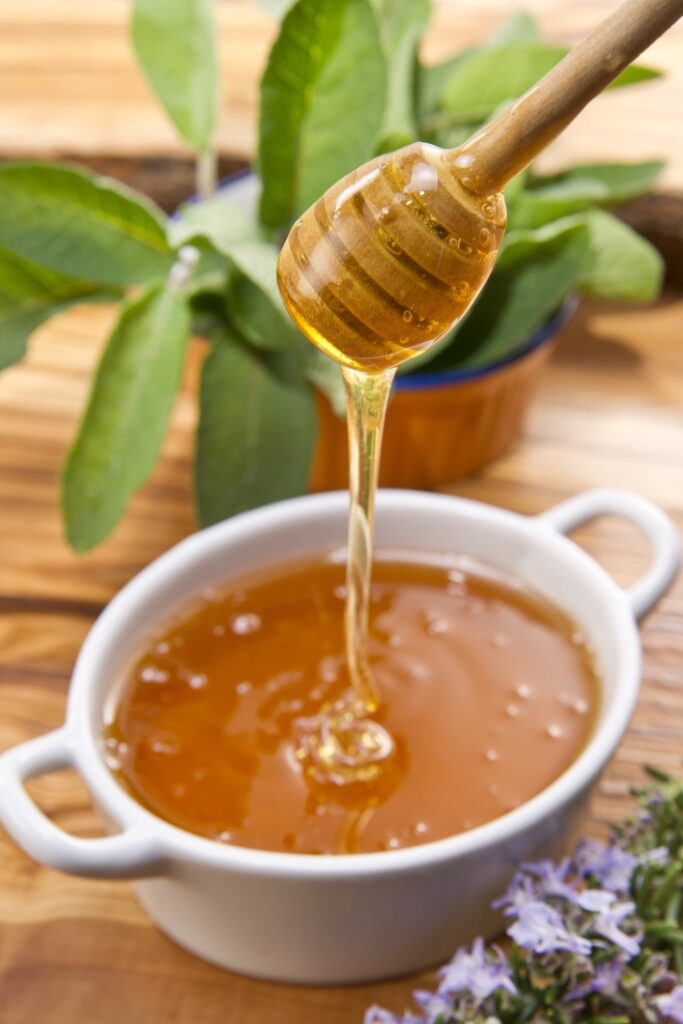 Thanks to the natural wealth of its national flora, Italy counts about 50 single-flower honey varieties, that is, honey produced with only one type of flower. Then, we have a myriad of millefiori (wildflower) honey. Single-flower honey can be produced only when that specific flower is present in abundance and in large areas of the territory. When it comes to quality, it is difficult to pick a winner, because they all are: it's more a matter of taste. Usually lighter honey with a mild taste such as acacia's is liked by everyone. Florals, both mellow like rhododendron, and intense, like citrus fruits, are also generally loved by all. Stronger honey, such as chestnut or strawberry tree, is more of a niche product but, usually, people who like these varieties would never change them for any other variety. Personally, I am a fan of chestnut honey, so dark and fragrant, but I understand it may not be everyone's cup of tea.
Wildflower honey, which we call in Italy millefiori, is a honey produced with more than one type of nectar, reason for which it cannot be defined as single-flower. But don't be fooled, because wildflower honey is pretty special, too, as it changes depending on the varieties of flowers present in the area. This means that millefiori changes from area to area and also, often, from year to year, in a way similar to what we see in wine.
Honey is a historical and agricultural patrimony to protect, just like the bees that produce it. Unfortunately, most of the honey we find on our supermarkets' shelves is a mix of foreign honey with only small percentages of our own: while these products are certainly convenient and practical, it may be worth investing a tad more and going for our national honey instead. This way we can enjoy a true taste of our territory, and be sure of the quality of what we eat. Among Italy's most popular and traditional types of honey, the already mentioned acacia and wildflowers – in all its varieties – then chestnut, citrus fruits, lavender (in Sardinia), eucalyptus, rosemary, alfalfa (especially in Pianura Padana) and thyme (in Sicily).