In Italy, you don't find only nice stores, you find very old ones, too. Mind, trade and commerce have a long history everywhere in the world, but there aren't many places where you can find ateliers, restaurants, or cafés operating for more than – or the best part of – a century (although I am sure that there are a store or two in London or Paris that would give some of the entries in this article a run for their money!).
The difference, perhaps, lies in how, here in Italy, we have several associations that gather together and protect the integrity of historical stores, restaurants, cafés and businesses, both at a national and local level. Among them, we can mention the Locali Storici d'Italia, the Associazione Negozi Storici di Eccellenza di Roma, the Associazione Esercizi Storici e Tradizionali Fiorentini, or the Registro delle Imprese Storiche Italiane, put together by Italy's Chamber of Commerce. The Locali Storici d'Italia, in particular, created an excellent guide and a website to lead the curious tourist to some true national treasures, symbols of the solidity trade can have, when based on quality and commitment.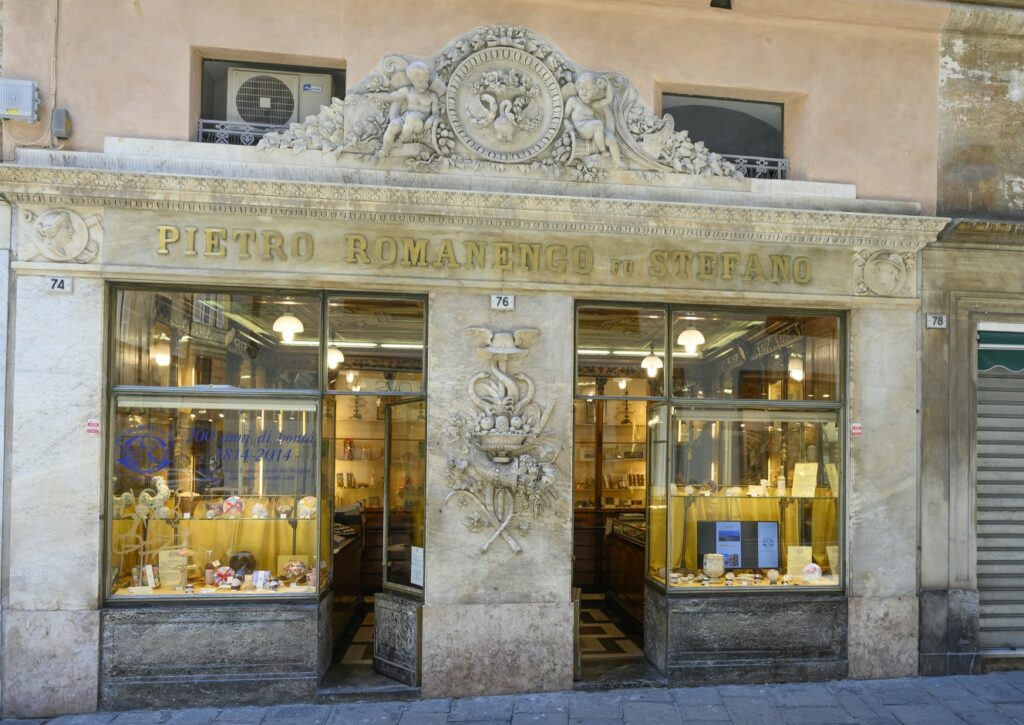 For instance, Manuela Soressi, an author for the popular culinary magazine Sale&Pepe, wrote that Italy holds the Guinness record for the oldest commercial activity still in business: Enoteca al Brindisi, in Ferrara (Emilia-Romagna) opened, according to sources, in 1100! Apparently, it began business during the construction of the city's cathedral to offer refreshments to those working on the site. Throughout its history, Soressi continues, the enoteca has had a long list of famous customers, including poets Torquato Tasso and Ludovico Ariosto, and astronomer Nicolaus Copernicus. Not bad at all! In the same article, we learn that Italy is also home to the longest-established hotel still in activity, the Hotel Cavalletto in Venice, where travelers to the Serenissima have been relaxing and resting since the 13th century.
Moving on to stores, we should certainly mention the Confetteria Romanengo in Genoa, which has been serving the city with its sweet delicacies since 1780. Among its most famous estimators iconic composer Giuseppe Verdi and the King of Italy Umberto I of Savoia who, when still a prince in 1857, demanded Romanengo's candied fruit for his wedding reception. Incidentally, Umberto was the husband of Margherita di Savoia, the royal muse behind the creation of the eponymous pizza. In more recent years, Genoese songwriter and poet Fabrizio De André mentioned Romanengo in one of his songs… A popularity that just doesn't fade!
If you are in the South and have a sweet tooth, as well as a passion for history, you should visit the Cioccolateria Gay Odin in Naples, a true example of "fusion" chocolate-making, if you think it was opened at the end of the 19th century by Isidoro Odin, a Piedmontese confectioner of Swiss descent, and his wife Onorina Gay. Through its long history, the cioccolateria had some very important customers, including the great Oscar Wilde, who spent time in Naples towards the end of his life, and Eduardo De Filippo, a true icon of Neapolitan theater. Thanks to its history and its Liberty-style interiors dating from 1922, the Cioccolateria Gay Odin became officially a National Patrimony in 1993.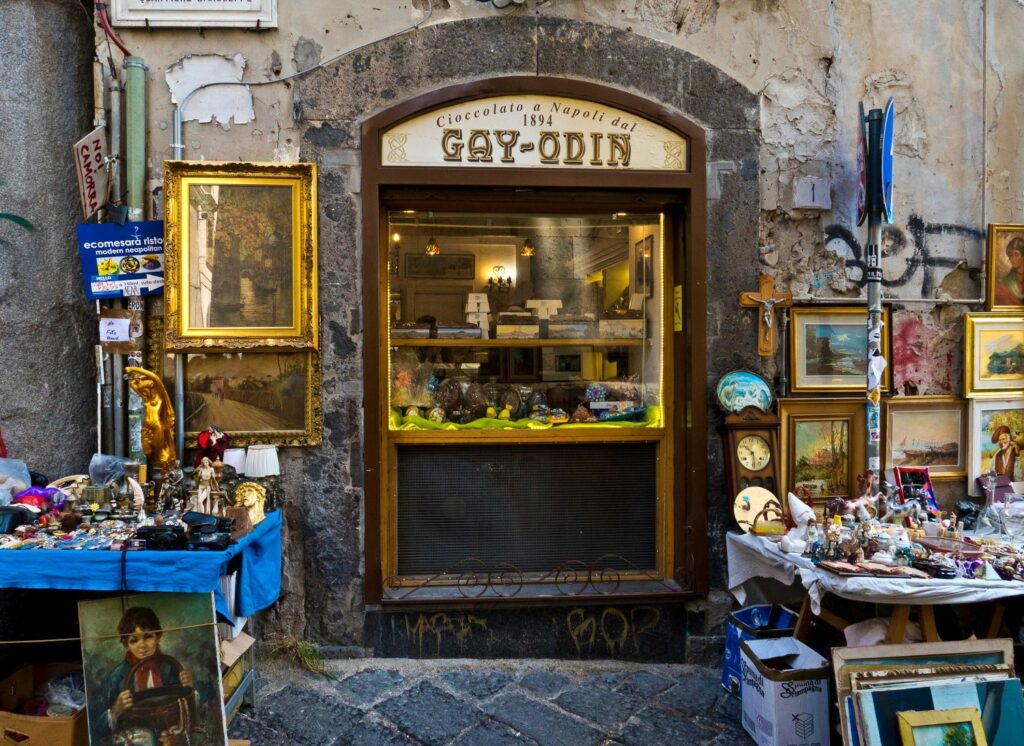 From chocolate to cakes and bread: in Bari, the Panificio Fiore has been offering delicious bread, pizzas and focaccias to locals and tourists for more than a century. Its location, just a stone's throw from the Basilica di San Nicola, in Bari's città vecchia, the historical city center, makes it a perfect place to stop for a slice of street food while sightseeing.
Emilia-Romagna, we all know it, is the place for filled pasta and salumi, so it's not surprising at all that one of Italy's oldest delicatessens opened in its capital, Bologna, exactly 90 years ago. Tamburini has been offering fresh tortellini, tortelli, mortadella, salami and more since 1932. In Tuscany, more precisely in Greve di Chianti, not far from Florence, we find the Antica Macelleria Falorni a butcher's with more than two hundred years of activity on its shoulders. Here, you can find traditional Tuscan cold cuts, like salame di cinghiale (wild boar salami), finocchiona di Cinta or the finocchiata di Montefioralle. All products and meats sold in the macelleria come from the Falorni family's farm. Here, everything is 100% local and sustainable.
Even when we move away from food, we can find historical places to visit and buy from. The Antica Farmacia Sant'Anna, managed by the friars of the homonymous convent, has been selling homemade herbal remedies since the 1600s. Our subscribers may remember a lovely interview we made with Frate Ezio, the head herbalist at the pharmacy, just a couple of years ago.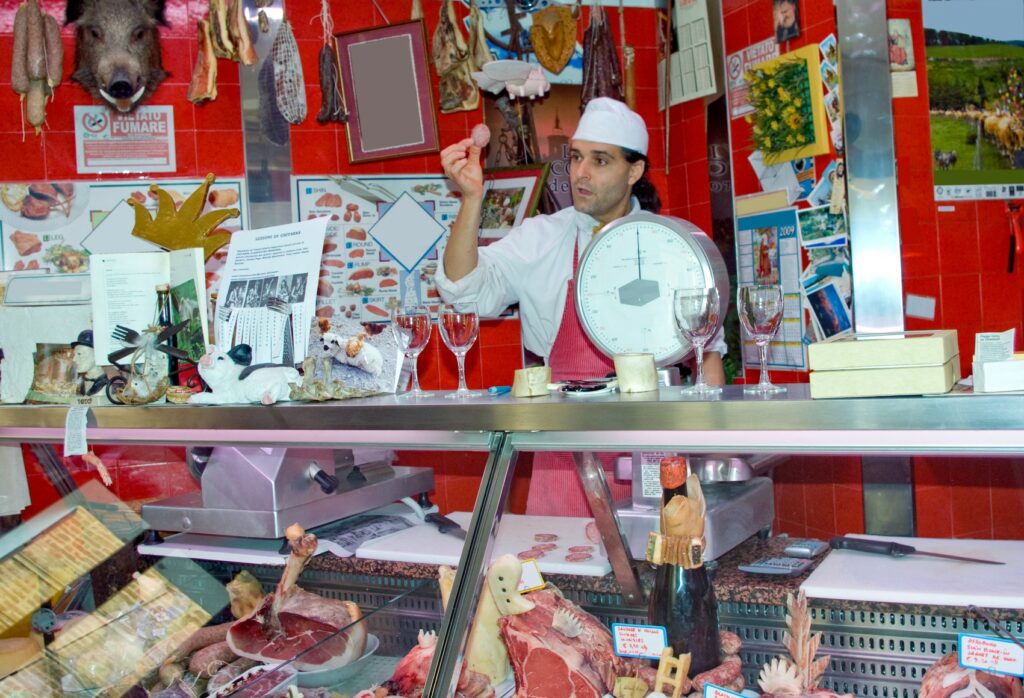 We are in Italy, so how could we finish this article without mentioning fashion and its capital, Milan? Here, Ditta Guenzati has been selling luxury fabrics and clothes since 1768. The Guenzati family's aim had been, since the very beginning, that of attracting a refined – and wealthy – clientele, largely represented by the up-and-coming Milanese bourgeoisie of the 18th century. Since the 1960s, Ditta Guenzani became synonymous with "British Style" fashion: if you're looking for something you can sport at high tea with King Charles, rest assured you'll find it here!