AH! Il Presepe! Quintessential tradition of the Italian Christmas, it brings together Faith, history, tradition, and art. The first was created by Saint Francis of Assisi, our Patron Saint, to represent the birth of Christ and offer another way to worship Him at Christmastime. Soon, the presepe became a common feat in Italian homes, first among the aristocracy, and later also among other social classes. That's when beautiful statuettes began being created, some of them richly dressed and decorated, in all styles and sizes. Naples, of course, became the capital of presepe-making, and still is today, even though we shouldn't discount other important artistic traditions, such as that of Trentino Alto-Adige, where nativities are usually made of carved wood.
The Holy Family, the manger, the ox, and the donkey. Then, of course, shepherds and their flock, angels, and the Wise Men. In larger presepi, you'll find all activities represented: from bakers to butchers, from laundresses to fishmongers. And then, houses, bridges and castles, mills and wells, animals to be placed on the velvety moss traditionally used as a colorful base for the whole scene. Presepi are truly a living decoration, they are a snapshot of a community, as we imagined it to be back 2000 years ago, even if figurines tend to be dressed anachronistically and homes don't look anything like what we'd find in the Holy Land.
But artistic concessions are ok, when it comes to presepe, they've always been.
So, we shouldn't be surprised to see, while taking a walk in San Gregorio Armeno, the heart of Naples' presepe-making borough, figurines that have nothing to do with the traditional characters of our nativities. While these remain the most popular, every year Neapolitan artists indulge their creativity – and their customers – with the creation and introduction in the presepe of figures that have little to do with Faith, and all to do with pop culture.
But if we looked back to Neapolitan history, we'd find out being part of a San Gregorio Armeno presepe was the equivalent of receiving an Oscar in popularity: when presepe makers decided you were important enough to be part of their creations, then, and only then, you could truly consider yourself a VIP.
Today, things haven't changed much. Every year, San Gregorio Armeno's artists fill their stalls with new figurines inspired by the people who made it big during the year, along with, of course, iconic symbols of contemporary society. I am sure you all heard about Italian glam rock band Maneskin, who won the Festival di Sanremo first, then the Eurovision, has recently become a smash hit at the MTV's European Music Awards, and have also opened for the Rolling Stones. Well, their young, androgynous, good-looking lead singer Damiano David is perhaps the most notable addition to this year's San Gregorio Armeno's parterre.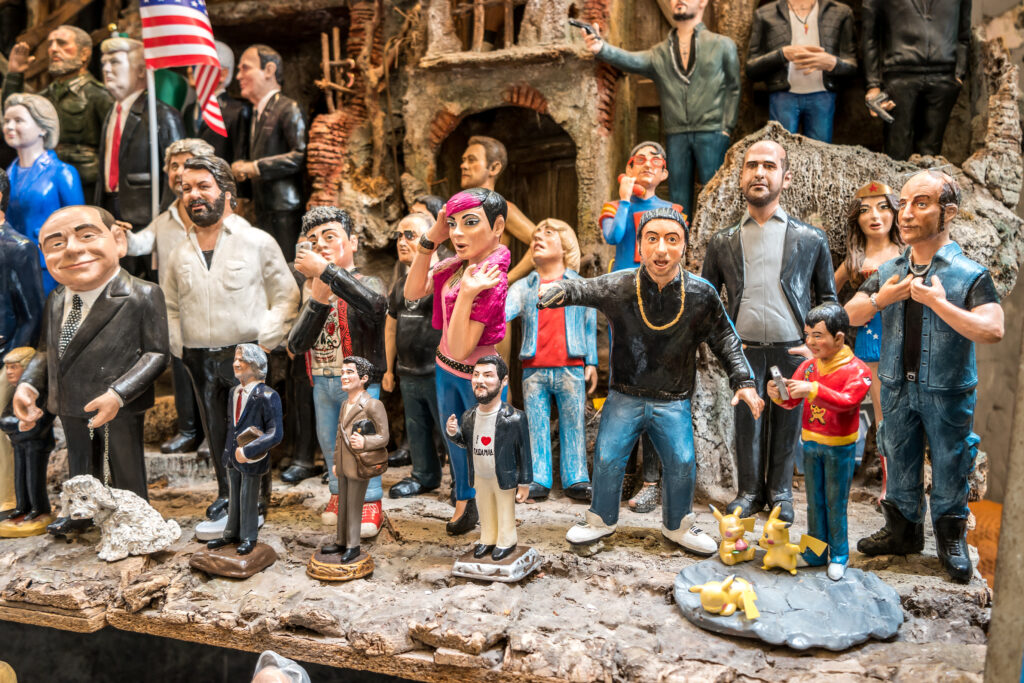 He is, of course, in good company. Another traditional "non-traditional" Neapolitan presepe statuette is dearly-missed Raffaella Carrà, Italy's most loved showgirl and LGBTQ icon, who's been a fixture in San Gregorio Armeno for decades. Younger generations may be familiar with it-girl and international influencer Chiara Ferragni, who's also available to add to your presepe, at least in her terracotta version.
Americans may be happy to know that they can find also Kobe Bryant and Michael Jordan, along with Michael Jackson, former Presidents Obama and Trump, as well as international icons such as Freddy Mercury, Queen Elizabeth, as well as future King and Queen William and Catherine of Cambridge and, of course, Pope Francis.
For the past two Christmases, the pandemic took its – thankfully non-contagious – place in the presepe: among the figurines inspired by the current health emergency we find surgical masks' street vendors, and shepherds wearing face coverings, as well as doctors and nurses, including representations of that beautiful graffiti of a healthcare practitioner holding Italy in her hands that appeared in Bergamo during the first lockdown in March 2020. Netflix fans will be happy to know they can get a statuette of Eleven from Stranger Things and also of most characters of La Casa de Papel.
And Naples being Naples, there is Maradona, in all sizes and postures, with the Argentina jersey and with the Napoli jersey. Today, a year after his death, you can even find him with angel wings: the first among the maestri del presepe to propose this otherworldy version of the soccer champion was Genny Di Virgilio, who was also among the first to create statuettes of our nurses and doctors during the pandemic.
San Gregorio Armeno and its presepe tradition are a mirror to the lively culture of Naples, a city of beauty, idiosyncrasies, and history, a place where the sacred and profane, the real and the invented, the joyous and the painful meet one another to create art. Yes, the Neapolitan presepe is truly just like Naples, a city that lives for God, but that more than any other creates its own idols. A city of tradition and history, but always with an eye fixed on modernity and popular culture.