Sardinia, along with other areas of Italy such as Cilento (Campania), is a place with reaching 100 is not that unusual, and it is especially so in Perdasdefogu, in the province of Nuoro, a village of just over 1,700 that recently celebrated the birthday of its ninth and tenth centenarians. Vittorio Lai turned 100 on the 12th of February, while Piuccia Lai (same surname but no relation) reached the goal a handful of days later. According to Angela Giuffrida, who narrated their story for The Guardian, both are as spritely and active as teenagers, with Vittorio still driving and hunting wild boar, and Piuccia flying regularly to Milan to see her children.
Perdasdefogu is set in the deep Sardinian countryside and gets its name from the calcareous stones typical of the area and once used to produce lime: they were baked in large furnaces, becoming "stones made of fire," which is exactly what the name Perdasdefogu means in Sardinian. However, if you visit, you'll hear locals call their hometown "Fughesu," which they seem to like better.
The birthdays of Vittorio and Piuccia only add to the mystique of Perdasdefogu, a place known for the longevity of its inhabitants. It is, in fact, part of the "Ogliastra blue zone," one of the five areas in the world where people easily – and healthily – reach above-average age. The others are Icaria in Greece, Okinawa in Japan, Nicoya in Costa Rica, and Loma Linda in California. Blue zones are areas of the world where longevity is at least 10 times higher than the average; they have been discovered thanks to what had started as a National Geographic project ideated and guided by Dan Buettner, and ended up being an evidence-based study, carried out with the contribution of demographers, anthropologists and scientists, set to identify the characteristics of those parts of the world where reaching a century of life was normal.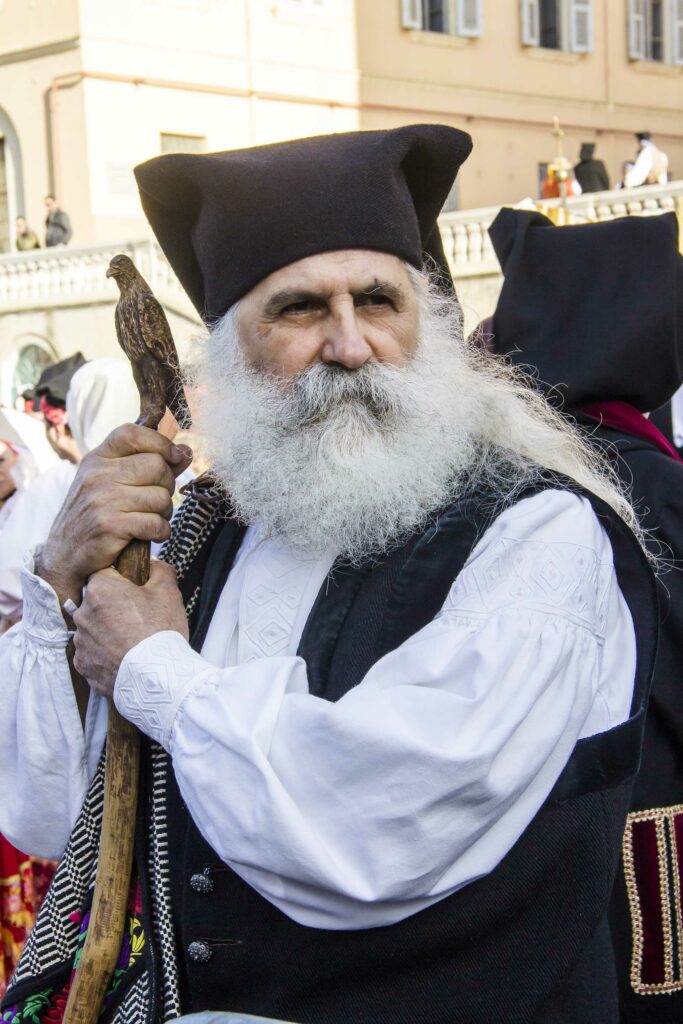 In 2014, Perdasdefogu hit the news when it emerged it was home to the oldest family in the world: back then, Consòla Melis had turned 100, bringing the joined age of the Melis family (nine siblings in total) to a staggering 837 years. As a matter of fact, Consòla's eldest sister, Consolata, is the longest-surviving fughese to date: she passed away in 2015, aged 108. At the moment, the record of eldest in town is solidly in the hands of Antonio Brundu, who will turn 104 in just a couple of weeks.
Last year, in 2021, Federica Melis – same surname but no connection with Consòla and her relatives – became the 8th person to reach 100 years of age. Then, last week, Vittorio and Piuccia brought the number to 10. An amazing record, and not only because of the numbers: these people are in surprisingly good form for being over a century old, and this isn't true only for the centenarians of Perdasdefogu. If you ask locals, and Sardinians in general, it all comes down to diet and lifestyle, something that has been largely confirmed also by scientific research: we are talking about people who follow a simple, free-from-processed-ingredients diet, based on fresh, seasonal vegetables and pulses. They also walk everywhere, despite their age, because why should you ask for a lift, when your legs carry you perfectly well? In an interview with Il Corriere della Sera, 80-years-old Giacomo Mameli, local writer and historian, said that Perdasdefogu's secret to longevity is all in its clean water and air and, of course, in people's simple, healthy lifestyle. But there must be something more, because, back in 2021, a researcher from the University of Cagliari, Luisa Salaris, pointed out the proportion of over-100s in Perdasdefogu is 16 times higher than in the rest of the country: 10 in 1.740, against 30 in 100.000.
With its 10 centenari, "Fughesu" keeps the title of the oldest corner of Italy and does so with pride, as it should: villagers are clearly doing something right to keep this healthy for so long and we may like to take a leaf out of their book, at least when it comes to keeping a healthy lifestyle, eating well and slowing down a little. Stress is the worst killer, let's not forget. But there is something else that strikes about this small, tight-knit community, which we should respect and take as an example: their profound respect for their elderly, who are cared for by the village as a whole, not only by their families. They are more than "old people," they are Perdasdefogu's historical and cultural memory. And then, the centenarians of today belong to a generation that fought wars and experienced hunger, who knew poverty, but also the lightheartedness of times where people understood happiness is a simple affair and that it wasn't that difficult to bite into it. There is still a lot we can learn from this great generation. There is still a lot we can learn.