Amid the grieving stories related to Covid-19 and the civil protest and unrest across the nation, readers are desperately seeking uplifting news. It is time to be inspired by the endless possibilities of the human spirit. One story that meets this standard, and leads us out of this dark chapter in history, at least momentarily, is that of Geno Auriemma, the head coach of the University of Connecticut Women's Basketball Team.
His story reminds us of how our early experiences and struggles can shape our identity. For Coach Auriemma, he attributes his success to his hometown Montella, a small mountain village located in the province of Avellino, Italy. A narrow dirt road led to his family's tiny stone house. "We used to sleep in front of the fireplace because we had no heat or electricity and we heated up our water over an open flame," explained the legendary Huskies coach.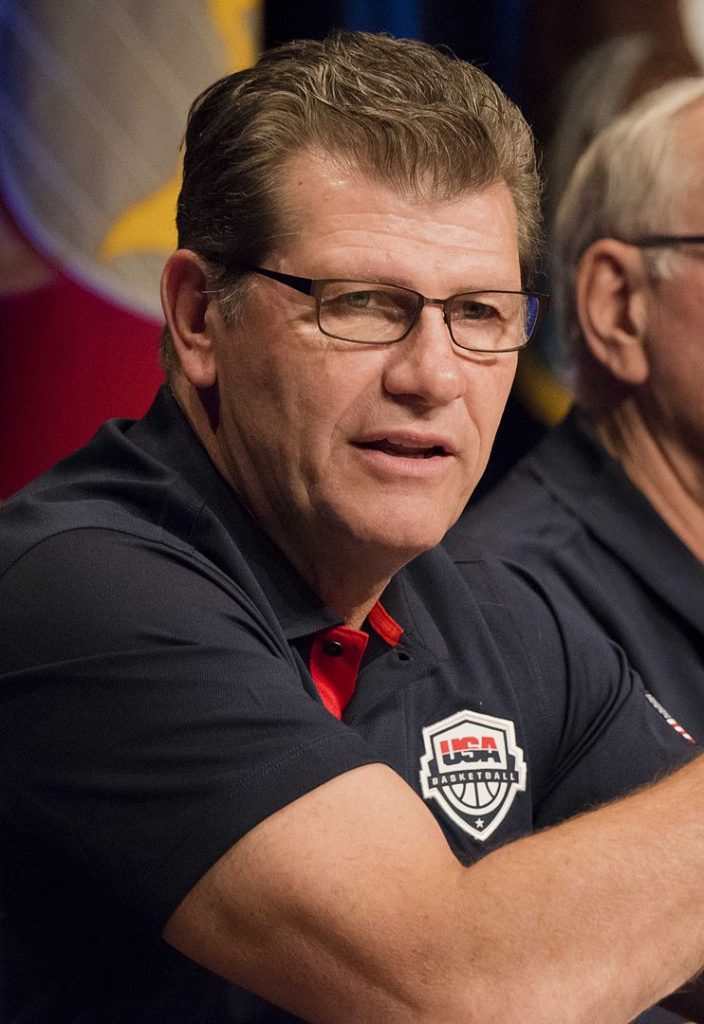 "When I was two years old", said the now sixty-six year old, "My mother and father went to work, and I was asleep. Somehow I toppled over into the coal of fire that kept the house warm." Their first-born (1954) child Luigi Geno Auriemma, was left unattended for a few seconds by the other adult relatives in the household. The accident resulted in severe burns to his stomach.
Miraculously he survived and has the scars to remind him of where he is from. It was those daily hardships in Montella that began to frame young Luigi's development. "I also think being raised Italian helped my development. In fact, the other day, I was talking with someone about why are there so many successful coaches of Italian heritage," he asked rhetorically.
He was referring to the cadre of very successful Italo-American college basketball coaches like Jim Valvano, Lou Carnesecca, Rollie Massimino, and John Calipari. "I think," he said, "It is because Italians like to be around people and are in tune to what others are feeling."
His Southern Italian roots have led to an extraordinary coaching career. Under his leadership the UCONN Women's Basketball Team have won eleven NCAA Division I national championships, the most in history. His other accolades extend to scores of awards including Olympic gold medals in 2012 and 2016 for leading the Women's Basketball Team.
Coach Auriemma appeared relaxed and proud of talking about his heritage during my interview with him, and also added another theory to his success. He believes that arriving in America (1961) as a seven-year old immigrant with his parents and younger siblings Ferruccio and Anna, taught him the value of hard work. "I don't remember my father and mother ever taking vacations or going out to restaurants. They set a tone of working hard," said the coach.
His close-knit Italian family settled in Norristown, Pennsylvania. His parents lived on a modest income. "I remember having two pairs of pants in high school and that was it." Geno was the oldest of three and was forced to take care of his siblings while his parents worked. In the beginning, he struggled with the English language and realized sports were a way to make friends and assimilate.
He played baseball and basketball in high school and in 1977 graduated from West Chester University of Pennsylvania. While attending high school and college he worked in construction along with other Italian immigrants. "I always remember these Old Italian guys saying before they arrived in America, they were told American streets are paved with gold but when they arrived the roads were dirt and they were expected to pave the streets."
His point was that, throughout his childhood and young adult life, he was surrounded by immigrants who worked extremely hard to better their lives because many had emigrated from remote villages like Montella, that lacked economic opportunity. All of these experiences defined his leadership skills and paved the way for him to be hired as an assistant basketball coach for a few high school teams and colleges. Eventually, he landed the Huskies head coaching position in 1985.
For several decades he has developed and maintained one of the most successful women's basketball programs in America and said, "Before I retire, I expect to win at least one more championship." What makes him unique is his uncanny ability to maximize the athletic prowess of many female basketball players while sometimes being very direct about their lack of effort.
His coaching motto is simple. "Everyone has their own version of what leadership entails but the bottom line is if you are in a position to lead, then you lead. This means to set an example, galvanize your people to do something that they themselves did not think they could do on their own. It's treating people where their welfare comes before yours."
Across the country so many adolescent girls interested in basketball want to play for Coach Auriemma. One very special girl was thirteen-year-old Gianna Gigi Bryant the daughter of Kobe Bryant. She was aspiring to play for the Huskies when, early this year, she and her famous father – as well as seven others – were accidentally killed in a helicopter crash near Calabasas, California. A month later, Vanessa Bryant asked coached Auriemma to speak at her late husband and daughter's memorial.
When I asked him to reflect on his first encounter with the NBA icon he said, "I remember the first time I met Kobe was at an Olympic function in 2011. We exchanged pleasantries and I then asked him a few questions in Italian. Well," he chuckled before saying, "His Italian was better than mine because he studied Italian and I only went to first grade and speak the Neapolitan dialect." He later said in a serious tone, "Kobe loved Italian culture and of course his daughters have Italian names,"- (Natalia, Gianna, Bianka, and Capri).
The topic of Gigi and Kobe reminded him of his own connection to his heritage. He and his wife travel to Italy every few years but he did say, "I wish I would have raised my children to speak Italian. I mean we certainly have our traditional Christmas Eve dinners and I love to have smolts, but I could have done a better job in passing on other traditions."
One tradition he did pass on is opening a few Italian restaurants (one is Café Aura) all in Connecticut, where his favorite dish, veal marsala is on the menu. He has pursued a level of excellence as a restaurateur the same way he leads his women's basketball team, remembering where he comes from.