It's not even up for debate. Italy is one of the grandest places on earth. Period. What then would we expect during the Christmas season in Italy but the best of ways to celebrate it!
One day? How about one month!
Christmas Day — it's a big day for many reasons, a day that retailers started prepping us for in early July. But the 24 hours of the 25th day of December are up before you know it; time to start undoing all that tinsel and pack it away for another year.
Scoot over, one-day-celebration, and make way for a month of Buone Feste. The Italian way to celebrate the season commences on December 8th – the Feast of Immaculate Conception. Festivities continue in one form or another through Christmas Eve and Day, carrying forth through January 6th – Epiphany Day. A whole month filled with lively parades and festivals, copious amounts of food, and endless toasts definitely increases the odds of soaking up some holiday cheer.
Little Baby Jesus…and a complete cast of characters
The holidays aren't just about prosecco and panettone in Italy; the focus on the birth of Christ is revered and observed throughout the country. The traditional nativity scene found in many American homes pales in comparison, though, to the Italian version – the Presepe. Baby Jesus, Mary, and Joseph are the lead characters, but most Presepe include a complete cast of townsfolks busy at work and play, landscapes, buildings, animals, comical characters, and often, motorized parts and even changes of weather. Virtually every church displays an invitation to passers-by to come on in, admire their Presepe. In many southern locales, the nativity scenes play out in grottos and caves, sometimes filling room-sized spaces. Bragging rights, though, go to Naples where the world's largest Presepe resides – Presepe Cucinello. It's a beehive of activity filled with 160 handmade characters, 80 animals, a host of cherubim, and hundreds of tiny objects.
Chestnuts roasting on… a bonfire
Such joy it is to warm frosty hands by a crackling fire. Italian tradition loves a warm fire, too, but small won't do. Huge bonfires abound during the holidays, many with roots in pagan festivals of old. From Christmas Eve bonfires festively lit in piazzas, to the massive Epiphany Eve fires ceremoniously topped with a witch effigy to burn away the old year, Italian holiday fires could warm an entire village quite effectively.
Santa, a witch, and a monster are coming to town
Jolly ol' St. Nick – what would Christmas be without him? Although the merry man has been an integral part of American tradition for at least 150 years, only recently is he being embraced in Italy. However, Italian children have not missed out on the fun of legendary characters…nor have their parents on the opportunity to throw out some motivational threats! Christmas day in Italy has traditionally been a day of food and family rather than gift giving. Presents enter the scene on Epiphany Day when the haggard but kind old witch Befana is said to wander through villages throughout the night of Epiphany Eve. She trails behind the Three Wise Men, desperate to catch up to them: her mission — to find the Christ child. Perhaps he's inside one of the homes along the way; she can't chance missing him and thus leaves gifts for the good children along her route. If a witch sneaking in your house isn't unsettling enough, consider an audience with a menacing, fur-bedecked, horned, fanged, and downright terrifying creature known as the Krampus. More likely to evoke nightmares than dreams of sugarplums, these devilish creatures have been a part of northern Italian Christmases for centuries. Krampuses run amok, literally, on the eve of December 5th. The harrowing clang of their bells and rumble of growls intensify as they bear down on the waiting crowds. It's all in good fun, of course, and merry making follows the terrorizing. But I bet little Gianni and sister Sofia behave like saints, at least for a while.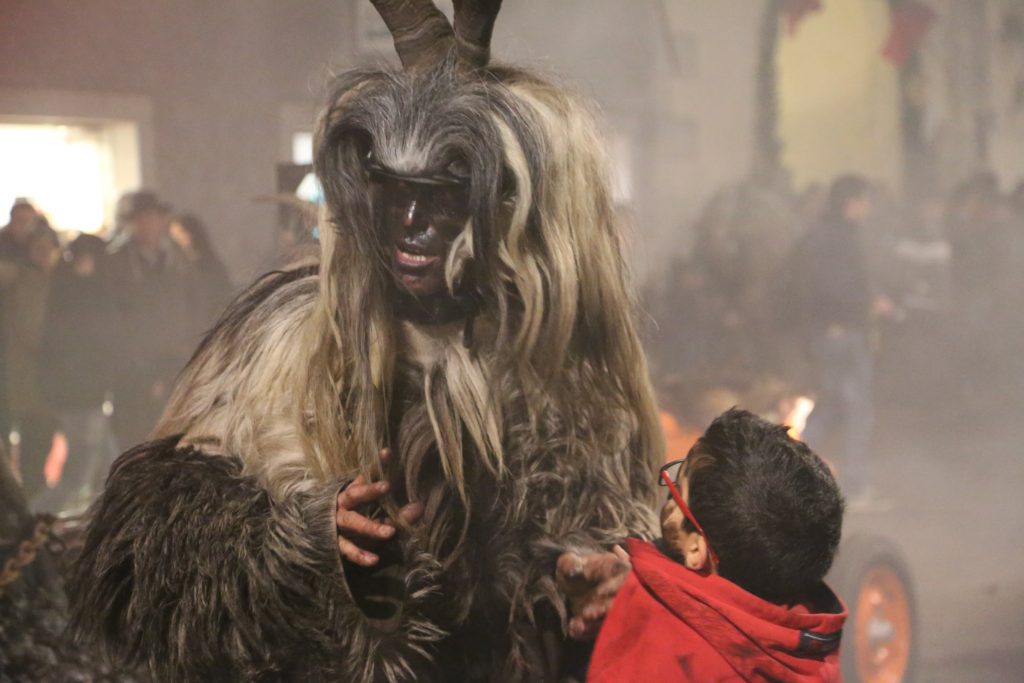 Food. And more food.
Si mangia bene always in Italy, but during the holidays it's no-holds-barred. Food rules. Traditions vary from region to region; every locale is rife with specialties and meals that make slow eating a new sport. Christmas Eve traditionally finds fish or seafood on the table, a way to dine "lean" in observance of the day before a religious festival. The interpretation is somewhat loose, however, as pasta dishes and more follow. Theology is being observed here, however. Seven courses, barely enough, would honor the 7 sacraments, 12 for the apostles…but wait, add Christ, so that's 13. But then again, why not 21 to observe the Trinity multiplied by the 7 sacraments. No kidding. And then arrives Christmas day and the feasting starts anew!
I heard the…bagpipes…on Christmas Day?
Bells are an integral part of daily life in Italy, their heavenly song drifting from towers ancient and new. And what would the Christmas season be without a plentitude of bells no matter where you live – those that jingle, those that play carols, those that decorate a one-horse open sleigh. It's fairly certain that bagpipes, however, are not generally associated with holiday traditions…except in Italy. The sounds of the zampogna, a simpler version of Scottish bagpipes, have filled Italian towns for centuries during yuletide. Ancient tunes are coaxed from wooden flute-like arms by the musicians known as the zampognari. In Christmases past, these players were shepherds who would wander down from their mountain abodes bringing festive songs to the villagers. Today, most zampognari hold jobs in town but value and continue the tradition. Dressed almost to match the sheep they traditionally tended, proper gear includes oversized sheepskin vests, wooly coats, and fluffy, leather laced leg coverings. It's not unusual, either, for the zampognari to be accompanied by another wind instrument, a throwback honoring the various medieval instruments played by the shepherds.
While many of these beautiful, larger-than-life Italian traditions are on hold this year, joy is found in remembrance. After all, if hope is the theme of the season, how sweet the anticipation of renewing grand traditions in Christmas seasons to come.