Some dishes strike a chord so profound to become synonymous with memories of a place, a moment, or even a person. Caponata is one such dish for me, intertwined with the memory of a dear friend from Sicily, whose culinary prowess is unrivaled: known for her heavenly caponata, she crafted a somehow secret recipe that continues to mystify all those fortunate enough to taste it. She's a master at teasing us, her friends, with clues to her unique version of the Sicilian classic, without ever revealing quite enough to make it like hers. I've watched her labor over tiny, perfectly cut vegetables and roast pine nuts to golden perfection. She tends to her Caponata lovingly over two days, allowing the flavors to dance, mingle, and mature into a scrumptious harmony. But the essence of her masterpiece, the delicate balance of sugar and vinegar, remains a well-guarded secret, a mystery she carries with a playful smile. This exquisite culinary delight, under her deft touch, has easily become the most unforgettable caponata I have ever tasted.
Without a doubt, caponata is an unrivaled protagonist of Sicilian gastronomy and has become one of the best-known dishes of Italian cuisine. This harmonious blend of eggplant, tomatoes, olives, and capers, creates a symphony of perfectly balanced sweet and sour that tantalizes the palate.
When we look at its centuries-long history, it's easy to see how caponata's evolution reflects the deep-rooted traditions and diverse cultures of the Mediterranean region. The etymology of the word "caponata" itself carries a tale, filled with speculation and mystery. Some theories suggest it may stem from the Greek word capto, reflecting the cutting of ingredients, a quintessential step in the dish's preparation. Others believe the term echoes the Latin caupona, which refers to the taverns where sailors would relish bread garnished with capers, anchovies, and oil. A third notion connects "caponata" to "capone," dolphinfish, a sought-after yet dry delicacy often served, once upon a time, with a sweet and sour sauce to the Sicilian élite. This theory opens a window into a past when economic limitations led to ingenious culinary improvisations: the common folk, unable to afford such luxury, cleverly substituted the fish with more economical eggplants, creating the caponata we love today.
The use of eggplants, the star ingredient in caponata, is a testimony to the resourcefulness and adaptability of Sicilian cooks. But, as pointed out by Serena Castellano in the food blog La Ricerca del Gusto, not all eggplant varieties are the same, when it comes to caponata, and you should use the violetta di Palermo. This specific variety, with its oblong shape, firm texture, and minimal oil absorption, forms the perfect backbone for caponata, letting the dish retain its iconic texture without becoming excessively greasy.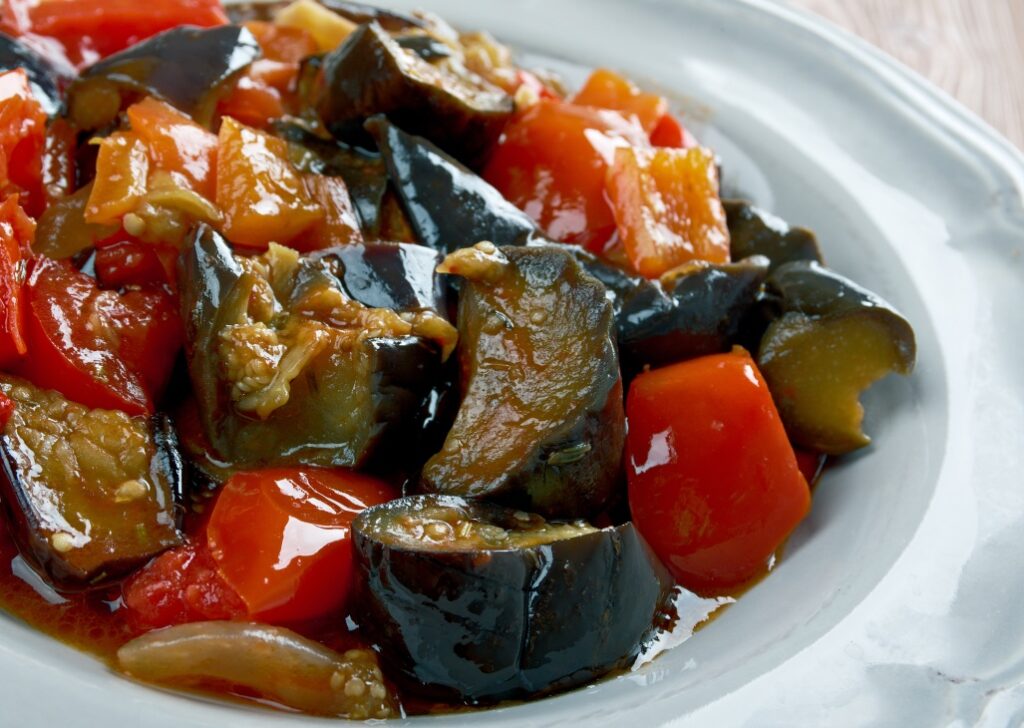 As important as its core ingredients are, caponata does not adhere to a single formula. Instead, its preparation varies across Sicily, echoing the region's distinctive local flavors and traditions. The classic version from Palermo teems with robust eggplant chunks, distinctive celery, finely chopped onions, and genuine Sicilian olives, all brought together by a tantalizing sweet and sour sauce. This assembly is then sprinkled with a dash of cocoa, adding a surprising but delightful twist to the dish.
Journeying from Palermo to Agrigento, caponata morphs, reflecting the taste of its new home. It introduces local favorites like friggitelli peppers, white or red onions, green and black olives, capers, honey, and chili pepper to its ensemble. Basil and nuts, be it pine or almond, add a unique crunch, further enhancing an already delightful gastronomic experience.
Caponata changes again around Platani, Quisquina, and Magazzolo, where the dish embraces the local produce. The Ciancianese variant showcases artichokes, while the Bivona version adds a touch of sweetness by incorporating local peaches and seasonal pears.
In the coastal city of Trapani, toasted almonds find their way into it, enhancing the traditional recipe. In Catania, eggplants and tomatoes take center stage, complemented by pine nuts and fresh basil. Catania's culinary creativity didn't stop there: in 1916, it introduced the caponatina, a variant marked by smaller vegetable cuts, the incorporation of potatoes, and the intriguing absence of the sweet and sour sauce.
The city of Messina offers its own spin on caponata, too, by swapping the traditional tomato sauce for peeled tomatoes, letting the vegetables' freshness shine. Interestingly, Naples also has its own caponata variant, a simple recipe prepared with seasoned friselle, fresh tomatoes, garlic, oil, oregano, and basil, often garnished with anchovies and olives. This Neapolitan variety takes a daring step away from the norm, featuring no eggplants.
Caponata is truly more than just a dish: it's an immersive culinary journey. Each local variant is a testament to the rich biodiversity, the deep-rooted culinary traditions, and the ingenuity of Sicilian cooks. It's a celebration of Sicilian gastronomy, and of its diverse culinary landscape, all while retaining a distinct historical identity. From its origins as an exclusive treat to its widespread popularity, the journey of caponata is a truly delicious symbol of Sicilian cuisine.