Bruschetta: a word that has traveled the globe, gracing menus from New York and Tokyo, all the way to Sydney and Buenos Aires. This simple Italian dish has become an international icon, thanks to the universal appeal of its varied, but simple ingredients. Yet, as widespread as its culinary fame might be, the word "bruschetta" often presents a delightful puzzle for many.
As an Italian who has journeyed across continents, I've always been amused by the myriad interpretations of this seemingly straightforward term. From "bruscetta" to "brushetta," "brusceta" to "brusketta," the variations are as diverse as the cultures that embrace the dish. And when it comes to pronouncing it? Ah, that's where the real adventure begins. The Italian "-sch" combination, which should roll off the tongue as "-sk," often gets an Anglicized "-sh" treatment, leading to endearing mispronunciations. So, for the uninitiated and the curious alike, let's demystify it together: it's pronounced broo-sket-tah.
There you have it! With that linguistic hurdle gracefully cleared, we can now delve into the flavors and history this quintessential Italian appetizer offers, a dish as simple as it is satisfying, born from the heart of our countryside.
With all its international appeal, bruschetta's origins are deeply rooted in Italian culture and history. According to Taste Atlas, the name "bruschetta" itself likely stems from the vulgar Latin bruscare, meaning "to roast over coals" and its beginnings were very humble indeed: it was the chosen snack of farmers and olive pickers, who would make do with something our kitchens and orchards always have in abundance: tomatoes, olive oil, and bread. Yet, this simple combination of just as simple flavors turned into a culinary masterpiece celebrated in various forms across Italy.
Many believe it was born in the heart of Campania and the prominence of tomatoes in the region, with its myriad varieties, lends weight to this theory. Yet, Tuscany, especially the area around Florence, boasts its own version called "fett'unta" – a slice of unsalted Tuscan bread adorned with garlic, olive oil, salt, and pepper. This simplicity might be traced all the way back to times before tomatoes even graced Italian shores in the 16th century.
But bruschetta is cherished well beyond these areas and is embraced in every southern and central region of Italy. In the northern territories, though, a delightful variation stands out: the Piedmontese sòma d'aj, or "carico d'aglio" in standard Italian ("full of garlic" for all anglophones) is a delicacy involving a toasted slice of bread, gently rubbed with a garlic clove and drizzled with a stream of olive oil. The tradition, especially prevalent in the Langhe and Monferrato areas, dictates that this garlic bread be enjoyed with a cluster of grapes. Indeed, as someone hailing from the Langhe region, I fondly recall the early September days when my grandparents would relish pan frûcia cun l'aj ("bread rubbed with garlic") alongside dark grapes, savoring the moments leading up to the harvest season. This practice not only highlights the versatility of bruschetta but also the deep-rooted traditions that each Italian region brings to this simple delicacy.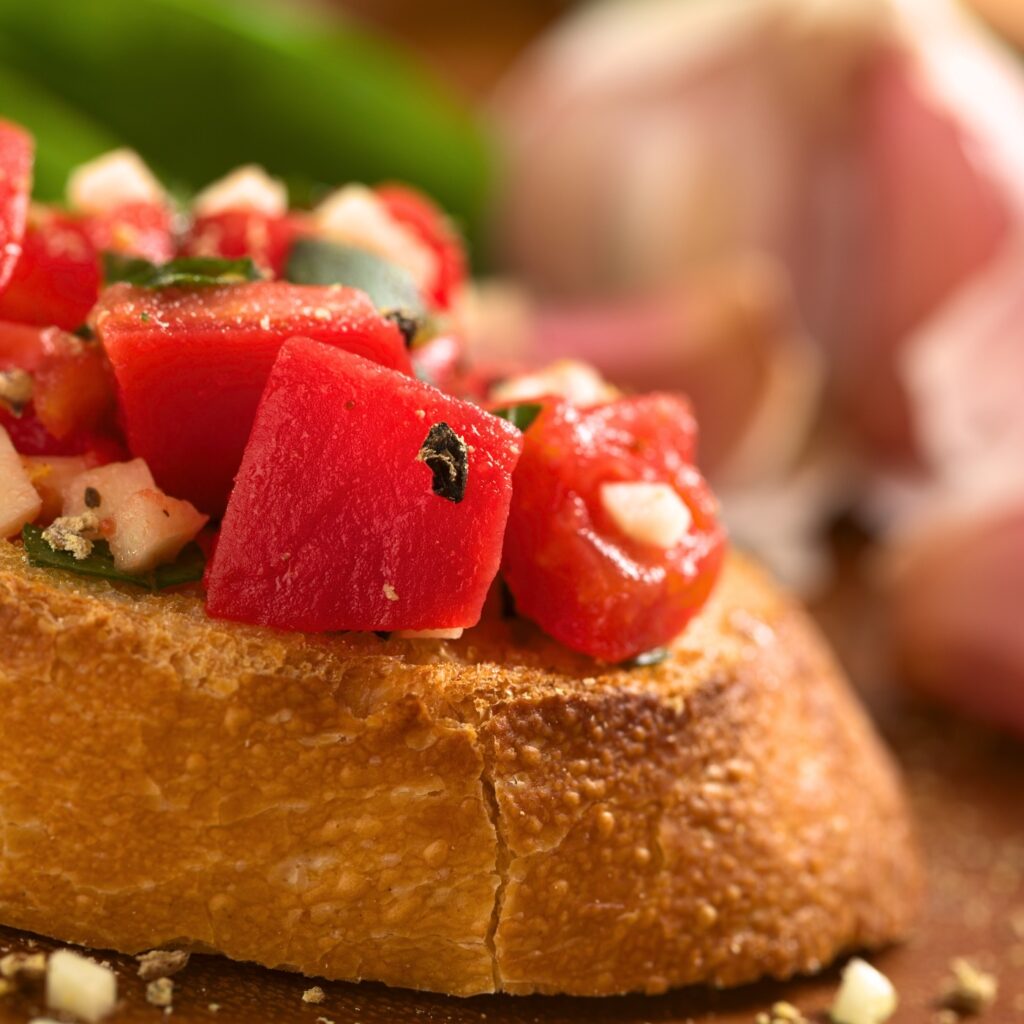 A good bruschetta, though, is all about the senses. Imagine biting into a slice of it: the crunch of the toasted bread, the pungent kick of garlic, the silkiness of olive oil, and the freshness of tomatoes create such a complete array of sensations and flavors that is quite amazing to think they come from such humble ingredients. It's not just food, you know. It's a bit of an experience if you ask me. An experience that evokes memories of Italian summers, family gatherings, or afternoon snacks sitting at an outdoor table.
And while the quintessential bruschetta comes topped with tomatoes, and this topping remains a favorite, the versatility of bruschetta knows no bounds. From bell pepper spreads to zucchini pâtés, from mozzarella to anchovies, the variations are endless. Yet, the secret to a perfect bruschetta lies in its simplicity: you only need what's fresh, local and in season. And, of course, an earthy drizzle of extra virgin olive oil.
You can go for a traditional bruschetta al pomodoro, which you can put together with some rustic bread, ripe tomatoes, a garlic clove, some fresh basil, extra virgin olive oil, salt and pepper. Or you can go for something with a bit of an extra kick and substitute the tomatoes with a mix of chopped olives and capers, with the addition of parsley instead of basil. If you fancy some more decadent, then top your bread with ricotta, honey and chopped walnuts and, why not, if you have them, even slices of freshly picked figs.
Because bruschetta is more than just an appetizer, it's a reflection of Italian cuisine. It tells stories of ancient Rome — the cheese, honey and figs combo comes straight from Apicius, I reckon! — of hardworking farmers in Campania, and of Tuscan celebrations marking the olive harvest. It's a dish that, despite its global popularity, remains authentically and unmistakably Italian.
In the words of Francesco Bracali, a renowned chef from Tuscany recently cited in a Vanity Fair Italia article, thinking of bruschetta always brings to mind the ritualistic and convivial nature of the dish. For Tuscans, bruschetta marks the joyous occasion of the olive pressing season, a time to taste the new oil, while for Piedmontese, it is a perfect accompaniment to taste new grapes before they are transformed into wine.
As we journey through the rich narrative of bruschetta, we're reminded of the power of food to connect, tell stories, and keep traditions alive.