Bresaola della Valtellina IGP, a delicacy hailing from the picturesque Alpine valleys of Italy, mirrors our mountains' rich culinary heritage. This cylindrical cured meat product, derived from beef, is a staple of Italian cuisine, celebrated for its bright red color, delicate aroma, and pleasantly savory taste.
The story of bresaola della Valtellina IGP is deeply intertwined with the history of the Alpine region. The technique of preserving meat by salting and drying it has been practiced in these valleys since the early Middle Ages: indeed, this method was not only used for beef but also sheep and game meat, making it a widespread practice across the entire Alpine arc.
While it is today considered a typical product of Italy, the origins of bresaola can be traced back to Switzerland, particularly to the Canton of Grisons and Valais. The winds that blow through the Engadine, descending from the Spluga pass, are ideal for drying meat, and they blow equally in Valtellina and Swiss territory: this geographical connection played a significant role in the development and refinement of bresaola production.
In the beginning, making bresaola was a simple, rustic process: after deboning the beef thighs and sprinkling them with salt and spices, the meat pieces were hung from the ceilings of huts to dry for 60 days. Over time, the process became more sophisticated, leading to the construction of dedicated facilities for bresaola making. Certainly, this evolution in the production process is a sign of local people's ingenuity and adaptability, but also of the way they were able to refine and improve their methods while staying true to their culinary tradition.
The name "bresaola" itself goes hand in hand with local lore and heritage. There are several theories describing how it came about: one among them suggests it originated from the phrase "sala come brisa," referring to the use of salt in preservation, with the term "brisa" indicating a heavily salted bovine gland in the dialect of Valchiavenna, a valley near Valtellina. Another theory links the name to the term "brasa," meaning embers in the local dialect, as the meat was traditionally dried in rooms heated by braziers fueled with fir charcoal, juniper berries, thyme, and bay leaves.
But the history of bresaola is also the history of the people of Valtellina: for centuries, the production of this cured meat was a family thing, with each household producing their own bresaola, often according to their own secret recipes. It was to be this way until the 19th century when the significant development of the food-making industry in Chiavenna gave a substantial boost to bresaola production. This marked the beginning of a new era for this now-popular cold cut, as it slowly began to cross the valley's borders and spread throughout Italy. By the 1960s, bresaola della Valtellina had become a beloved delicacy far beyond its place of origin, and its popularity was not only due to its delicious taste but also its nutritional value. Indeed, bresaola stands out for its unique sensory, chemical, and physical-chemical characteristics; it is also low in fat and cholesterol but high in proteins, iron, minerals like zinc, phosphorus, and potassium, as well as vitamins, including B vitamins, vitamin E and niacin. All this makes it a healthy choice for those who enjoy a lighter diet, yet do not want to compromise on taste.
But the secret of this healthy cold cut is in its production process, a careful balance of tradition and climatic conditions: the meat is matured in specially air-conditioned rooms, ensuring optimal air exchange at an average temperature between 12 and 18°C. This slow and gradual process, which includes drying time, takes between 4 to 8 weeks, depending on the size of the product and market demands. To fully appreciate the flavor of bresaola, it is recommended to consume it in thin slices, about 1-1.5 millimeters thick.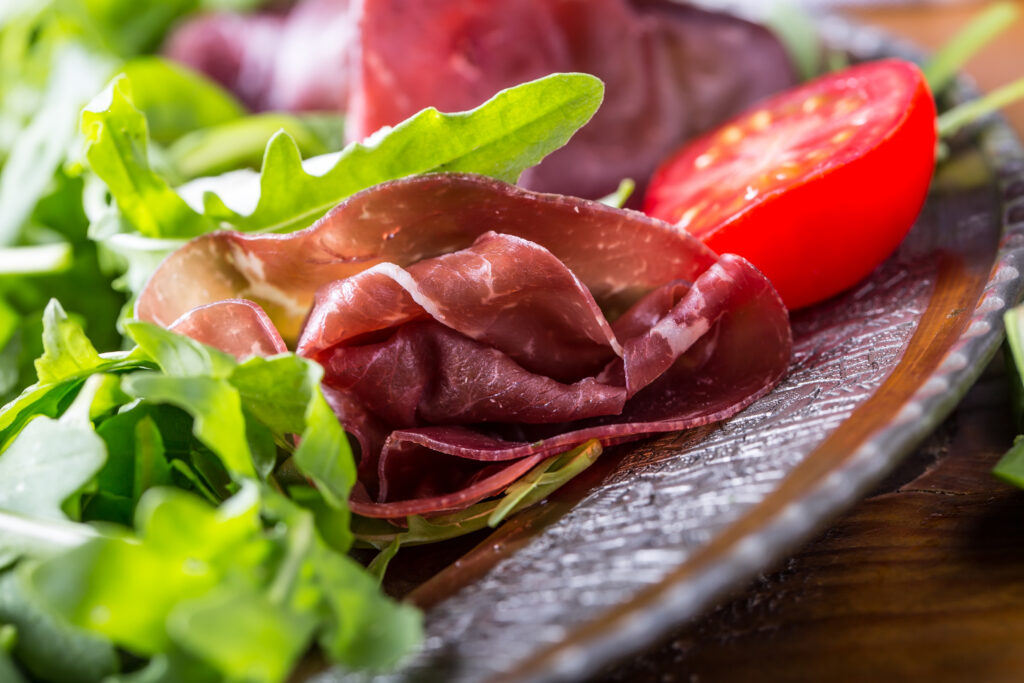 Besides being good for you, bresaola della Valtellina is also a versatile ingredient that allows for imaginative culinary combinations: it can be used to create refined dishes, quick and easy appetizers or snacks — sandwiches made with bresaola dressed in extra virgin olive oil and lemon are a favorite of mine — and its unique taste and texture make it a perfect addition to a variety of recipes, from traditional Italian dishes to innovative culinary creations.
Last but not least, since 1996 the authentic bresaola della Valtellina has been guaranteed by the community trademark Protected Geographical Indication (PGI). This mark is used exclusively by producers in the Province of Sondrio who adhere to strict production regulations. The Consortium for the Protection of the name Bresaola della Valtellina was created in 1998 and has been safeguarding and enhancing this refined product since, promoting its image, and protecting it from imitation and counterfeiting.
So, next time we fancy something nice but not-naughty, let's have some bresaola — which, incidentally, is a staple of Italian summer cuisine: whether enjoyed in a simple antipasto or as part of a gourmet recipe, this delicious salume brings a piece of the Alpine valleys to every table, while telling us about the power of tradition, the importance of regional identity in Italy, and the timeless appeal of good food.