What a movie, Casablanca. The cinematography, the aesthetics, the music, the actors, of course. Who doesn't have in mind Humphrey Bogart, dark and handsome, with his fedora hat and trench coat, in the famous airport scene where he says goodbye to Ilsa, interpreted by Ingrid Bergman?
That hat, that fedora, was a Borsalino.
Borsalino: a name that became a synonym with elegance and high quality, with fashion and durability. In other words: a name that embodies the very essence of our Made in Italy, all the way down to the company's history. Because Borsalino was born as a family business and developed deep connections with the territory of southern Piedmont and, especially, with the city of Alessandria, where its headquarters are still today.
Behind Borsalino the company is the dream and vision of one man, Giuseppe Borsalino. Class 1834, Giuseppe, known in town as u siur Pipen, learned the ropes of hat making in Alessandria but began dreaming big in Paris, where he worked at the Berteil hat-making atelier for seven years, gaining the title of hat-making master. Back in Alessandria, Giuseppe joined forces with his brother Lazzaro and opened a small atelier in Via Schiavina. Sometime later, on the 4th of April 1857, he opened his first hat-making factory: it was the beginning of the legendary history of Borsalino hats.
Shortly after, some 750.000 hats were made annually, but peak production was reached just before the First World War, when the factory in Alessandria reached the astonishing number, especially for those years, of 2 million hats crafted in 12 months. With some 2.500 people employed, Borsalino became a significant source of work for the city, as well as its countryside: quality hats, in those days, were made with rabbit fur felt and demands for it grew exponentially, so much so that many local farmers increased their income significantly by breeding rabbits on a large scale.
The turning point for the company came when, towards the end of the 19th century, Giuseppe Borsalino visited England, where he discovered, in Manchester and London, the secrets of British hat-making. Legends say that, while visiting the Battersby hat-making factory, in London, Giuseppe dipped a piece of cloth in the special coating they used to protect their hats, bringing back to Italy the secret of their durability. For sure, we know he eventually imported from Britain special machinery, which heightened and speeded up production, propelling the company towards new heights of success.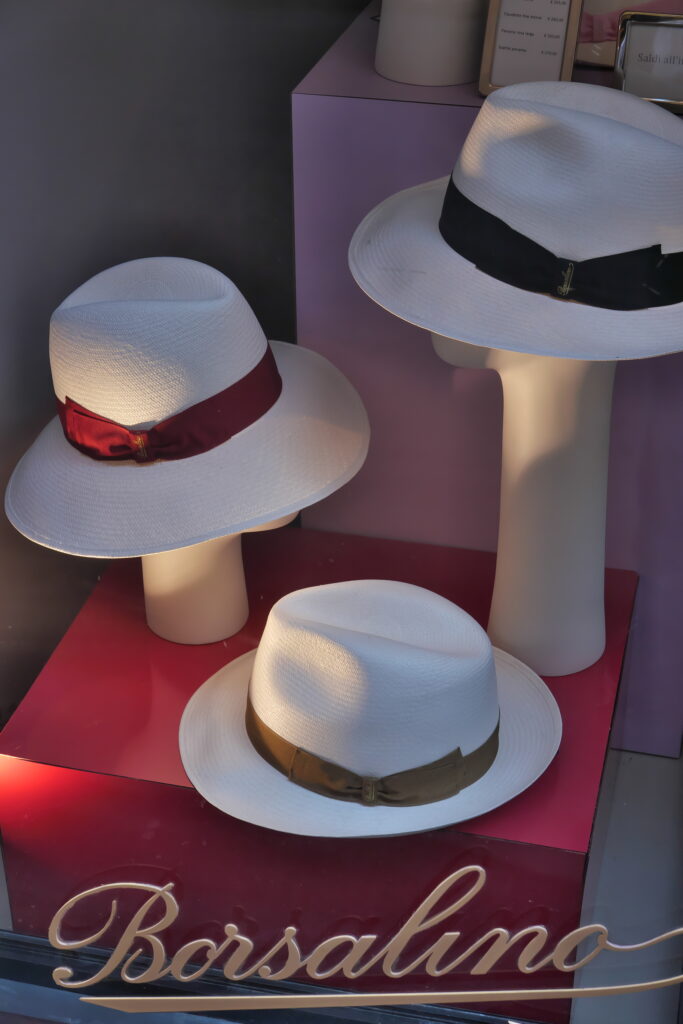 The brand became popular worldwide: Borsalino bowler hats were a must in London and, in the US, the brand became a strong competitor for Stetson. In those years, everyone had a Borsalino and, soon, the word was recorded in the Oxford English dictionary as a synonym of wide-brimmed hat.
An interesting article by Anna Rita Russo for Forbes makes us understand how popular and ubiquitous Borsalinos were in the first half of the 20th century, their presence a sine qua non on the head of every man, especially the wealthiest. But don't be fooled: men in the 30s and the 40s, even those of humbler origins, were likely to have a Borsalino, which they would wear only on special occasions. An addition to their best Sunday outfit.
The iconic status of Borsalino hats was cemented further in the 1960s and 1970s when they were a staple in the wardrobe of cinema stars like Jean-Paul Belmondo and Alain Delon, who appeared as gangsters in a movie directed by Jacques Deray, titled … Borsalino. Speaking of gangsters, even Al Capone was a Borsalino aficionado.
Russo also shares a curious story with her readers: according to it, Robert Redford, after watching Fellini's 8 ½, visited the main Borsalino factory in Alessandria to get his hands on a black Borsalino Fedora like the one seen in the movie.
But then fashion started to change and so did the fortunes of Borsalino. In the late 70s and 80s, while still maintaining a niche following, the company reduced drastically its production, which only reached 1.500 pieces a year, and halved the number of its employees. In the following decade, the Borsalinos were forced to sell the family business to an entrepreneurial group from Milan. But things were to get even more difficult in the 21st century, with serious financial issues bringing the company to the verge of bankruptcy in 2013.
In 2015, private equity investment company Haeres Equita, led by Swiss-Italian entrepreneur Philippe Camperio, invested more than 10 million euro to save Borsalino from closing down forever. In 2018, Camperio and his society finally became the owners of Borsalino.
For Camperio, it was a moment of joy, which he explained to Russo with these words: "After three turbulent years, we finally enjoy some tranquility. As a brand, Borsalino is priceless. A small business with the popularity and following of a big name." Camperio explained how, under the new leadership, Borsalino's production and sales started growing again, and how some ill-advised managerial decisions may have been the cause of the company's decline in the first 10 years of the 21st century.
Today, Borsalino remains a symbol of the best Made in Italy and a fashion statement for both men and women. Pick a model, pick a color and always wear it with pride!