Il due pezzi, the bikini: a view as common on the world's beaches as sunscreen and flip flops. More or less revealing, in a variety of styles and colors, it remains the most popular swimsuit style for women. Once upon a time, more or less rigorously worn only by perfectly-shaped, model-like young girls, today it is embraced by all, young and old, skinny and chubby, an unexpected symbol of body acceptance and equality.
Most of us are familiar with its inception, or at least, with the story behind its name: up to the 1930s, swimsuits for women were very covering and very "one-piece," and while the trend of separates developed we were still light years away from the revealing styles we wear today. We'd have to wait until 1946 to see the first "modern" two-pieces on our beaches. That year, two French stylists, Louis Reard and Jacob Heim revolutionized swimsuits forever introducing the first real two-piece bathing suits. For the times, they were so revealing and "explosive" that they were christened Bikini, just like the small atoll of the Marshall Islands where the US, during a technical trial, had just exploded atomic bombs.
But what if I told you that the bikini is much more ancient and it was en vogue already among Roman women more than 2000 years ago?
Let us take an ideal journey together to Sicily and, more precisely to Piazza Armerina, a town of 20,000 in the Enna province. A couple of miles from its historical center, we find the Villa del Casale, once the holiday residence of Maximianus Erculius, co-ruler of the Empire with Diocletian (284-305 AD). In the room known as "the room of the ten girls," a beautifully preserved mosaic depicts a group of young women practicing a variety of sports wearing briefs and bandeau-style bikini tops: some of them play with a ball, others run after one another, others still stretch while musicians play for them. There is very little doubt these sporty ancestors of ours wore two-pieces very close in style to modern bikinis, but they wouldn't wear them, like us today, to go to the beach…
To make things a bit clearer, we should start with underwear because, just like today, Roman "bikinis" were related in shape to common, everyday undergarments. Indeed, both men and women of ancient Rome would wear subligacula under their clothes, just like we wear briefs today: they consisted of a triangle of fabric with two side strings to tie it up at the waist. Women would also wear a strophium, a bandeau used to support and cover the breasts, without squeezing them too much. But in Rome, large breasts weren't considered beautiful nor attractive, as they were often associated with old age, reason for which many younger ladies opted for the mammillare, a strophium that compressed breast tissue reducing its appearance under clothes.
That's all good and interesting, but what's the deal with the girls of Piazza Armerina and their bikinis? We all know the Romans were very fond of their terme, public baths where citizens could relax, take care of their bodies, and socialize. Both women and men were allowed, but basic rules of decency were to be followed, especially by women, who would cover up their breasts with the fascia pectoralis and their "lower regions" with the subligaculum. Basically, they had versions of their underwear they could show in public… a bit like today's bikinis.
But "bikinis" in Rome were also worn on other occasions. The girls of Villa del Casale, as we said, are all practicing physical activities, so their two-pieces didn't only need to cover up their bodies but also allow freedom of movement. About this, we should open a parenthesis: Roman women didn't practice sport commonly and female athletes were often frowned upon, because physical activity, especially when too vigorous, was believed to cause fertility issues. Therefore, seeing women engaging in physical activities like those of Villa del Casale wasn't common at all.
It is likely, however, that the fascia pectoralis and the subligaculum were used during practice in dance or sports schools, and that's why historians think that the girls of Piazza Armerina may be professional dancers performing, and their "bikinis" stage costumes.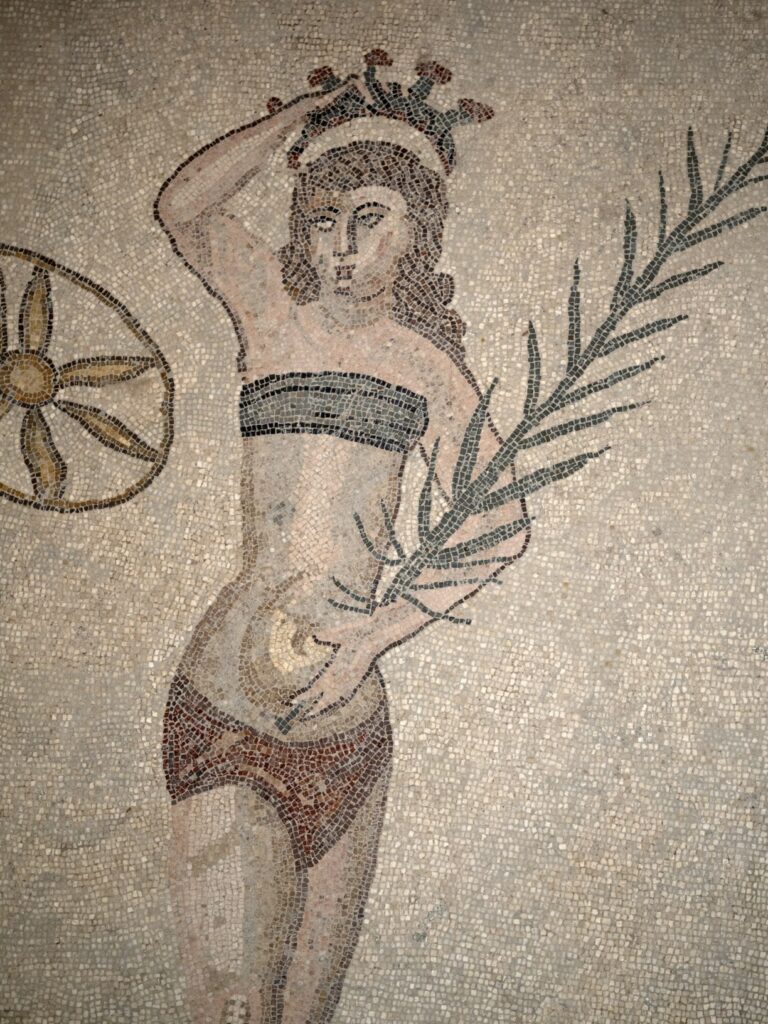 And what about the sea, sunbathing and swimming? Did Roman women enjoy the beach in their bikinis, just like we do? Actually, no. Sunbathing wasn't to become popular for another 2000 years, on the contrary, sun-kissed skin was considered a clear indicator a woman belonged to a lower social class, one where she had to work outside. So, there was no lounging by the sea. And when it came to swimming, both women and men would do it naked, covered only by the cool emerald beauty of the Mediterranean.
Did the Romans invent the bikini so? Well, they had something very similar, but they didn't use it for the same things we use it today. The two-piece bathing suits of the Piazza Armerina girls are perhaps more akin to the technical two-pieces professional runners wear when training and competing, or to the revealing, glitzy costumes of 1940s Moulin Rouge starlets.