The whirl of the holidays means lots of parties and lots of visitors to feed, but when I was a kid my main concern was feeding two very special guests – Santa and La Befana.
My sister made the hot chocolate, a cocoa so rich and thick you could eat it with a fork, and I took care of the rest.  I made cookies we called Stelle, small star-shaped cut-outs flavored with Winter spices, orange and a little Punch Abruzzo, a specialty liquor from Abruzzo.  I topped them with silver dragees, colored sugar and multi-colored sprinkles, just so my visitors would have a choice.
In preparation for our nocturnal guests, my grandmother and I made the classic Abruzzese confection, Croccante di mandorle.  An almond brittle made of fragrant nuts, toasted to a turn and enrobed in a sumptuous amber caramel, this treat is found in every Abruzzese home at Christmas.  Although it can be made with just about any nut, at Christmas time in Abruzzo this treat is all about almonds.
Each year in mid-November my grandmother ordered the almonds from "back east," and when the burlap bags arrived in December, she rolled up her sleeves and got busy shelling them.  Some she blanched in boiling water, deftly slipping them from their wrinkled skins.  The blanched almonds went into nut breads, calzoncelli, torte, and other baked goods and sweets.  The rest, still cloaked in their skins, were destined for her Croccante, a sweet crunchy delight that glistened beside the cookies and cocoa on a silver tray I set on the hearth.
•3 cups sugar
•½ cup water
•3 cups whole unblanched almonds
•lemon, cut in half
•butter-to grease 2 baking sheet
Preheat oven to 325 degrees F.  Butter a large baking sheet.  Set aside.  Spread almonds on a second large rimmed baking sheet, and toast on middle rack of the oven about 10 minutes or until fragrant, stirring 3 times.  Remove from oven, and set aside.
Meanwhile, combine water and sugar in a 4-quart saucepan.  Cook over medium-low heat to dissolve sugar completely, stirring occasionally with a heat-proof spatula, about 6 to 7 minutes.  Avoid splashing the sides of the pan. Use a pastry brush dipped in water to wash down any  crystals from sides of pan.
Increase heat to medium and continue cooking, swirling the pan occasionally, until the sugar has taken on an amber color, about 15 minutes more.  Remove from heat.   Add warm almonds, tossing very gently to evenly coat the nuts.
Quickly pour mixture onto the greased sheet pan, scraping the saucepan as little as possible.  Rub half a cut lemon over the confection to flatten it.  Cut into diamond shapes while warm, or cool and break into shards.  Store in an airtight container at room temperature.
Note: If you cook the sugar too long, it will burn (350 degrees F. and up.) If this happens, set the pan aside to cool.  Fill it with water, and set over a medium flame to melt the sugar.  You can then clean your pan with ease.
SAFETY FIRST!! This sugar is cooked to well over 300 degrees F.  Before you begin, fill a medium bowl with ice water.  This is for you to plunge you hand in should you be burned.  Banish the kids and pets from the kitchen!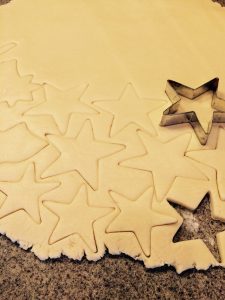 Stelle – Stars for special visitors
makes 4 to 6 dozen
•¾  cup granulated sugar
•1 cup unsalted butter, softened
•2 ½ cups 00 flour
•½ teaspoon fine sea salt
•2 teaspoons baking powder
•⅛ teaspoon ground cinnamon
•⅛ teaspoon freshly ground nutmeg
•1 large egg
•2 tablespoons Punch Abruzzo
•½ teaspoon vanilla extract
•⅛ teaspoon orange extract
Glaze
•1 large egg yolk
•2 tablespoons ½ & ½
sanding sugar, colored sprinkles or dragees to decorate
Combine flour, salt, baking powder, cinnamon and nutmeg together in a small bowl.  Set aside.
Place butter and granulated sugar in the bowl of standing mixture fitted with the paddle attachment and beat on medium speed until light and fluffy, about 2 minutes.  In a small measuring cup, lightly beat egg with Punch Abruzzo and extracts.  Reduce mixer speed to low and add the egg mixture, using a small spatula to scrape all of the mixture into the bowl.  Combine well, scraping bowl once.  Add the dry ingredients in three additions, beating well after each addition.  Remove the dough from mixer bowl, form into 2 disks, and wrap each in plastic film.  Refrigerate 2 hours, or until the dough is firm enough to roll out.
Adjust oven rack to the center position and preheat to 350 degrees F.  On a lightly floured board, roll 1 disk of dough to just over ⅛-inch thickness.  Cut out cookies, and place 1 inch apart on Silpat or parchment lined baking sheets.  Gather scraps and re-roll.  In a small bowl beat together the egg yolk and ½ & ½.  Paint cookies lightly with glaze and decorate.  Bake on center rack until firm and lightly golden on bottom, about 8 minutes, depending on size cut.  Store cookies in an airtight container between layers of waxed paper or parchment, up to 5 days.