Its central location places Agira at the heart of Sicilian culture and history, making it easily accessible from various parts of the island. Recently honored as one of Italy's Borghi più Belli d'Italia, "Italy's Most Beautiful Villages" Agira, with its rich heritage and picturesque surroundings, is a great destination for all those interested in art, good food, history, and natural beauty.
Agira's long history can be traced back to its inception as the Greek city of Agyrion, a name that reflects its deep roots in ancient Greek civilization; indeed, this early period laid the foundation for Agira's enduring cultural and historical significance. Over the centuries, the town has been a crossroads of various cultures and empires, each leaving its unique imprint: the Byzantine era brought a wave of artistic and architectural advancements, visible in the town's religious and civic buildings; the Arab occupation later introduced new styles and techniques, infusing Agira with a blend of Eastern and Western influences. This period was marked by the development of agriculture, particularly the cultivation of olives and citrus fruits, which remain a significant part of Agira's landscape and economy today. The Norman conquest of Sicily ushered in a new era of architectural and cultural development: under Norman rule, Agira experienced significant growth and transformation, particularly in its architectural landscape.
The Normans were renowned for their impressive fortifications and majestic churches, elements that are still prominent in Agira's townscape. Above them all, we can probably cite the Palazzo Ducale, a glorious memento of their architectural prowess. This imposing structure, once the seat of power, now symbolizes Agira's resilience and history, with its walls and towers blending strength with elegance, and narrating stories from Agira's noble past.
The Chiesa Madre, an exquisite example of Baroque architecture, is the next stop of our artistic exploration of Agira. Beyond its role as a place of worship, the church impresses with its intricate stonework, gold and marble interiors, and elaborate altars. The painted ceiling, depicting religious scenes, highlights the Baroque period's craftsmanship and reflects the town's long-lasting artistic heritage.
Finally, dominating the town's skyline, we find the Castello di Agira, which gives us a glimpse into the town's medieval era. Perched on a hill, the castle's strategic location provides stunning views of Sicily. Its formidable structure and ramparts speak, still today, of Agira's historical significance, offering a serene yet potent reminder of its medieval legacy.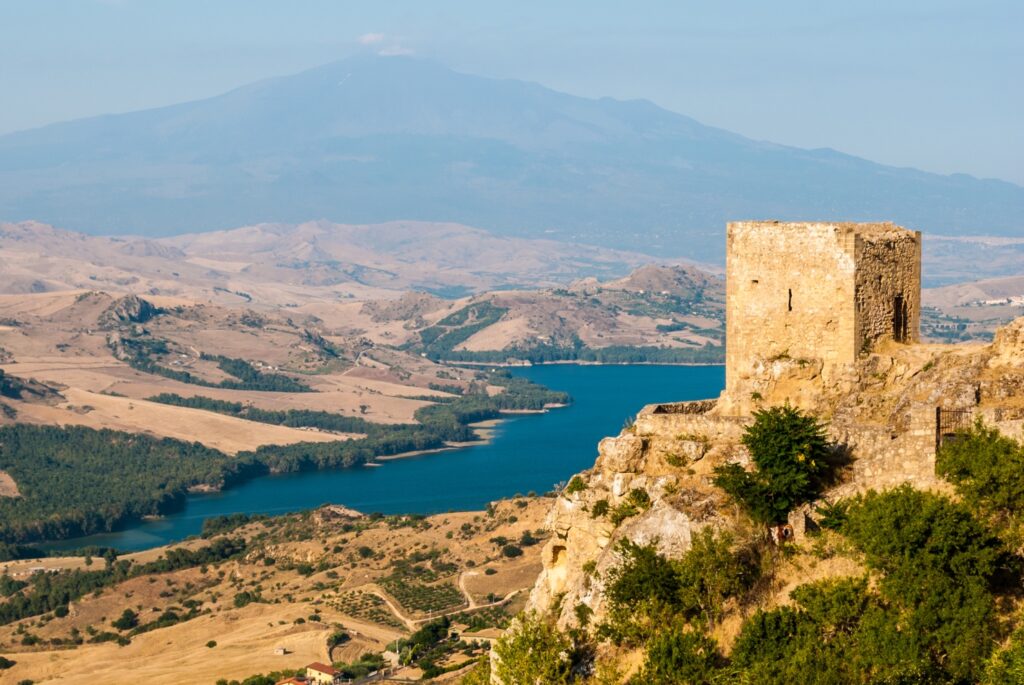 Moving out of Agira's historical center, one is immediately taken in by the town's lush natural surroundings; encircled as it is by olive groves, vineyards, and citrus orchards, Agira stands within a landscape that epitomizes the rural beauty of Sicily. But there is more to this beauty, because olives, wine, and citrus fruits are a crucial part of Agira's agricultural heritage. Not far, for the nature enthusiast, Monte Agira offers green slopes and serene trails, while the meandering Salso River provides a perfect setting for leisurely walks.
Everyone knows that trekking makes one hungry, so let's see what we can have for dinner after a day spent taking in the natural beauties around town. Here, the culinary scene is a celebration of Sicilian land and culture: traditional dishes, such as the savory mpanate pies and sweet cassatelle ricotta pastries, showcase the Agira's expertise in blending simple ingredients into decadent flavors. The annual Festa del Pane, where Agira's bread-making traditions come to life, is perhaps the best representation of this.
Agira is also known for its Opera dei Pupi, traditional Sicilian puppet shows that bring local folklore to life, adding a unique flair to a town that's already vibrant with culture, art, and good food.
The recent accolade of becoming one of Italy's "Most Beautiful Villages" is a fitting tribute to Agira: this honor highlights the town's rich history, art, nature, gastronomy, and, perhaps even more importantly, its commitment to protecting and safeguarding its heritage for the future.