Sfogliatella (sfoh-lleeah-tehl-lah) sounds as sweet as it taste. The word is the diminutive of sfogliata (a type of cake), which in turn comes from sfoglia, the Italian for puff pastry. Sfoglia means "thin layer," as the pastry is made with many stacked leaves of it.
Indeed, sfogliatella is usually a delicious parcel of puff pastry filled with a cream made of semolina, ricotta, sugar, candied fruit, vanilla and cinnamon. This type of sfogliatella is known as sfogliatella riccia ("curly" sfogliatella), but there is another one, the sfogliatella liscia ("straight" sfogliatella) made with shortcrust pastry instead.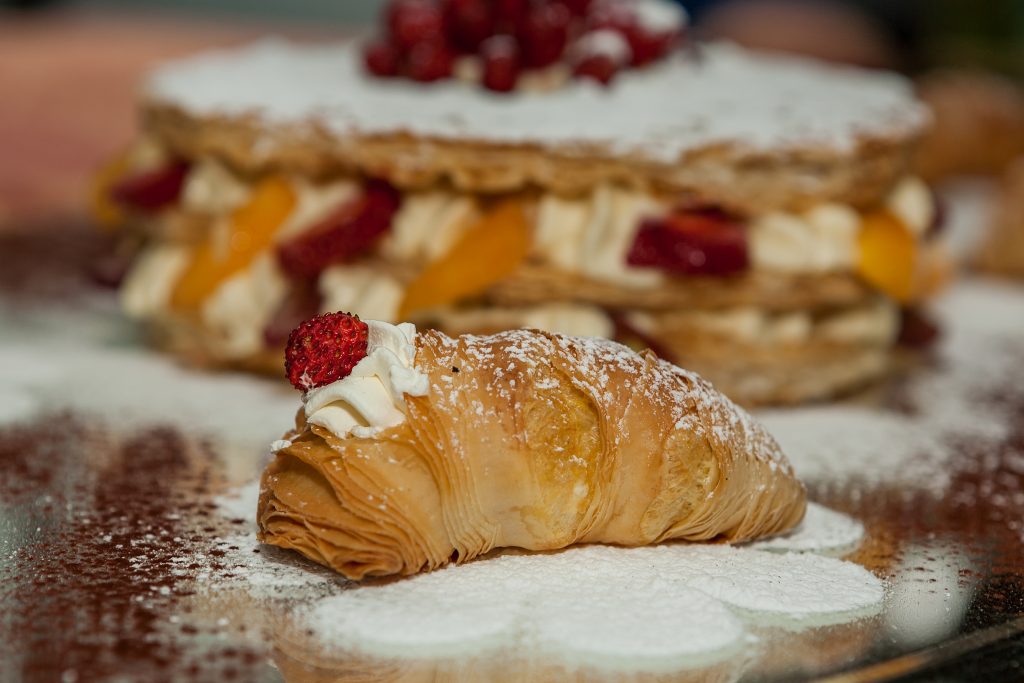 Lovingly known as 'a sfugliatèlla in Neapolitan, our sweet little gem is a traditional pastry of Campania, and of Naples in particular, even though it was created in the 18th century by the nuns of the Conservtorio di Santa Rosa da Lima, near Amalfi. In the early 19th century though, Neapolitan pastry chef Pasquale Pintauro got the recipe from the nuns and began producing sfogliatelle in his own pastry shop. Of course, it was a success and the legend was born.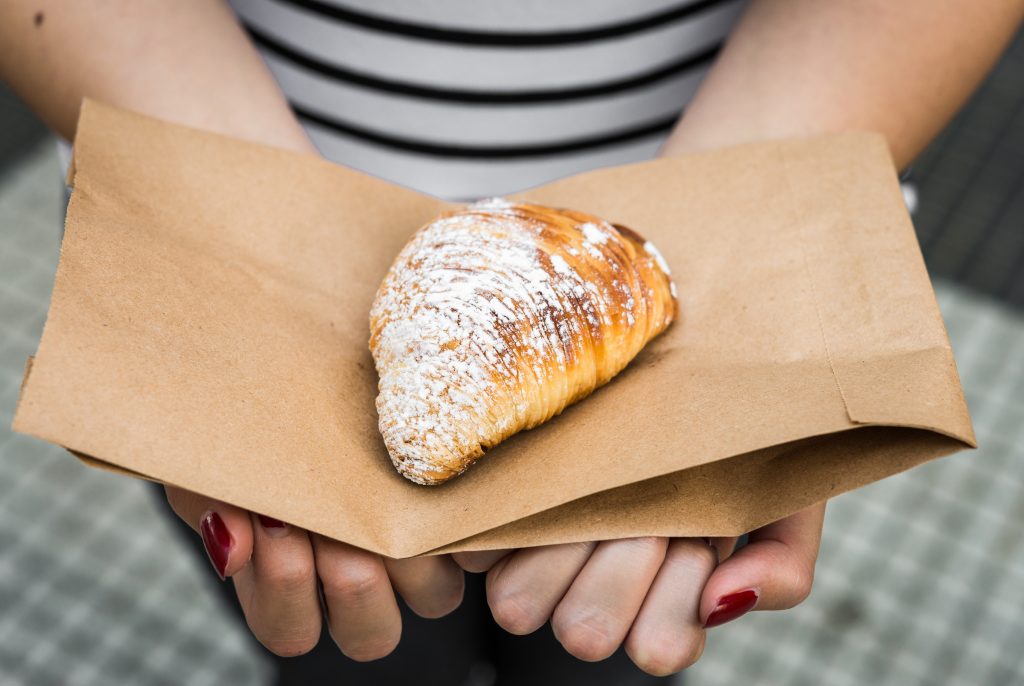 With its aromatic, decadent filling and its crumbly shell, sfogliatelle are just like the city they became a symbol of: beautiful to look at, rich and special. Perfect for a nice breakfast and rigorously served with a good caffé Napoletano, sfogliatelle are something you can't find everywhere. Just like it happens for other traditional southern desserts like cassata or cannoli from Sicily, those you find in bakeries and cafés in other regions of Italy may be nice, but they are not the same thing, as every single Neapolitan will tell you.
Sfogliatelle are not only good to eat, they are also beautiful to look at: sfogliatelle ricce, with their many thin layers of delicate goodness look like shells made with gold leaves and scented like a summer Mediterranean garden. Sfogliatelle liscie are round and perfect like a pearl, with the warm deep colors of amber.
Se vai a Napoli, prova una sfogliatella con il tuo caffé
If you go to Naples, try a sfogliatella with your coffee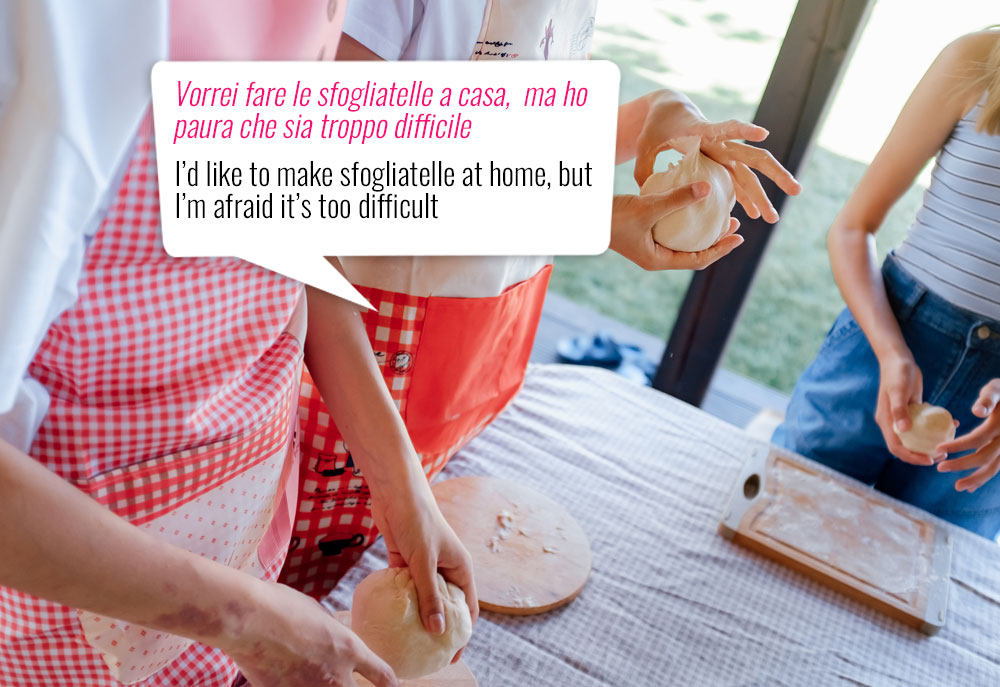 Vorrei fare le sfogliatelle a casa, ma ho paura che sia troppo difficile
I'd like to make sfogliatelle at home, but I'm afraid it's too difficult.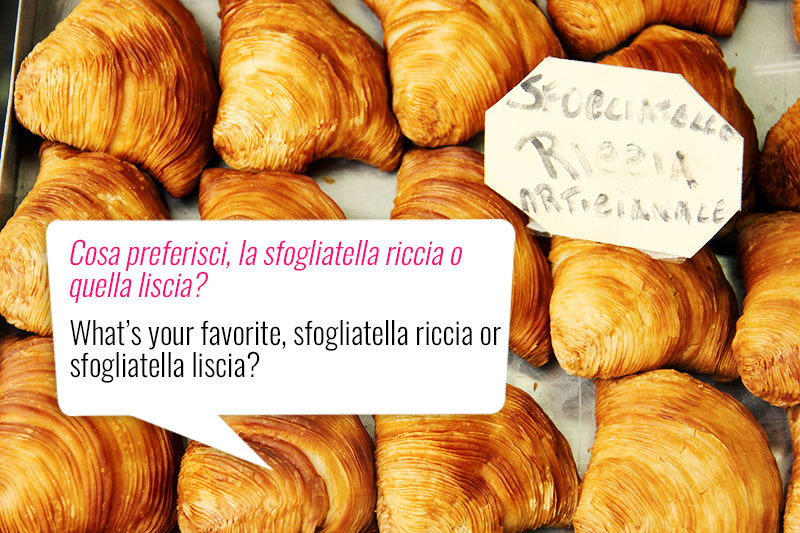 Cosa preferisci, la sfogliatella riccia o quella liscia?
What's your favorite, sfogliatella riccia or sfogliatella liscia?