"Amo solo te" ~ I love only you
You've said "yes" …and the planning begins. Opulent or simple, a wedding is probably the closest most of us will ever get to crafting our own real, live fairy tale. Naturally, a dreamscape setting is part of the tale…and what could be dreamier than saying "I do" in Italy?
From north to south, Italy's 20 regions are rich in movie-set-worthy scenery featuring just about any postcard vista a bride could want. Topped off with historic architecture, bountiful wine, the best of food, and abundant traditions, it's no surprise that Italy offers most everything needed for that fairy tale wedding. So much so that in 2015, the Italian wedding tourism industry reported 380 million euro in revenue that rose to 540 million in 2019. Maybe money really can buy happiness, at least when we're talking about weddings.
"Sei la stella del mio cielo" ~ You are the star in my sky
There's no question that a countryside wedding in Italy can be over-the-moon romantic…but even the most starry-eyed must plant their feet on solid ground to pull off a seamless event. Securing a legally bound marriage in Italy requires extra layers of documents most Americans have never heard of. While it can be a challenge for the impatient, it's not impossible if carried out properly before the big day. Some documents are obvious: a valid passport, a certified birth certificate, and proof of termination of any prior marriage. But it's not quite that simple. Any document issued outside of Italy must be legalized with an Apostille stamp (proof of legitimacy) within the state it originated, as well as be fully transcribed in Italian by a translator approved by the Italian Consulate. These obligations are actually the easy part.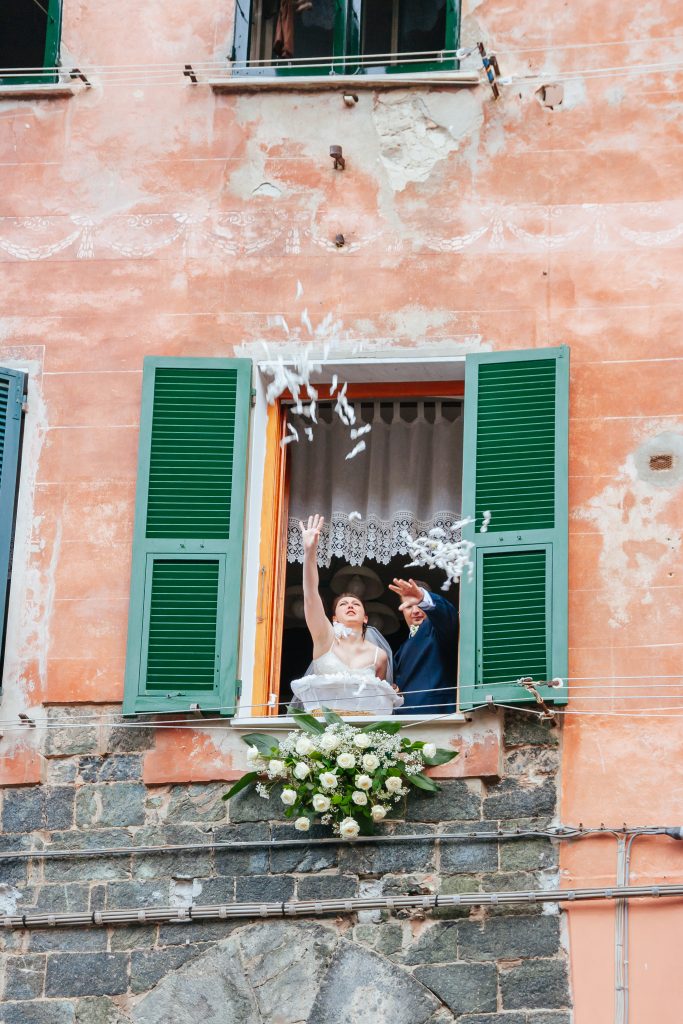 Next task: procuring the Italian-issued documents required to make things official. First on the list is the Dichiarazione Giurata. Simply stated, this document verifies there is no existing impediment to the marriage. It must be obtained and notarized within the proper government office…in Italy. Fortunately, this form can be acquired ahead of time on the US Embassy website. Once a couple is on Italian soil, the paperwork must then be taken to the Ufficio Legalizzazioni to be authenticated within the same district in which the wedding is scheduled. But wait…there's more. Before exchanging "buongiorno" with the office clerk, stop off at a tabacchi (tobacco shop) to obtain the marca da bollo – a 16 euro tax stamp – for this document. Go ahead and buy two; you'll need another for the required Atto Notorio – an additional document verifying there is no obstacle preventing your marriage. The ins and outs of this particular document are as convoluted as a drive along the Amalfi Coast, but suffice to say…be sure every minute detail is properly executed before walking down that isle. Any bending of the rules, and there are many, is non-existent. Thankfully, the Atto Notorio process can be initiated within an Italian Consulate in the US, but no more than 3 months before the actual wedding date.
These steps completed, you're resting your feet and feeling quite accomplished as you await that chilled Spritz, right? Alas, the paper trail marathon is not quite over. The above documents in hand, it's now time to head to the Ufficio Matrimoni within the town nearest your wedding destination. Here, you'll cheerfully declare your Dichiarazione di Matrimonio – your intention to marry. If your Italian is not up to par, be sure to have a hired translator with you. No matter how meticulous the documents have been rendered, the ufficiale di stato civile (civil registrar) isn't responsible for making sure you understand the plethora of nuances. Once the official stamp slams ink to paper, the wedding is on! The wedding and the marriage are two different entities, however. There is yet one more document to sign-seal-deliver before your marriage is considered valid back home in the United States. A Certificato di Matrimoniowill verify the dream became reality and is obtained at the beginning of the ceremony.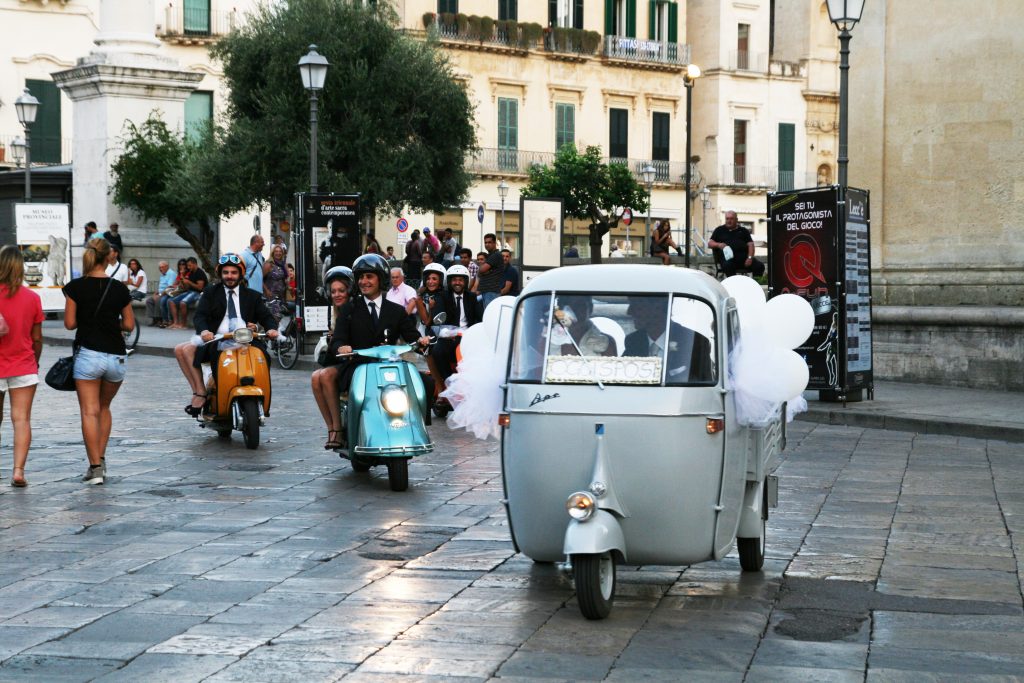 Both civil and religious ceremonies are possible for an Italian wedding. Slight variances apply, however, for a couple seeking a church sanctified wedding. If not performed by a Roman Catholic priest, the marriage won't be recognized unless a civil ceremony is first carried out, guaranteeing the legality of the marriage. One more hoop…jump!
"Evviva gli sposi!" ~ Hurray for the newlyweds!
There is much to be navigated if planning a wedding in Italy; therefore, many choose to hire a local planner to assist with the process. For the paperwork worries alone, the cost is probably worth it. An Italian planner can also assist with incorporating some of the fun traditions that go along with an Italian wedding. For example, why not boost the wedding budget with the tradition of the bride wearing a small satin bag for collecting monetary gifts in exchange for a dance! Often, the groom's tie is cut and small pieces "sold," as well.
No worries if the skies darken on your wedding day. A rainy-day wedding is seen as good luck – a showering of prosperity from above! For increased good fortune, tradition has the bride wear green on the eve before her wedding. And of course, the groom must pay for the bride's bouquet and ceremoniously have it delivered to her on the wedding day, his last gift to her before marriage.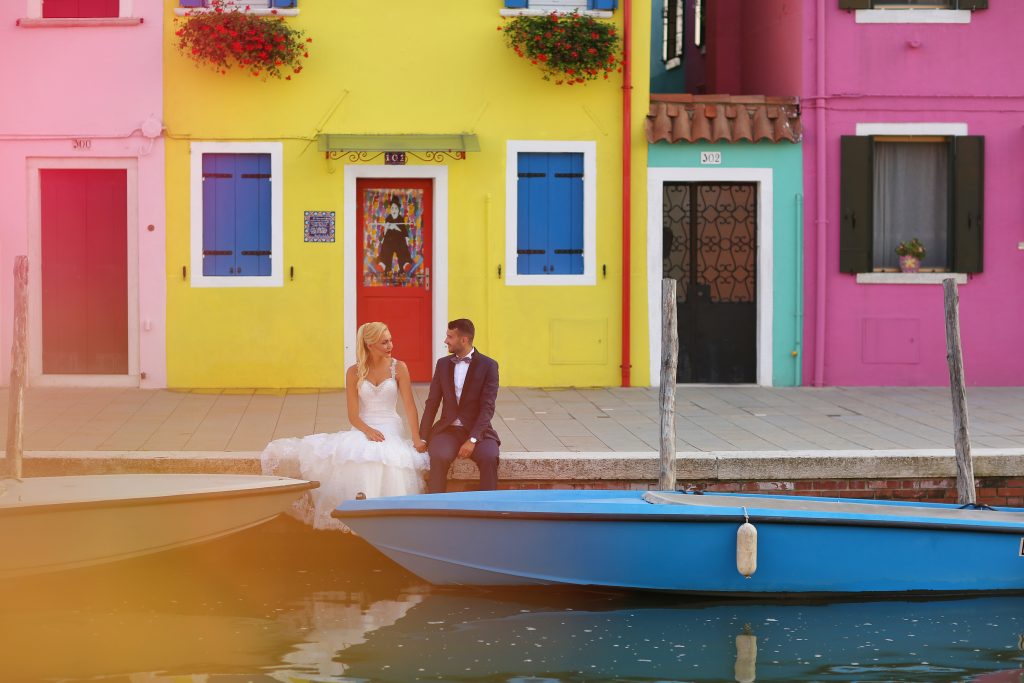 Another "sweet" tradition is offering guests a small wrapped gift, bomboniere, filled with confetti – sugar coated almonds. The almonds symbolize the bitter times of life, while the coating represents wishes for sweet times to overcome. They must, however, be only given in odd amounts! Three are said to represent the couple and a child, while five convey wishes for wealth, health, fertility, happiness, and long lives.
Some traditions, such as the bride snipping a part of her veil for good luck or perhaps the groom pocketing a small piece of iron to ward off nasty spirits, are observed less frequently by young couples. Other time-honored traditions live on vigorously, however. Exuberant dancing of the ages-old Tarantella is still a part of many Italian wedding receptions throughout the country today.
Despite the extra effort to make an Italian wedding reality, it most certainly vale la pena – it is worth it – to make that dream come true. Salute!