We all love Italian food: it's simple, flavorsome, and full of good ingredients. But let's face it, sometimes even the more straightforward of recipes can be tricky: I mean, it must be like that, otherwise why can't my tomato sauce taste as good as my grandma's? That's because there's more to a recipe than ingredients and step-by-step instructions, there is also a lot of know-how many of us don't have.
For those among us who don't have a nonna or mamma to ask, here are some little tricks gathered from the experts to make sure your next traditional Italian meal tastes perfect!
The art of pizza
The first secret to perfect pizza, as per Italian pizza champion Giorgio Sabbatini, cited in Esquire Italia, lies in the time you invest. Preparing the dough a day in advance allows for a slow, natural rise, which significantly enhances its texture. If you have guests, it's best to stick to tried-and-true recipes: usually, maintaining a dough hydration level of 80%, which translates to 800 grams of water per kilogram of flour, is ideal.
The choice of baking tray is also critical, especially when dealing with high-moisture ingredients. A tray that heats quickly is your ally in forming the perfect crust. Renowned pizza maker Gabriele Bonci suggests generously oiling your tray at the start. After the first use, just clean it with absorbent paper and store, no washing needed.
What about tomatoes? Well, ideally, we should avoid passata and use well-drained whole tomatoes instead, crushed and seasoned to taste. You see: given that home ovens can't match the power of a pizzeria oven, excessive moisture could spell disaster, so we should make sure our sauce is not too liquid. The tomatoes, oil, and salt should be added to the dough before you bake it a first time then, after about 7-10 minutes, remove the pizza, let it cool slightly, add the drained mozzarella, and bake again. This double-cooking process is perfect for home pizzas and gives a result similar to that of a pizzeria!
Perfecting your tiramisù game
For a foolproof tiramisù, Clara and Gigi Padovani—creators of Tiramisù Day and authors of a book dedicated to this dessert, Tiramisù. Storia, curiosità, interpretazioni del dolce italiano più amato (Giunti, 2016)—share their expertise. Fresh and firm mascarpone cheese, taken straight from the fridge, is essential to prevent the cream from sagging. The quality of your eggs is equally crucial: fresh eggs at room temperature are ideal for achieving well-beaten yolks and whites.
The coffee should be strong and not sweetened or diluted with Marsala or any other liqueurs to avoid an overly sweet or alcohol-heavy result. When it comes to savoiardi (ladyfingers), opt for dry ones with a crunchy side, just like the ones you get at the supermarket, because these maintain their structure even after soaking. Alternatives include sponge cake or Pavesini for a slightly sweeter twist.
The inclusion of egg whites or cream varies among chefs, but Clara stands by using a single egg white to lighten the cream. Last but not least, making your tiramisù a day in advance allows the flavors to meld perfectly and ensures a truly mouthwatering result.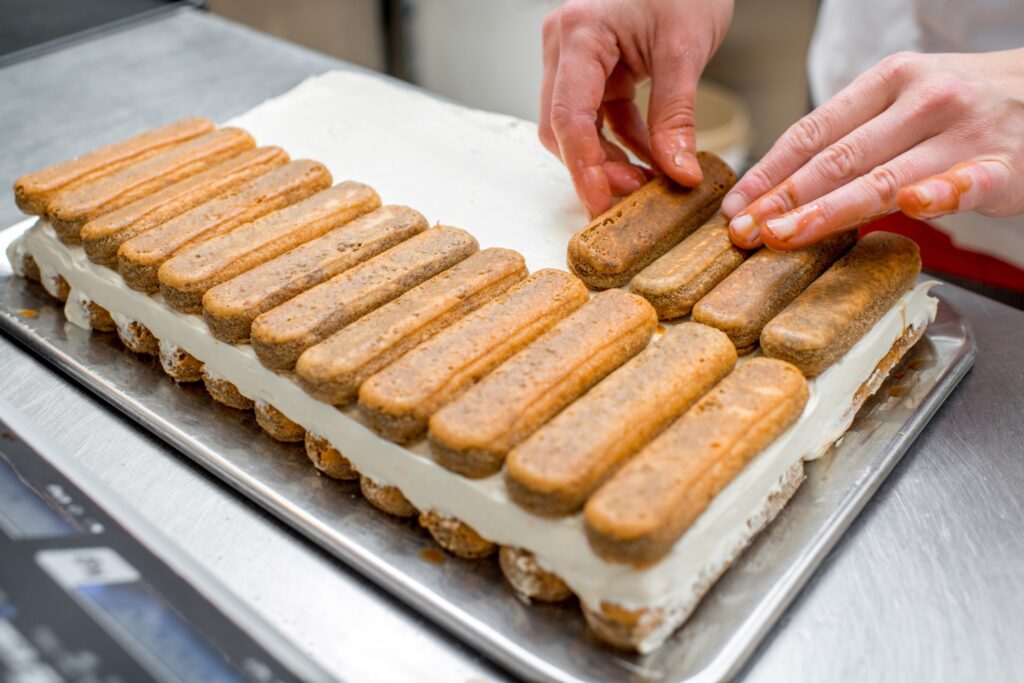 Mastering tomato sauce
Great tomato sauce starts with ripe, firm tomatoes—ramati, cluster tomatoes, round tomatoes, San Marzano, or Romano types are all excellent choices. After washing, drying, and seeding, cook the tomatoes until they wilt, then pass them through a food mill. Once you start making the sauce itself, a low, constant heat ensures the tomatoes don't burn, and covering the pot retains the water and aromas. A pinch of sugar or baking soda can balance acidity, but be cautious with quantities! Be careful also with garlic: start your sauce with a garlic-infused oil base—just remember to remove the garlic before adding the tomatoes. Adding chopped basil leaves early in the process gives a fresh flavor, and a few spoons of pasta water toward the end will make your sauce richer.
Risotto done right
Knowing your rice type is the key to perfect risotto. Fino varieties like Ribe and Sant'Andrea have long grains and require 14-16 minutes of cooking, while Superfino rice varieties—Baldo, Roma, Arborio, and Carnaroli—are optimal for risotto due to their texture. They require between 15 and 18 minutes to cook.
To make risotto right, don't rinse your rice: its powdery film is a starch-rich layer essential for maintaining grain shape and achieving a creamy consistency. On the other hand, don't forget to toast it on moderate eat, before adding any other ingredient.
Choosing the right cooking heat is also key to preventing sticking or uneven cooking: while you should start with medium heat, you really need to play with it throughout the cooking process, lowering or increasing it when needed. Ah! And make sure the broth is always hot when you add it so that the cooking process is maintained.
With risotto, it's important to … take your time and trust your taste buds to understand when the rice is ready: taste, taste, and taste some more! The final creaming, or mantecatura, should occur off the flame, with the addition of cold butter and, if you like, parmigiano. A few minutes of rest before serving allows flavors to mix and the dish to reach an optimal serving temperature.