Music, the universal language of the soul, subtly shapes our experiences, colors our memories, and stirs our emotions. It has the power to bring us to another time and place and evoke feelings that words alone cannot express. Now, imagine a melody that your ancestors carried in their hearts as they traveled across the ocean to a new land: that song, that melody, is the essence of traditional Italian music, a symbol of the country's vibrant cultural heritage and of the enduring spirit of its people. But what makes this music so unique, what stories do these songs tell?
Let's take on a journey together, through the diverse musical landscape of the Belpaese to find out.
Traditional Italian music, or musica tradizionale italiana, is a diverse collection of music styles that developed across the Italian peninsula. Due to Italy's historical context — unification took place only in 1861, after centuries of political and often cultural division — a single musical tradition did not develop. Instead, various types of music evolved depending on the geographical region, influenced by neighboring peoples or foreign dominations.
Traditional music, at various latitudes, presents Arabic, African, Celtic, Persian, Venetian, Latin, and Slavic influences, a true patchwork of styles and inspirations, often difficult to navigate and distinguish. For this reason, in 1956, Alan Lomax proposed a classification system that divides Italy into three areas matching specific musical typologies, and corresponding geographically to Northern, Central, and Southern Italy. In the North, traditional music presents Celtic and Slavic influences, while in the South, primarily Greek, Arabic, and African influences are seen. The central region presents a mix of all these elements.
In Northern Italy, mountain agricultural culture dominates the landscape and the nature of music, which was often associated with local festivals and traditional dances. Two musicians would usually offer their skills to support the dancers, one playing the piffero (a type of fife or flute), the other the accordion. The musical repertoire of these areas includes, therefore, melodies and dances typical of peasant life: passed down through generations, these songs are more than just melodies, they are the echoes of the region's rich history and cultural identity.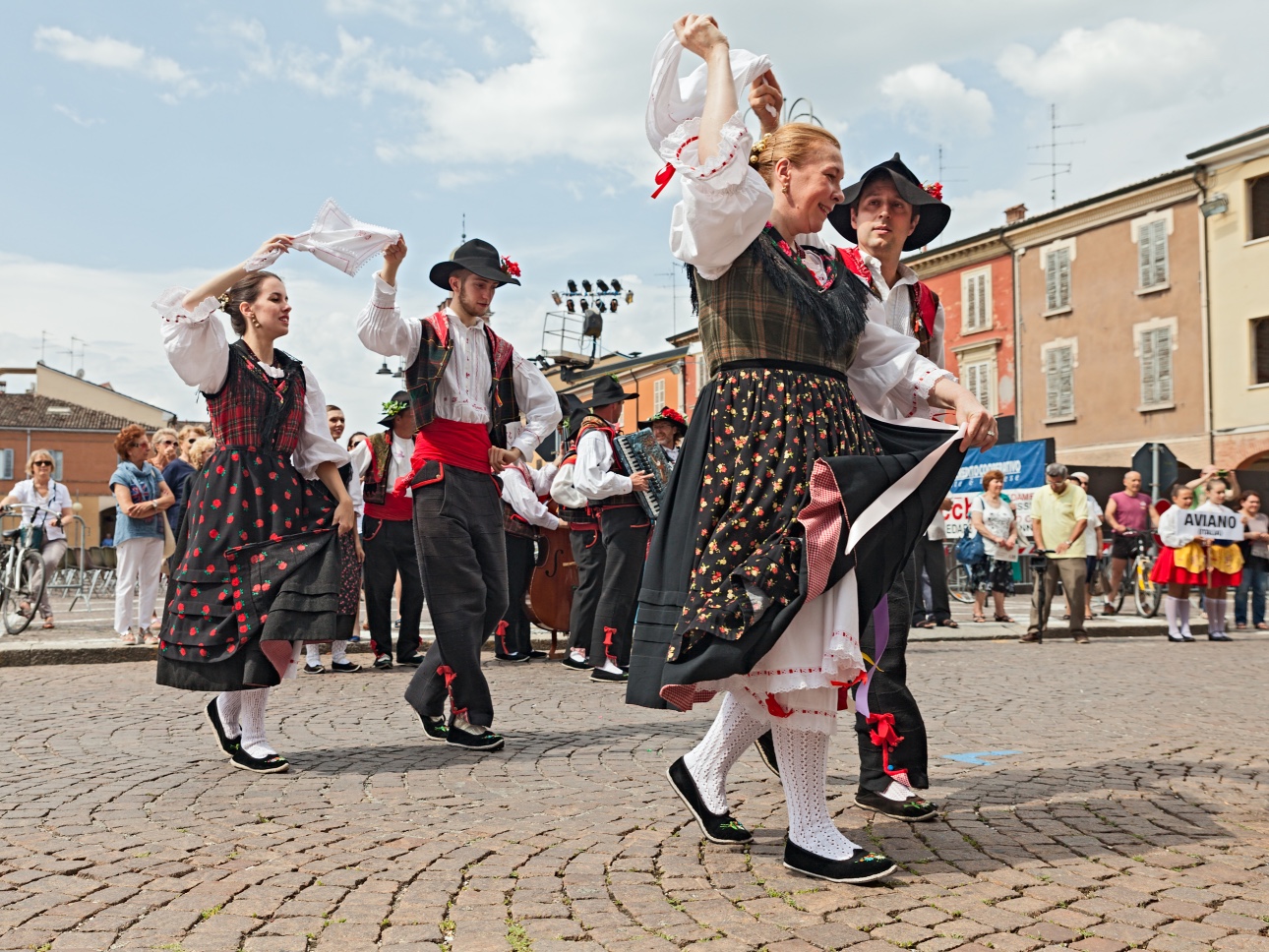 In the port area of Genoa, Liguria, the trallallero, a polyphonic song with five voices, one of which imitates the sound of the guitar, became popular: it is performed exclusively by male vocal groups (with very rare exceptions), which imitate a varied set of vocal and instrumental sounds.
In Emilia-Romagna, traditional music is synonymous with liscio, a genre born in the 19th century and often associated with ballroom dancing. The accordion, the clarinet, and the double bass create a sound that is smooth and lively, and an infectious rhythm. Played at local festivals and dances, this music is a celebration of community and camaraderie.
Let's move to Central Italy and the regions of Tuscany, Lazio, and Abruzzo. Here, since the Middle Ages, people would sing poems with octave rhymes that in time turned into songs. In Tuscany, we also find the popular saltarello, which presents many local varieties.
It is, however, Southern Italy where popular musical tradition developed most richly and where such tradition has been better preserved to this day. The most well-known style is undoubtedly the tarantella, performed even today practically in all southern regions, in numerous variants: pizzica, taranta, Calabrian tarantella, and Sicilian tarantella. Tarantella is a generic term for many of the melodies of southern Italy and their respective dances. What unites them is their fast rhythm and their metrics, generally in 6/8, 12/8, or 4/4. Among them, pizzica is one of the most famous. It is a particular type of dance from the tarantella family, originating from Salento, where it is still quite widespread today: it was born as a playful dance practiced on festive occasions, but its use in rituals to cure those who had been bitten by the tarantula or other poisonous insects is also documented. These songs, often accompanying traditional dances and religious festivals, are a reflection of the region's deep spiritual roots and vibrant cultural traditions.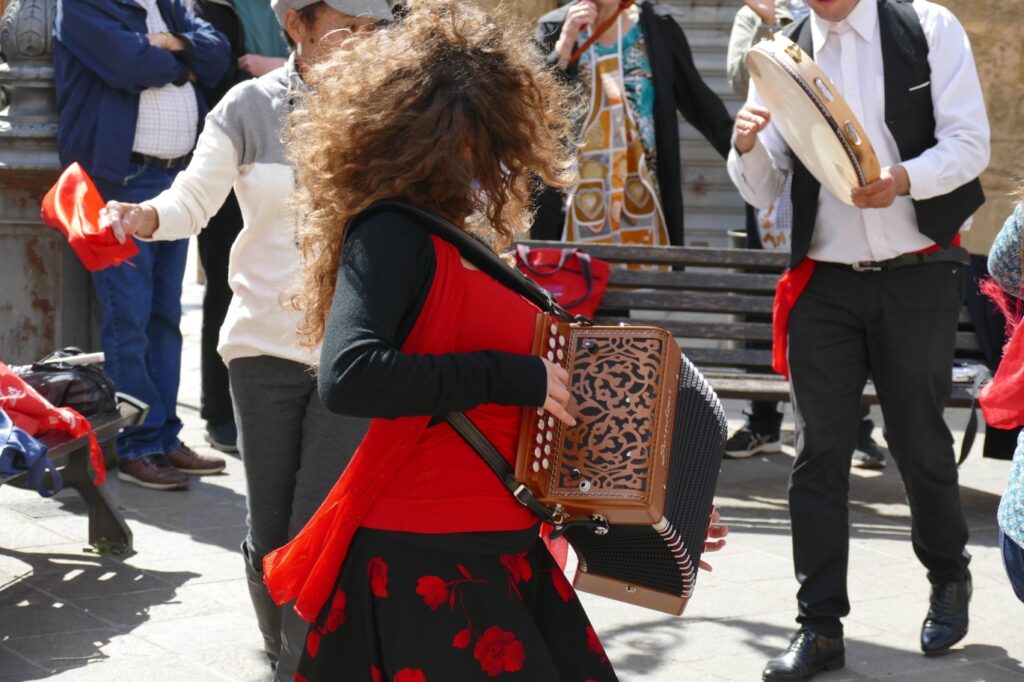 Our last stop is, of course, Naples, the birthplace of the Neapolitan song tradition. The musical roots of canzone napoletana date back to the 13th century when stories of love, passion, and longing were recited with music. Characterized by their emotional intensity and the use of the Neapolitan dialect, Neapolitan songs mirror the passionate spirit of Neapolitan people and are a significant part of the Italian cultural heritage.
As varied as it can be, traditional Italian music is more than just a collection of songs and melodies, it's a beautiful living and breathing picture of our history and heritage. Often, we carry these songs in our hearts, just as our ancestors did, because they remind us of our roots and connect us with our past. So, the next time you find yourself humming an old familiar tune, think of the history it has behind and of all the souls it nourished with memories and beauty throughout the decades.