"Los Angeles is a fundamental place for those who love cinema and for those who are part of the industry. In my case, it is also the place where the success of my career with Nuovo Cinema Paradiso started. I owe much, if not everything, to what happened here 33 years ago." On stage at the David Geffen Theater inside the Academy Museum, Giuseppe Tornatore recalls when in 1990 his film, heralded by American actor Jack Lemmon, won the Oscar for Best Foreign Film.
The Sicilian director flew to California together with the family of Ennio Morricone, his longtime collaborator, not only to attend the screening of Nuovo Cinema Paradiso in the Oscar®Sundays section but also that of Ennio, a documentary that closed the New Italian Cinema / Nuovo Cinema Italiano section on October 4. The extraordinary documentary that Giuseppe Tornatore directed on the great musician, winner of two Oscars (for Lifetime Achievement and for The Hateful Eight), is ideally connected to the Soundtracks of a Master of Cinema review, dedicated to the composer's genius.
Consul General in Los Angeles Raffaella Valentini introduced the event with meaningful words, both for the artists celebrated and the Italian-American community as a whole: "Tonight we celebrate two great maestros of Italian cinema, their talent, their special Italian genius, their love for art and their believing in the power of dreams. Tonight through Nuovo Cinema Paradiso, we are also going to honor the beautiful friendship between Ennio and Giuseppe. A timeless friendship, just as timeless is the friendship between Italy and the United States. A true and deep partnership built on our common values of freedom, equality and democracy."
Later in the evening, Tornatore told us that "Ennio Morricone has been a key figure in my films. Nuovo Cinema Paradiso is a film we made together, It's a very emotional experience to be here after all these years, remembering and paying homage to him through screenings of Italian films and films he scored."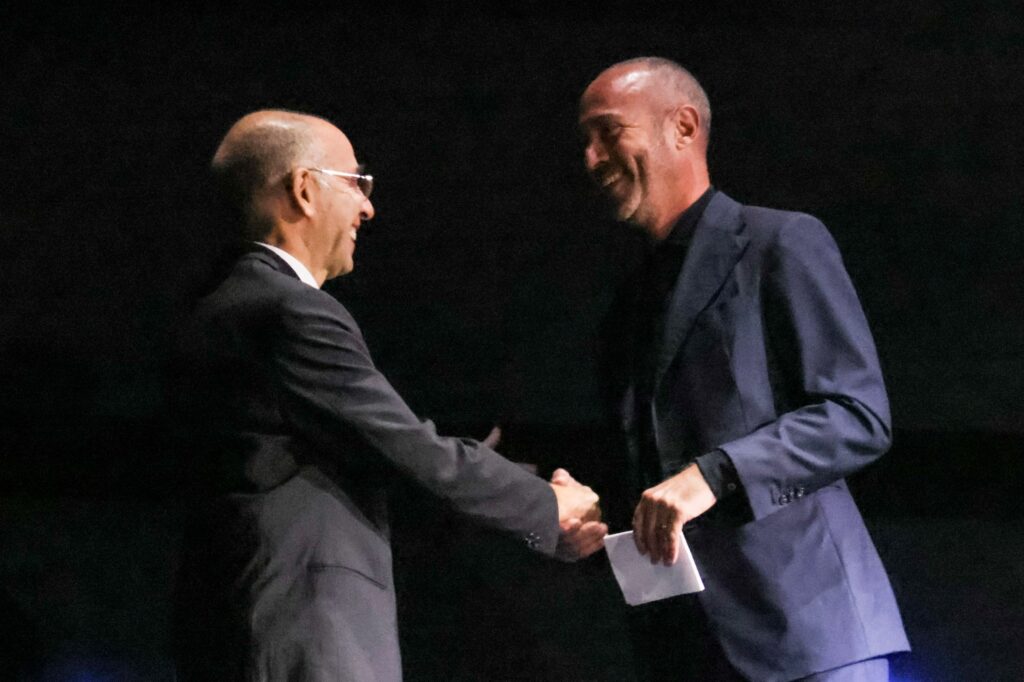 In the 'Oscar®Sundays section – which opened with Nuovo Cinema Paradiso, the movie where the Tornatore-Morricone collaboration began – three films set to music by Ennio Morricone will be screened: Terrence Malick's Days of Heaven, Brian De Palma's The Untouchables and Quentin Tarantino's The Hateful Eight.
" While collaborating on Nuovo Cinema Paradiso with Ennio, a strong emotional connection was formed between us. We continued to see each other for 32 years, and our relationship grew beyond just a professional one. However, we always made sure to keep our friendship separate from our work. What do I miss about him? Many things. His generosity, his rigor, his friendliness. Also and especially his creativity: his ability to enter a narrative context naturally, immediately finding musical solutions that could always surprise," the director concludes.
The tribute to Morricone begins after a month packed with New Italian Cinema / Nuovo Cinema Italiano screenings, proving that Italian cinema, which has been awarded more Oscars than any other foreign cinematography, is highly appreciated in the US. Since Sept. 6, audiences have filled the halls of the Academy Museum to see films by Gianfranco Rosi, Pietro Marcello, Luca Guadagnino, Alice Rohrwacher, Francesco Munzi, Emma Dante, Laura Bispuri, and Adele Tulli (Notturno, Martin Eden, Suspiria, Lazzaro Felice, Futura, The Macaluso Sisters, Figlia Mia, Normal).
"The tribute of a global institution such as the Academy Museum pays to our most recent cinema is not only an honor but also an authoritative attestation to the vitality of our production," Nicola Maccanico, CEO of Cinecittà, said. "The films selected by the Academy in New Italian Cinema are works by established filmmakers who have won awards at major festivals. Cinecittà constantly accompanies these films abroad. The reception of the Academy Museum and the tribute to Maestro Ennio Morricone inspire us to continue."
Consul General Valentini also underlined the connection and collaboration between Cinecittà and the Academy Museum, which she defined as "an unshakable alliance, of which all of us Americans and Italians present here tonight are special Ambassadors as we praise the fruitful collaboration between Cinecittà and the Academy Museum, in the temple of world cinema that is itself a symbol of the bond between our two countries having been designed by another Italian talent, architect Renzo Piano. Thank you again to the Academy Museum and Cinecitta' for this special occasion to celebrate today – which marks also the beginning of the Italian heritage month: a unique Italian beauty in Los Angeles. "
From Oct. 6 to Nov. 25, this section offers an overview of many iconic scores from the Maestro's multifaceted career. First up is Sergio Leone's The Good, the Bad, the Ugly, followed by Once Upon a Time in the West, by the same director. Then Gillo Pontecorvo's The Battle of Algiers, Lina Wertmüller's The Lizards, Pier Paolo Pasolini's Theorem, Marco Bellocchio's Fists in the Pockets, Mauro Bolognini's That Splendid November, Investigation of a Citizen Above Suspicion and A Quiet Place in the Country, both by Elio Petri, Sacco and Vanzetti by Giuliano Montaldo, Two Mules For Sister Sara by Don Siegel, Novecento by Bernardo Bertolucci, The Desert of the Tartars by Valerio Zurlini, Allonsanfàn by Paolo and Vittorio Taviani, The Bird with the Crystal Feathers by Dario Argento and, to conclude, Once Upon a Time in America by Sergio Leone.
Cinecittà is active with these initiatives to promote classic and contemporary cinema abroad. Last year, a screening of Pier Paolo Pasolini's work took place as part of the five-year agreement between Cinecittà and the Academy Museum. Similar agreements have been made with other cities, including New York, where screenings are held at Lincoln Center and MoMa.
"This experience is part of a cultural policy that Cinecittà has been adopting for some time, which is to bring abroad these films restored by us in collaboration with the Centro Sperimentale or the Cineteca di Bologna," Chiara Sbarigia, president of Cinecittà, explains. "These memory retrievals are important for bringing back the colors and sounds of films at risk of being forgotten."
What makes Italian cinema so beloved internationally? "Italy is renowned for its love of beauty and rich history of acting. From icons like Sofia Loren and Anna Magnani to the skilled craftsmen behind our impressive set and costume designs, we have a great tradition of artistic excellence. A prime example of this is Milena Canonero, who has won four Oscars for her exceptional work. Our cinema is well-rounded and diverse, reflecting the many talents and strengths of our culture."
Also present at the event was Marco Morricone, Ennio's eldest son. "It is very exciting to be here, first of all, because both my brother Giovanni and I are representing our father. It is a great responsibility because he is such a powerful figure. Our Dad loved the United States, he loved this country's ability to see far on a cinematographic and artistic level."
Among his fondest memories is a concert in Caracalla: "It was a marvel, with so many friends in the audience. I remember traveling the world with him. The best memories are so personal and so intimate that I will always keep them with me. I had a strange relationship with him, we had this kind of empathy for each other, we also communicated nonverbally. I loved his silence deeply, and when he was silent everything was fine. When he spoke, on the other hand, it was very dangerous, his words could be very tranchantes," Marco Morricone tells us.
In addition to his film success, his music is loved by many people all over the world. What makes it so special to them? "He was revolutionary. A friend told me this very beautiful phrase yesterday, he said, 'I remember exactly where I was and what I was doing the first time I heard a piece by your father.' I can only say that every time I listen to his music, it moves me so much."