A chef, a business owner, an author, and, of course, a pizzaiolo. Tony Gemignami can and does wear many hats, yet his passion for food, dedication to work, and commitment to quality all come from his Italian roots.
Gemignani was born in Fremont, California, and grew up on his family's farm. He is a third-generation Italian American. His career as a pizza tosser started as a way to entertain customers and to show the quality of the dough to diners. Then, it went on to become much more than a form of entertainment: Tony mastered his skills and competed all over the world, winning eight world champion titles for pizza acrobatics across 12 years, and earning himself the nickname of the "Michael Jordan of Pizza Throwing." 
Gemignani formed the World Pizza Champions in 2005, along with other leading professionals and pioneers in the pizza industry.
In 2021, his pizzeria made it to the list of the 50 Top pizzerias in the world and, a year later, he was elected Pizza Maker of the Year, and official US Ambassador of Neapolitan Pizza by the city of Naples, a prestigious title only given to three people in the world.
He has authored two pizza cookbooks, including 2014's Pizza Bible and a children's book called Tony and the Pizza Champions. 2023 marks another milestone for Tony: together with esteemed Judge Claude Perass, he will be the Grand Marshal at the upcoming 155th annual Italian Heritage Parade in North Beach.
How was your love for pizza born?
I've always loved cooking. As a typical Italian family, my parents, my brother, and I lived with our grandparents, who had a farm. I started cooking when I was young. My mother taught me how to prepare the fruits and vegetables harvested from our garden. I worked with my grandfather on the farm until I was 17. In high school, I took a home economics course and began winning awards for my cooking. Not long after, I started working at my brother's pizzeria – Pyzano's in Castro Valley. I fell in love with it right away.
Can you tell us a bit more about your family's legacy?
I come from a family with a solid work ethic, from my grandfather Frank Gemignani – an Italian, a farmer, and the hardest working man I know – to my parents, who raised our family tending to a 30-acre farm in California. My great-grandparents came from a town called Gombitelli near Lucca. We still have family there, also in Carrara and Camaiore. I learned the basics of pizza from my brother Frank Jr., who opened Pyzano's Pizzeria in Castro Valley where I got my start with pizza.
Being located in North Beach brings lots of fun but also pressure to restaurants. People expect authenticity as well as great taste. How do you work with these two things?
North Beach is an incredibly tight-knit and welcoming community – I felt that from day one, as we started building out Tony's. As San Francisco's Little Italy, of course, the locals and tourists expect the best of the best, and that's always what I intend to deliver. I spent years traveling and learning directly from pizzaiolos all over the world, so I could bring authentic pizza styles from Napoli, Sicily, Detroit, St. Louis, New York, and more right here to San Francisco. I take great pride in perfecting and dedicating myself to this craft.
You won 13 world pizza titles and you are an official US Ambassador of Neapolitan Pizza appointed by the city of Naples. What does it mean to you and what it means for your business?
It's an honor to hold these titles and represent our community. These accolades support the authenticity of my restaurants and are a tangible affirmation of the years I have spent devoted to mastering and sharing the art of pizza.
You have appeared on several shows including Good Morning America, The Today Show, The Tonight Show with Jay Leno, and are a regular on The Food Network. How do you live with all this fame, while keeping on working on your business?
I have a full calendar that's for sure! But I love what I do, and you'll still find me at my restaurants almost daily. I keep myself healthy with consistent exercise and a balanced diet that's full of fruits and vegetables but also lets me indulge in pizza of course. Most importantly, I have an incredible team at my restaurants that I trust completely to hold down the fort while I'm traveling.
This year San Francisco will put you, one more time, in the spotlight. However, this happens on a special day for the Italian and Italian-American community. What was your reaction when you heard about being honored as the Grand Marshal?
It was truly a remarkable day. I have worked during the Italian Heritage Parade for nearly 15 years and it's the best day not only for North Beach but also for San Francisco. I'm very proud of my Italian Heritage. It's a celebration for everyone.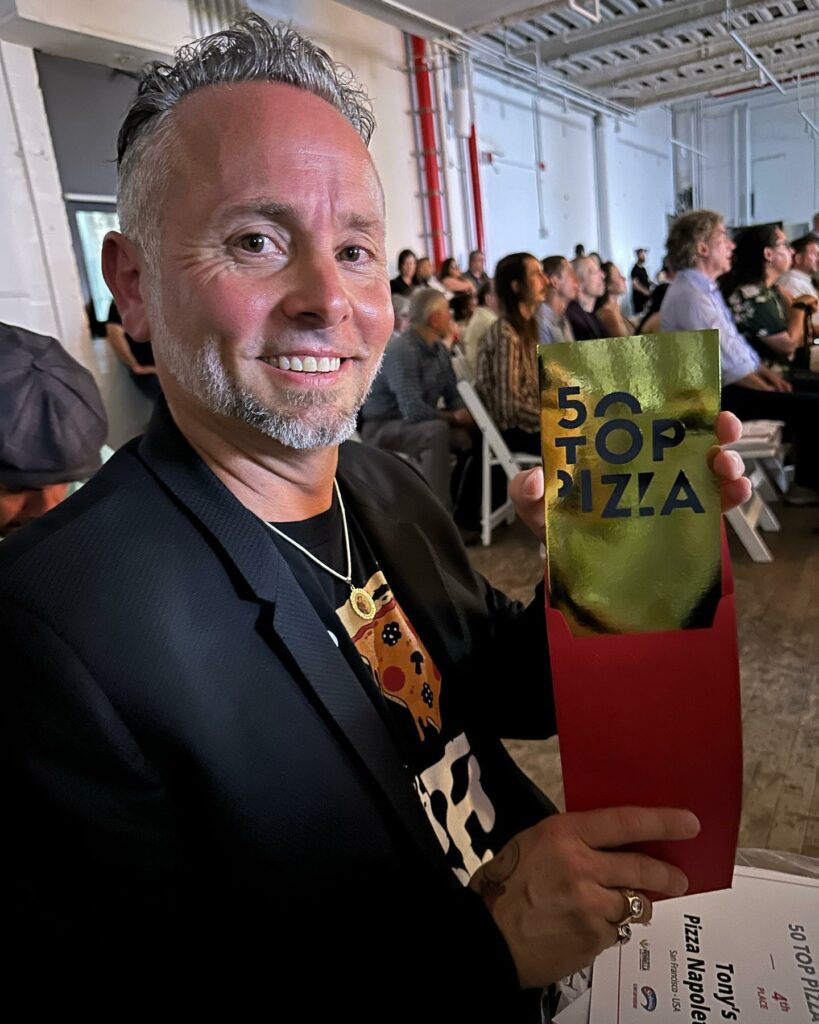 What do you expect from this year's celebrations? It's one of the busiest days for North Beach: any memory you want to share with us about the parade?
I believe it will be one of the busiest weekends compared to the previous parades. North Beach has been bustling this year. Our neighbors supported the businesses through COVID-19 and have continued to support us this year. Now, the tourists and customers from the Bay Area have been returning. We have pre-sold all of our tables outside at Tony's and Capo's for the parade and I am hearing the same from other restaurant owners. This year is going to be a big one.
The month will kick off with the usual ceremony that will see the San Francisco Italian Athletic Club and Sts. Peter and Paul Church lit up in the red, white, and green tricolore. Following that, the weekend of the parade, the 105th Annual Columbus Day Bazaar will be open on Saturday and Sunday, October 7th and 8th for food, fun, games for adults and kids, music, the Blue Angels, and more. The Board of Directors of the Italian Heritage Parade also hosts a Grand Ball on Saturday, October 7th at the Westin St. Francisco. More info available at: https://sfitalianheritage.org/events/